SHORT SIGHTED HOME PAGE!
Visit Cinefest 18 Page!
Visit Cinefest 2000 Page!
Visit Cinefest 2001 Page!
Visit Cinefest 2002 Page!
Cinefest 19! (March 1999)
Cinefest 19 is now over. We all had a great time!!
Cinefest 19 was held during the same period as last year, Thursday, March 4th - Sunday, March 7th 1999. As it says in the Cinefest brochure, attending Cinefest is a privilege! I was again there to represent and pass the word of The Vitaphone Project.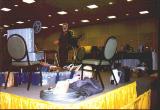 Left: The projection area. Right: David Graveen and his wonderful poster reproductions! Write about getting a catalogue!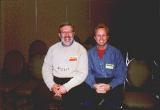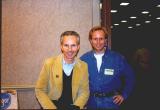 Left: Leonard Maltin. Right: Richard Bann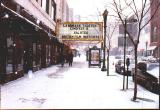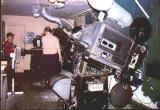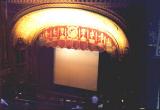 Another cold wintery day in New York at the Loews Theatre!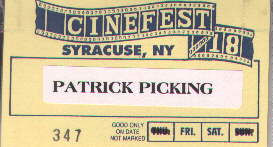 The following titles are in 16mm, and were shown at the Holiday Inn Hotel, the same hotel as last year but with a new name. It was formerly the Four Points Hotel. The films were:
YOUNG AS YOU FEEL (1931) - Will Rogers, Fifi D'Orsay, Lucian Littlefield.
MARIA - A HUNGARIAN LEGEND Directed by Paul Fejos, starring Annabella, Steven Geray.
KING OF THE RODEO (1929) - Hoot Gibson
MURDER BY THE CLOCK (1931) - lost horror film - William Boyd
MOULIN ROUGE (1928) Directed by A. E. Dupont
SPRING PARADE (1940) - Deanna Durbin
SONG OF THE EAGLE (1933) - great pre-code film. Charles Bickford, Gene Hersholt, Richard Arlen
HIS PEOPLE (1925) - Directed by Edward Sloman
SKINNER'S DRESS SUIT (1926) - Laura La Plante
MISS FANE'S BABY IS STOLEN (1933) - Alice Brady, William Frawley, Alan Hale, Baby LeRoy
JEFFERIES JR. (Short Subject) - Charlie Chase
SNAPPY SNEEZER (Short Subject) - Charlie Chase - First time shown with the restored Vitaphone soundtrack since it's release in 1929!
THE KINDLING (1915) - Directed by C.B. DeMille with Thomas Meighan
LOVE ME (1918) - With Dorothy Dalton and Jack Holt
FOUR HOURS TO KILL (1935) - With Richard Barthelmess
The Prodigal Son - With Louis Trinker
THE CROOKED CIRCLE (1932) - With Zazu Pitts and James Gleason
ISN'T LIFE TERRIBLE? (1925) (Short Subject) - Charley Chase, Oliver Hardy
HELLO SAILOR (1927) (Short Subject) - Lupino Lane
MENACE (1934) - With Gertrude Michaell
CRIME OF THE CENTURY (1933) - Stu Erwin, Jean Hersholt
TELEVISION SPY (1939)
AMBUSH (1939) - Lloyd Nolan, Gladys Swarthout
SHE ASKED FOR IT (1937) - William Gargin
THE UNKNOWN (1946) - Jim Bannon, Nina Foch
Annette D'Agostino - presenting a tribute to Harold Lloyd - I DO (1921), BLISS (1917), Why Pick On Me? (1918), and Billy Blazes, Esq. (1919).
Alex Gordon - presenting a tribute to Gene Autry. Out-takes and footage from the Autry vaults.
Herb Graff - presenting rare WWII propaganda shorts with stars of the time.
John McElwee - A tribute to Technicolor
Bob Birchard - Early 1900's films.
The following titles honoring the British Film Institute were shown in 35mm at Loew's Theater:
THE MAN WHO BEAT JACK JOHNSON (Short Subject)
Two Lost Lon Chaney films - ALAS AND ALACK (1915), and DOLLY'S SCOOP (1916)
The original HOUND OF THE BASKERVILLES (1921) - Eille Norwood
MADAME POMPADOUR (1927) - Dorothy Gish, Antony Moreno, written by Francis Marion. This film has never been out of England. It was the most expensive production in England up to that time!
HIS LORDSHIP (1932) - Directed by Michael Powell. Newly restored!
--------------------------
For hotel reservations call:
Holiday Inn - (same hotel as last year, but with a new name!)
441 Electronics Parkway
Liverpool, NY 13088
315.457.1122
Amenities:
Full service restaurant and lounge
Room service
Indoor Pool, jacuzzi, sauna, fitness center
In-room movies and cable
Meeting space available
Complimentary van shuttle to and from the airport/mall
Directions:
From Interstate 81
Exit 25 off 1-81 (Seventh North St.)
Take a right off the exit
Follow Seventh North until it ends
We are the white building straight ahead
From Interstate 90 (The New York State Thruway)
Exit 37 off I-90 (Electronics Pkwy)
Go straight off exit
We are the white building straight ahead

Write to: Patrick@Picking.com

This page has been viewed times