SHORT SIGHTED HOME PAGE!
Visit Cinefest 19 Page!
Cinefest 18! (March 1998)
Click on any image to enlarge it!
Cinefest 18 is now over. As it says in the Cinefest brochure, attending Cinefest is a privilege! I was there to represent and pass the word of The Vitaphone Project.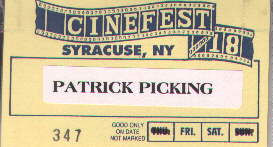 We arrived at the Four Points Convention Center on Thursday night, and was were pleased to find Leonard Maltin (Entertainment Tonight) before the showing of Heart Of The Hills (1919) with Mary Pickford. He was talking to someone already, and saw me standing there waiting to talk to him. He was friendly and said "Hi", and the conversation was on. Leonard was very nice and I told him that I had lots of questions to ask him over the next couple of days, and he said he'd be happy to talk to me about movies!


Left: the auditorium. Right: the projection area
After Heart Of The Hills, we saw Derelict (1930) with William Boyd. It was midnight when the movie ended, and it was time for bed.
The next morning I met Annette D'Agostino (Hello Harold Lloyd Web Site) at breakfast. This woman is a gold mine of information on Harold Lloyd, and has even worn a pair of his famed glasses. I became friends with Annette through the internet, and when I finally met her after talking to her for over a year, she was just as appealing in person as I knew she would be!

After breakfast we walked around the dealer room for a little while. Thousands of movie related articles were for sale. Original movie posters, stills, autographs, 16mm & Super 8mm films, sheet music, etc. If it was movie related, it was there!

The first movies we watched on Friday were more silents: On Trial (1917), and Biograph Tonight II, which was a collection of short Biograph films from around 1911-1912. Phil Carli, from The Eastman House, on the piano is fantastic!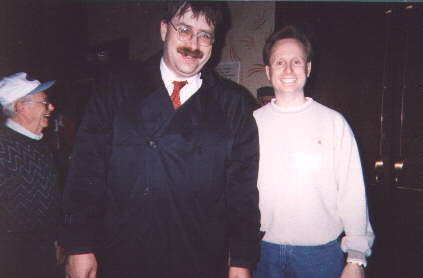 I had lunch with Leonard Maltin. After he saw me pull out my list of questions to ask him he knew he was in for it, and he teased me about my list for the next couple days! I was so excited to talk to him that I barely ate my lunch. I have been a big fan of his since 1975. We discussed several subjects, primarily his work with the Hal Roach short subjects, such as Our Gang. Some of the answers I got were:
He had heard of the death of Olive Brasno the month before. Olive played in two Our Gang shorts, Shrimps for a Day, and Arbor Day. Leonard said that there were quotes in the story from people that had performed with her previously.
He had also heard of the story in the paper the previous month regarding death of the former Our Gang star "Freckles". Leonard chuckled when he said that it was bogus and that it was picked up by all the papers. And no, it was not Harry Spear even though some papers showed his picture. We discussed several other imposters in general.
He has no idea of whatever happened to former Our Gang member Scooter Lowry.
He has no idea if the Our Gang/Little Rascals book will be coming out on CD-ROM. He said that he remembered a German company acquiring the rights, but nothing ever came of it.
He doesn't know of the plans of Cabin Fever to produce any more shorts, including the silent films.
| | |
| --- | --- |
| | |
Leonard autographed the books I brought for him to sign. My copies of The Great Movie Shorts of the 30's & 40's, and Our Gang: The Life and Times of the Little Rascals. After lunch I had my picture taken with Leonard, and then it was time to watch more movies. First were two Hal Roach shorts, Frozen Hearts (1923) starring Stan Laurel and James Finlayson, What Women Did For Me (1927) starring Charlie Chase and Lupe Velez, and So's Your Old Man (1927) starring W. C. Fields.
During intermission I was able to talk to Richard Bann. This man is a gold mine of Hal Roach related information! While I was talking to Richard and he was autographing my books, Leonard came up and we had our picture taken together. I have waited over 23 years to talk to these two men in person!! It was quite thrilling to me to finally meet them!

Annette D'Agostino then introduced Welcome Danger, Harold Lloyd's first feature talkie. Welcome Danger was filmed completely as a silent film, and then Harold Lloyd decided to completely re shoot much of the film to make it a sound picture. This was done at a cost of $900,000 of Harold's own money. The picture made over $3,000,000, so the investment was a wise one!
We drove around and explored the town, and then we went out to dinner. Every restaurant we went into was crowded, and finally after driving all over we ended up back at a Kentucky Fried Chicken! After dinner it was time for more movies. First we saw The Circus Queen Murder with Adolphe Menjou, and then the only known print of The Shakedown (1929) by William Wyler. I was so tired I could barely keep my eyes open! We went to sleep after midnight again.
The next morning we had to get up early. The busses were ready to leave for the Loew's theater in downtown Syracuse at 8:00 am.
The Lowe's theater was built in 1928, and was a grand movie palace. We sat in the balcony with Annette D'Agostino. The lineup of films we saw included:
What Price Goofy? (1926) - Charlie Chase
The following treasures from the Disney vaults were presented by Disney representative Sam McQueen:
An unedited "risque" version of Steamboat Willy (1928)
Minnie's Yoo Hoo - Sing along version of the well known Disney song.
Alice's Wild West Show (1926) - early live action/animation Walt Disney film
Mickey Mouse Club newsreel from Grand Rapids (1931)
A Germ Invasion/Vaccination film made during the 1940's. This short was great! Please e-mail me if you remember the name of this short!
A sketch that was removed from Fantasia (1940), and unseen until now. The animation was of swans on the water to the song Claire De Lune.
A short bit of film showing Disney employees playing baseball during a work break in the 1930's.
Oscar Nominees on Parade (1931)
Mother Goose Goes Hollywood (1938)
Original pencil sketch version of Pluto's Judgement Day (1938)
Finished version of Pluto's Judgement Day (1938)
Footage takes of Walt Disney & Billy Bletcher performing their lines for Mr. Mouse Takes A Trip (1940). This is the only existing footage of Walt Disney performing as Mickey Mouse's voice! Billy Bletcher performed Pete's voice.
The finished version of Mr. Mouse Takes A Trip (1940)
At this point we had an intermission. During this time I was able to talk to film preservationist David Sheperd. I have been following his work since he worked at Blackhawk Films back in the mid 1970's. David and I talked about his work on the restoration of the Buster Keaton films for Kino, the Charlie Chaplin Mutual films on DVD, and of the future of film preservation with DVD! I own the Chaplin Mutuals on DVD, and they look great!
After the intermission we were presented with the showing of the newly restored version of The Lost World (1925) - starring Wallace Beery and Bessie Love. This film has had over 30 minutes of lost footage restored, and it looked great on the big screen!
After the show we were taken back to the Four Points Convention Center. I was able to buy some reprints of original posters from Acme Movie Poster - David Graveen. I highly recommend their merchandise! I bought a reproduction of:
One sheet - Little Daddy - Our Gang
One sheet - The Kid From Borneo - Our Gang
One sheet - Hit Him Again - Harold Lloyd
One sheet - Crazy Feet - Charley Chase
Title Card - The Kid From Borneo - Our Gang
Title Card - Freaks
Lobby Card - Freaks
I forgot to look for original Our Gang related stills and autographs! Someone told me he bought autographs of Jackie Cooper and Dickie Moore! Godfrey Daniels!
We packed up, said our good-bye's to Annette, Richard, Leonard, and headed back to Michigan. Yes, I know I missed the last day, and the auction hosted by Leonard Maltin, but we had to get back to Michigan.
We Definitely will be back next year!!
Write to: Patrick@Picking.com
This page has been viewed
times