SHORT SIGHTED HOME PAGE!
Visit Cinefest 18 Page!
Visit Cinefest 19 Page!
Visit Cinefest 2001 Page!
Visit Cinefest 2002 Page!
Cinefest 2000!
IF YOU WOULD LIKE TO BE NOTIFIED WHEN NEW TITLES ARE ADDED:
Add me to the Cinefest mailing list! If you joined before, join again! I was hit with a loss of data, and I want to ensure everyone is still on the list who wants to be on it!
Cinefest 2000 is now over. I had a great time again! I was there to represent and pass the word of The Vitaphone Project.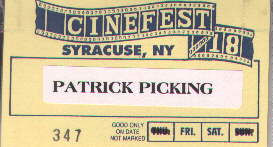 The showing of the 35mm prints at the historic State Theater was wonderful! Unfortunately, the boiler had a problem so there was no heat in the building for the 5 hours we were there! Brrr! The best film of the bunch was the long unseen THE COOK with Fatty Arbuckle and Buster Keaton. What a great film this was!
---
SCHEDULE!

Thursday, March 9th

9:00 am FOLLOW THE LEADER (1930) - Ed Wynn, Ginger Rogers, Ethyl Merman in early performances
10:30 am THE MARBLE HEART (1913) Thanhouser
10:35 am MY OLD DUTCH (1926) - Jean Hersholt, May McAvoy, Pat O'Malley, Edgar Kennedy, Cullen Landis

LUNCH BREAK

1:00 pm JOHN McELWEE SHOW Errol Flynn Home Movies
2:15 pm THE MIDNIGHT CLUB (1933) with Clive Brook, George Raft, Billy Bevan, Alison Skipworth
3:30 pm SO THIS IS PARIS (1926) - Lilyan Tashman, Patsy Ruth Miller, Monte Blue, Myrna Lloyd
4:40 pm PROFESSIONAL SOLDIER (1936) - Victor McLaghen, Freddie Bartholomew, Gloria Stewart, Constance Collier

DINNER BREAK

8:00 pm TWINKLETOES (1926) - Colleen Moore
9:30 pm NO LIMIT (1931) - Wonderful Clara Bow film!
10:50 pm GIRL ON THE FRONT PAGE (1936) with Edmund Lowe, Gloria Stuart
12:00 midnight CRIME OF HELEN STANLEY (1934) - Ralph Bellamy, Gail Patrick

Friday, March 10th

9:00 am THIRTEENTH HOUR (1927) with Lionel Barrymore
10:15 am BOB BIRCHARD PRESENTS ''KALEIDOSCOPE II''

LUNCH BREAK

1:00 pm TRIBUTE TO HERB GRAFF
2:15 pm THE WICKED DARLING (1919) - Directed by Tod Browning, and starring Lon Chaney
3:30 pm THE BEST BAD MAN (1925) - Tom Mix, Clara Bow!
4:40 pm WHOM THE GODS DESTROY (1934) - Walter Connolly, Robert Young, Doris Kenyon, Scotty Beckett

DINNER BREAK

8:00 pm FLAMING FATHERS (short subject) (1927) - Starring Tiny Sanford & Max Davidson. Directed by Stan Laurel!
8:20 pm APRIL FOOL with Charlie Chase.
8:30 pm SHORT SUBJECT with Charlie Chase.
9:00 pm ARE PARENTS PEOPLE? (1925) - Betty Bronson, Adolphe Menjou, Florence Vidor, Lawrence Gray
10:10 pm FOUR FEATHERS (1929) - Richard Arlen, Fay Wray, Clive Brook, William Powell
11:40 pm THE WARE CASE (1938) - Glen Alyn, Barry K. Barnes, Jane Baxter, Clive Brooks

Saturday, March 11th

9:15 am The buses will leave from the front entrance of the Holiday Inn for the 35mm presentation at the former Loew's State Theatre.
10:00 am (Films may not be presented in order shown)
ANATLYP TEST First 3-D test film from 1921!
TRICHROME Early color test films.
KAMMATOGRAPH DISCS Emulsion coated glass discs.
OH DOCTOR! (1917) - Long unseen Keaton/Arbuckle short!
THE MOVIE (1924) with Snub Pollard.
LITTLE MISS HOOVER (1918) - Marguerite Clark
LOST AND WON (1917) - Marie Doro, Elliott Dexter.
The buses will leave for the hotel immediately after the screenings.

Program resumes at the Holiday Inn

4:00 pm F-MAN (1936) - Jack Haley, William Frawley
5:10 pm PLAY GIRL (1932) - Winnie Lightner, Loretta Young, Norman Foster, Guy Kibbee

DINNER BREAK

8:00 pm ODOR IN THE COURT (1934) with Clark and McCullough, Tom Kennedy
8:30 pm LIFE BEGINS AT FORTY (1935) - Directed by George Marshall, and starring Will Rogers
9:55 pm THE FRAIDY CAT (1924) (Short Subject) - Charley Chase as Jimmy Jump
YOUNG IRONSIDES (1932) - Charley Chase, Paulette Goddard, Murial Evans, Charlie Hall, Billy Gilbert!
10:05 pm BATTLE OF THE SEXES (1928) - Directed by D. W. Griffith, and starring Jean Hersholt, Don Alvarado, and William Bakewell
11:45 pm THE BLACK SHEEP (1935) - Edmond Lowe, Claire Trevor

Sunday, March 12th

9:00 am PARTY WIRE (1935) - Jean Arthur and Victor Jory
10:30 am THE AUCTION Hosted by Leonard Maltin and Lafe McKee, Jr..
12:00 noon YOU MAY BE NEXT (1936) with Lloyd Nolan, Ann Sothern.
1:10 pm TIME OUT FOR MURDER (1938) - Gloria Stewart, Ruth Hussy, Robert Kellard
2:15 pm WOMAN TRAP (1936) - Sidney Blackmer, Edward Brophy, Russell Hicks, Roscoe Karns, Dean Jagger, George Michael, Gertrude Michael
3:30 pm GRAND JURY SECRETS (1938) with Gail Patrick, John Howard
4:45 pm THE GHOST WALKS (1934) with John Miljan, June Collyer, Johnny Arthur


For hotel reservations call:

Holiday Inn - (same hotel as last year!)
441 Electronics Parkway
Liverpool, NY 13088
315.457.1122

Amenities:
Full service restaurant and lounge
Room service
Indoor Pool, jacuzzi, sauna, fitness center
In-room movies and cable
Meeting space available
Complimentary van shuttle to and from the airport/mall
Directions:
From Interstate 81
Exit 25 off 1-81 (Seventh North St.)
Take a right off the exit
Follow Seventh North until it ends
We are the white building straight ahead
From Interstate 90 (The New York State Thruway)
Exit 37 off I-90 (Electronics Pkwy)
Go straight off exit
We are the white building straight ahead

IF YOU WOULD LIKE TO BE NOTIFIED WHEN NEW TITLES ARE ADDED:

Add me to the Cinefest mailing list!

This page has been viewed times