| | |
| --- | --- |
| Volume 9 Number 3 | Spring/Summer 2009 |
DISCOVERIES GALORE!!
The last six months have seen an unprecedented number of discoveries of soundtrack discs and nitrate film. When we began the Project in 1991, we believed that eventually there would be a leveling off of disc finds, and certainly of film elements. Fortunately, that has not seen the case. Since the beginning of 2009, more than 150 soundtrack discs have turned up, mostly in two large collections.
In March, Ron Hutchinson of the Project won a single, not particularly important, Columbia feature soundtrack disc on eBay. The seller was acting for an older collector in Australia and inquired if there was interest in seeing the list of his entire disc collection. Of course! A listing of over 80 more soundtrack discs was sent immediately. Virtually all were Columbia shorts and features from the 1929-30 season. A deal was quickly made and the discs were shipped to Ron with only a few casualties. The collection was particularly important because it contained discs with previously missing sound for the first Krazy Kat sound cartoon RATSKIN, 1929 --- see Jerry Beck's nice attempt at re-synching this after 80 years at http://www.cartoonbrew.com/classic/the-first-sound-krazy-kat-cartoon-ratskin.html, and a number of the Columbia-Victor Gem one reel shorts which were shot at the Victor Talking Machine Company in Camden, NJ, and other important features soundtracks. The Columbia-Victor Gems were among the only sound films outside of Warner Brothers/First National that were disc-recorded (Hal Roach was the other exception for a short period). Most important among these shorts for which sound is now available are two by SHOWBOAT singer Jules Bledsoe, shorts by vaudevillians Georgie Price, Buddy Doyle (who Jolson claimed did a better job than him in the stage JAZZ SINGER), and the phenomenal comedienne Nan Blakstone. Perhaps most important of all is the discovery of the disc for JAIL HOUSE BLUES (1929) starring legendary blues singer Mamie Smith. Years ago, another disc was found but severely damaged in shipment for restoration. A huge bite out of the disc prevented most of it from being played. YouTube has a short portion of this short with sound, but only as much as the surviving part of the disc allowed. Now the entire short can be restored and enjoyed again.
At press time, The Library of Congress and Columbia/Sony have indicated interest in restoring a number of the shorts.
Another collection was found in Boston just a few weeks following the Australia find. A film collector had acquired about 60 discs many years ago from an old film exchange. They then sat for years, forgotten, until he attended last year's Cinefest and spoke to the Project. Rich Finegan visited the collector and meticulously catalogued the discs. Among the important discs are 5 reels of Universal' Eddie Leonard feature MELODY MAN (1929) for which some film fragments were discovered last year.
The following discs were acquired this spring from Australia. All are Columbia Pictures unless otherwise noted:
PRINCE OF DIAMONDS (1930) reel 6
HONOLULU WILES (1930) Krazy Kat cartoon
ON THE LEVEE (1929) Jules Bledsoe Columbia Victor Gem
BOY WANTED (1929) Columbia Victor Gem
LEON NAVARRA in BUSY FINGERS (1929) Columbia Victor Gem
CONTINENTAL EVENING WITH FAY MARBE (1929) Columbia Victor Gem
MELODY MAN (1930) reels 5, 6, 7
HURRICANE (1929) reel 6 (2 copies)
SISTERS (1930) reel 6 (3 copies)
PORT WHINES (1929) Krazy Kat cartoon
CALL OF THE WEST (1930) reel 6 (4 copies)
THE SINGING BRAKEMAN (1929) with Jimmie Rogers - Columbia Victor Gem
HARMONY CLUB (1929) reel 1 - Columbia Victor Gem
ACQUITTED reel 6 (2 copies)
BROADWAY SCANDALS (1929) reels 1, 3, 9
MEXACALI ROSE (1929) reels 2, 6 (3 copies)
JAILHOUSE BLUES (1929) with Mamie Smith - Columbia Victor Gem
KAT'S MEOW (1930) Krazy Kat cartoon
A DAY OF A MAN OF AFFAIRS (1929) Columbia Victor Gem with Ginger Rogers
TEMPTATION (1930) reel 6
AT A TALKIE STUDIO (1929) with Buddy Doyle - Columbia Victor Gem
ON THE BOULEVARD (1929) with Buddy Doyle - Columbia Victor Gem
BROTHERS (1929) reels 6, 8
STAGE DOOR PEST (1930) with Boyce Combe - Columbia Victor Gem
JAZZ RHYTHM (1930) Krazy Kat cartoon
SOLDIERS AND WOMEN (1930) reel 6
STATION B.U.N.K. (1929) with Georgie Price - Columbia Victor Gem
ROMANY LASS (1929) Columbia Victor Gem
RATSKIN (1929) first sound Krazy Kat cartoon
FALLING STARS (1929) with Henry Bergman - Columbia Victor Gem
AROUND THE CORNER (1930) reel 6 (2 copies)
STAGE DOOR KNIGHTS (1930) Columbia Victor Gem
OLD MAN TROUBLE (1929) with Jules Bledsoe - Columbia Victor Gem (2 copies)
SPOOK EASY (1930) Krazy Kat cartoon
SLOW BEAU (1930) Krazy Kat cartoon
LISTEN LADY (1929) Columbia Victor Gem
SPIKE SPEAKS (1930) with Frank Moulan
PRINCESS LADYBUG (1930) Photocolor short
MY WIFE (1929) Columbia Victor Gem
DESERT SUNK (1930) Krazy Kat cartoon
OLD FLAME (1930) Krazy Kat cartoon
FLYING MARINE (1929) reels 1, 3, 4, 5, 6, 7
ALPINE LOVE CALL (1930) Technicolor Columbia Victor Gem
PLAYFUL PAN (1930) Silly Symphony Disney cartoon
FLIGHT (1929) reels 1, 3
SOLE MATES (1929) Krazy Kat cartoon
SOUTH SEA INTERLUDE (1929) Photocolor short
MEMORIES (1929) Columbia Victor Gem
SNAPPY COEDS (1929) with Nan Blakstone - Columbia Victor Gem
BROADWAY HOOFER (1929) reels 5, 7
WALL STREET (1929) reel 6
PARLOUR PEST (1929) Columbia Victor Gem with Boyce Combe
SPLINTERS (1929) (British & Dominion Pictures) 2 unlabelled reels
ON APPROVAL (1931) (British & Dominion Pictures) 3 unlabelled reels
PLUNDER (1931) British & Dominion Pictures) reels 1, 3
ALF'S BUTTON (1930) (Australasian Films) reel 1
WINTER Silly Symphony
SCREEN SNAPSHOTS (1930) #5023
These discs were discovered in the Boston area earlier this year:
MELODY LANE (1929) - Universal feature. Reels 1,3, 5, 6, 7
ALL QUIET ON THE WESTERN FRONT (1930) - Universal feature (non-dialogue version). Reels 10-D and 12-D
BATTLING WITH BUFFALO BILL, Chapter 1 (of 12) (1931) - Universal serial
PILGRIM PAPAS (1929) - Universal one-reel short. Benny Rubin series.
DELICATESSEN KID (1929) - Universal one-reel short. Benny Rubin series (also second copy of this)
WE WE MARIE (1930) - Universal two-reel short. Slim Summerville series. Reel 2 (of 2), Show-At-Home
HELLO RUSSIA (1930) - Universal two-reel short. Slim Summerville series. Reel 1
CHRISTMAS CHEER (1930) - Universal two-reel short. A Sunny Jim Talking Comedy. Reels 1 & 2 Plus dupe of reel 1
SHE'S A HE (1930) - Universal two-reel short. Sunny Jim series. Reel 2 (of 2)
THE ROYAL PAIR (1929) - Universal two-reel short. The Rooney Family series. Reel 2 (of 2) - two copies of this disc
LOVE PUNCH (1930) - Universal two-reel short. George Sidney & Charlie Murray series. Reel 1
COHEN ON THE TELEPHONE (1929) - Universal one-reel short. George Sidney. Reel 1
JUST PALS (1932) - Universal one-reel short. Christy Walsh All-America Sport Reel #2. (Babe Ruth #2). 11 & a half inch vinyl disc). In run-off area: Babe Ruth No. 2. "Just Pals". A Foy Production
UNIVERSAL NEWSREEL (1930) - UN-77. Vol. 2. Issue #77-2
UNIVERSAL NEWSREEL (1930) - UN-93. Vol. 2. Issue #93 - 2A
UNIVERSAL NEWSREEL (1931) - UN-10. Vol. 3, Issue #10-2
CHILI CON CARMEN (1930) - Universal Oswald cartoon. Reel 1. plus second copy
BOWERY BIMBOES (1930) - Universal Oswald cartoon. Reel 1
TIME TO EXPIRE (1929) - Educational one-reel short. Cameo Comedy series starring Gene Stone. Reel 1 plus second copy
ZIP BOOM BANG (1929) - Educational two-reel short. Jack White Comedy Reel 2 (of 2)
GRAND PARADE (1930) - Pathe 8-reel feature. Reels 5 & 7
HOLIDAY (1930) - Pathe feature. Reel 10
TRAFFIC TANGLE (1930) - Pathe two-reel short. Reel 1 (of 2)
MODERN RHYTHM (1929) - Pathe one-reel short. Sound Sportlight series. Reel 1
HOOK, LINE AND MELODY (1929) - Pathe one-reel short. Grantland Rice Sportlight series. Reel 1
JAIL BREAKERS (1929) - Pathe Aesop Fable cartoon. Reel 1
WESTERN WHOOPEE (1930) - Pathe Aesop Fable cartoon. Reel 1
PATHE AUDIO REVIEW 43 (1929-30) - Pathe one-reel short
CHOPIN (1930) - James A. FitzPatrick's Famous Music Master Series. Reel 1
THANKSGIVING DAY (1930) - FitzPatrick American Holiday series. 11 1/2 disc. Reel 1
GEORGE WASHINGTON (1931) - FitzPatrick American Holiday series (for George Washington's Birthday). 11 & a half inch disc. Reel 1
THE PAGAN (1929) - MGM Reel 6
LOUIS BAUM PRESENTS HOT TIPS A HARRY DELF COMEDY SKETCH (1929) - Columbia short. Reel 1
THE BACHELORS CLUB (1929) - Parthenon Pictures 6-reel feature Reel 2 (of 6)., Columbia Sound-on-Disc Division
SCHOOL DAY FROLICS (?) American Sound Recording. Reel 2 No copyright
COTTON PICKING TIME (?) No copyright. International 16mm Pictures, Inc. plus 2nd copy
THE HEART OF THE NATION (?) No copyright. Central (spelled Centrl) Film Corp.
HELL DRIVERS (?) No copyright. Wilding Picture Productions, Inc.
PRESIDENT HOOVER'S TRIP IN SOUTHERN WATERS IN 1931. (1931) Visionola. [a home talkie console unit]
ADVANCE TRAILERS (c. 1930) - BLAZE THE TRAIL FOR MORE BUSINESS
Plus about a dozen 1930-32 period radio and other transcription discs.
DISCS DISCOVERED ELSEWHERE….
Complete set of discs, reels 1 through 11, for THE SINGING FOOL (1928) in original WB shipping box
Disc for one reel short MOVIE HOROSCOPES (Fitzgerald Pictures, Photophone)
Trailer disc for STEEL HIGHWAY (WB, '31)
Disc for Vitaphone short THE POTTERS No. 4 ('30)
Disc for early Vitaphone symphonic short # 447, POET AND PEASANT OVERTURE ('26)
---
NITRATE FILM DISCOVERIES
While discovery of soundtrack discs still occurs with some regularity, and occasionally in big bursts as reported above, the uncovering of nitrate film is much rarer. As years pass, the chances of finding unstable nitrate films deteriorates as the film stock itself does. It was therefore welcome to hear from Austrailian Paul Brennan this June. Paul reported that the complete 35mm Technicolor print of the thought lost (except for final reel) of the Tiffany 1930 feature MAMBA had been screened there recently. The collectors had sound discs just for reels 5, 6, 7, and 8 and attempted to synch them up at the screening. The Project immediately notified Bob Gitt at UCLA. In 1992, Bob's "wish list" of restorations (most now done) include their final reel of this expensive color feature. Bob reported that all sound discs for the feature reside at UCLA, so a complete restoration is possible. Work is now in progress to assess funding and restoration details. Bob had previously supervised important Technicolor restorations (GOLD DIGGERS reels, BECKY SHARP, FOLLOW THRU, many more) so he is particularly suited to helm a restoration of MAMBA should funding be found. MAMBA starred Jean Hersholt, Eleanor Boardman and Ralph Graves, and was poverty row Tiffany Studios attempt at a big budget, all-color talkie. People who have seen the nitrate print report that the color is eye-popping!
Also discovered were all 12 nitrate reels plus matching Vitaphone soundtrack discs, for a 1930 sound re-issue of D.W. Griffith's THE BIRTH OF A NATION (1915). A number of important silents (BEN HUR ('25) THE BIG PARADE ('25) ) were reissued with music and sound effects tracks when talkies arrived. The Project has connected the collector with folks at The Library of Congress to pursue restoration possibilities.
These last six months indeed represent perhaps the most active and productive in terms of discoveries. Let's hope the trend continues!
---
We recently picked up this September 28, 1929 flyer for Brooklyn's Loew's Kameo Theatre and wondered if the theatre still existed. A quick visit to the Cinema Treasures website answered the question. The site lists over 25,000 theaters and provides info on each of them. In this case, the Kameo still exists, albeit in another incarnation as a church. Even the rooftop theatre survives and the striking Egyptian façade is largely intact. For the whole story, including recollections of customers of the Kameo, go to http://cinematreasures.org/theatre/3863/
---
RECENTLY FOUND ON E-BAY
---
THANK YOU CD OF 8 NEWLY FOUND COLUMBIA DISCS
We've added yet another more rare soundtrack CD's to thank those who contribute to The Vitaphone Project. We've compiled 8 of the 1929-30 Columbia short subject discs recently found in Australia (see our cover story), including Nan Blakstone, Mamie Smith, Leon Navarra, Georgie Price, Fay Marbe, Buddy Doyle, Jules Bledsoe, and the first sound Krazy Kat cartoon! This CD is in addition to the recent new Volumes 1 and 2 of 1929-30 Universal Studios music themes used to intro segments of their newsreels and shorts, we now have a Volume 3 --- with 96 (!!!) 30-second music cuts! Each selection runs only 30-40 seconds and is a jazz, traditional or original tune.
UNIVERSAL 1929-30 THEMES VOL. 1, 2 or 3
Each counts as one CD.
VICTOR PICT-UR-MUSIC DISCS Vol. 1 (1)
VICTOR PICT-UR-MUSIC DISCS Vol. 2 (1)
And from our existing library.
MORE VITAPHONE SOUNDTRACKS - 2007 EDITION - Includes 13 tracks from 1926-30 vaudeville and band shorts, not included on any previous CD. (1)
SOUNDTRAX STUFF #1 - 29 soundtracks of musical performances from 1930 - 1940, featuring tunes from Paramount features, Vitaphone and other studio shorts, and peppy credits music. (1)
WHEELER & WOOLSEY TUNES (2 CD's) - includes virtually every one of the songs from their 1929-37 features. For real fans! (2)
OF PARAMOUNT IMPORTANCE, Vol. 1 - features musical selections from 1929-38 Paramount shorts and features. (1)
FOX MOVIETONE MUSICAL 78's - Prepared for audience entrance music at Film Forum's recent "Fox Before The Code" series, this CD features commercial 78's of songs from 1929-34 Fox Movietone musicals. Bands include George Olsen, The High Hatters, McKinney's Cotton Pickers and Anson Weeks. Toe tapping! (1)
GOLD DIGGERS OF BROADWAY ('29) Vitaphone discs - 99% of the sound from this still substantially lost early Vitaphone feature. (1)
MY MAN ('28) - all available discs from the lost Fanny Brice feature, plus trailer disc and contemporary 78's of film tunes. (2)
BABY ROSE MARIE, THE CHILD WONDER ('29) - all known 1929-38 78's by this popular child star, plus tracks from her 3 Vitaphone shorts, features and even her 1938 radio show. (1)
MISS FRANCES WILLIAMS - 78's, radio transcriptions and film soundtracks by this popular and sophisticated singer, 1927 - 1937. (1)
VITAPHONE SOUNDTRACKS - Vol 1-4 Selections from soundtrack discs from vaudeville, band and feature films. (4)
WHY BE GOOD? Soundtrack - the complete jazzy Vitaphone discs for this soon to be restored 1929 silent starring Colleen Moore. Believed to feature Jimmy Dorsey, Phil Napoleon and Eddie Lang among others. (1)
Remember that these are unique, non-professional (but highly listenable) recordings of rare early talkie material. No fancy notes or packaging, but we are sure you will enjoy them. Contributions, while not deductible, are greatly appreciated and help us continue to get the word out on our efforts. You may go to our website and contribute via PayPal, or send your check (payable to Ron Hutchinson) to 5 Meade Court, Piscataway, NJ 08854.

$50 - Pick any one
$75 - Choose any two CDs
$100 - Pick any three CDs
$150 - Pick any six CDs
$200 or more - Pick any eight CDs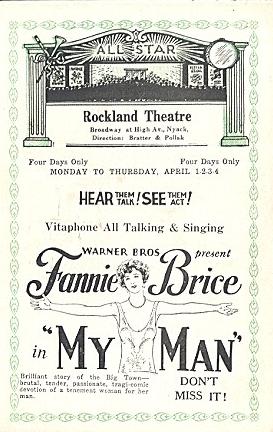 Donate to The Vitaphone Project securely with any major credit card through PayPal!
Checks (not deductible) should be made payable to:
Ron Hutchinson (NOT The Project)
5 Meade Court
Piscataway, NJ 08854
---
POSTAGE RATES HIKED AGAIN… HAVE YOU CONTRIBUTED LATELY?
A number of recipients of Vitaphone News send in generous donations regularly, and this is greatly appreciated. If it has been a few years or longer since you've sent in a contribution, please consider doing so. Postage rates went up again recently, and combined with rising printing costs, makes your support more important than ever. Virtually all contributions go to the printing and distribution of VITAPHONE NEWS. Please consider sending in a donation today. You may go to our website and contribute via PayPal, or send your check (payable to Ron Hutchinson) to 5 Meade Court, Piscataway, NJ 08854. Thanks!
---
---
PEOPLE
We first met Jeannie Pool of the Film Music Society back in 1992, just a year after the Project began. Ron and Sherwin Dunner gave a talk at MOMA on the goals of the Project, and were introduced by "Laura" composer David Raksin. Today, Jeannie is in charge of the vast Paramount Studios film music collection. This includes thousands of scores and cue sheets for early talkie features and shorts and even Paramount Publix stage presentations. She has generously offered to let us visit and salivate over their holdings
Richard Koszarski's terrific new book, HOLLYWOOD ON THE HUDSON, has been submitted for consideration for this year's Theatre Library Association performing arts book award

Davey Lee, who played "Sonny Boy" in Al Jolson's THE SINGING FOOL ('28) died on June 17, 2009 at the age of 83. The immense popularity of the Jolson feature led to his starring in SONNY BOY ('29) and he was reunited with Jolson the same year in SAY IT WITH SONGS. He subsequently appeared in the WB features FROZEN RIVER ('29), SKIN DEEP ('29) and THE SQUEAKER ('30) before retiring from the screen at the age of 6
Project supporter and screenwriter David Stenn recently had a meeting at Dreamworks Studios and was amazed to see a complete Vitaphone projector/turntable set-up in the lobby!
David Garrick has created a wonderful website dedicated to Vitaphone shorts stars Ray Mayer & Edith Evans. Mayer's relative Ed Broecker has provided much material too. Check it out at www.jazzage1920s.com/raymayer/raymayer.php. Ray was the gum chewing piano playing cowboy in two 1928 Vitaphone shorts, one of which is included in THE JAZZ SINGER DVD boxed set
Speaking of relatives, we also heard from Keith Petty, who is the nephew of singer Ruth Petty. Ruth appeared in the bizarre Vitaphone short JACK WHITE AND HIS MONTREALERS ('29), singing "I'm Kar-azy For You"
Janet Hoffman kindly reminded us that May 13, 2009 marked the 80th anniversary of Laurel & Hardy's transition to sound with their first talkie two-reeler UNACCUSTOMED AS WE ARE. Hal Roach Studios was among the few outside of WB/First National to initially only use disc recording
Film Forum Repertory Director Bruce Goldstein, who has present nearly a dozen Vitaphone programs at the famous venue, received the esteemed Mel Novikoff Award at the 52nd San Francisco International Film Festival. Congratulations Bruce! Well deserved!
Mark Forer reports that a statue at Venice (CA) High School posed by Myrna Loy in the early 1920's (when she attended the school) had been repeatedly vandalized and for awhile even disappeared. Mark happily reported that $200K was raised for the statue's restoration (and security surveillance)
Jason Sanders reported finding the huge scrapbook owned by Vitaphone sound engineer Stanley Althouse. Included are countless news clipping, ads, sample disc labels, and inter-office memos
Richard Barrios, author of the book A SONG IN THE DARK which covers the movie musical from its very beginnings, reports an updated version of the book is due out in the Fall of 2009
Dudley Heer, long time Project supporter and contributor to the restoration of over a dozen Vitaphone shorts, assembled and hosted a program of Vitaphone shorts this past February at The University of Arizona. American Vaudeville Association head Frank Cullen provided historical commentary. Dudley also ran another Vitaphone show at Chicago's Portage Theatre this spring
Bob Gitt and Eddie Richmond also included a retrospective of eleven restored Vitaphone shorts at this year's UCLA Fourteenth Festival of Preservation at the University's Billy Wilder Theatre
Bandleader Vince Giordano is providing vintage music for a Martin Scorcese HBO production now filming in Brooklyn. Vince also purchased the large collection of late-silent music cue sheets we reported two issues ago. We're happy to report that Vince's orchestra, The Nighthawks, will also be playing at the wedding of Ron Hutchinson's daughter Heather, at the Loews Jersey Theatre this September!
---
GREAT NEW WEBSITE
We recently became aware of a wonderful website put together by Jonas Nordin of Stockholm, Sweden. It's "All Talking! All Singing! All Dancing!" and covers the period of 1927-31 with stories, film clips, and stills. Recent entries focus on Alice White, MGM dance director Sammy Lee, and QUEEN KELLY.
Check it out at: http://talkieking.blogspot.com
---
AND THE WB VAULT DOORS FLEW OPEN!
George Feltenstein, Senior VP of Warner Home Video, has done it again! Warners is now opening up their vaults to enable customers to obtain custom DVDs of hundreds of films that might ordinarily never see a release. Promising 300 titles by year-end, and a goal of 20 new titles per month, The Warner Archive series can be viewed at:
http://www.wbshop.com/Warner-Archive/ARCHIVE,default,sc.html?adid=wacurl
For $19.95 each, a custom made DVD is burned for you and mailed. Films may also be downloaded. Silents, B musicals, early talkies, and much more, are part of the initial offerings. George tells us the public has really responded to the new idea, and that bodes well for future offerings from deep in the vaults. A few examples of titles that otherwise might never see DVD release: EXIT SMILING ('26), THE RED MILL ('27), SAY IT WITH SONGS ('29), BIG BOY ('30) and Vitaphone-scored features OLD SAN FRANCISCO ('27), THE BETTER 'OLE ('26), THE FIRST AUTO ('27).
Eventually, Warners hopes to offer custom DVDs of Vitaphone shorts as well as most of their 5500+ features from their WB, MGM and RKO library.
This is also a good place to mention that Universal has released their "Pre-Code Hollywood Collection". Included are the features THE CHEAT (Par/'31), MERRILY WE GO TO HELL (Par/'32), HOT SATURDAY (Par/'31) with a Maltin favorite tune "I'm Burning For You"!, TORCH SINGER (Par/'33), MURDER AT THE VANITIES (Par/'34) and SEARCH FOR BEAUTY (Par/'34). Nice to see Universal joining Warner Home Video in releasing this early material on DVD. Warner's own "Forbidden Hollywood Collection, Volume 3", was also released earlier this year. In addition to features OTHER MEN'S WOMEN (WB/'31), THE PURCHASE PRICE (WB/'32), FRISCO JENNY (WB/'33), MIDNIGHT MARY (WB/.'33), HEROES FOR SALE (WB/'32) and WILD BOYS OF THE ROAD (WB/'33) all directed by William Wellman, the boxed set is overflowing, as always, with lots of extras. These include a doc on Wellman, three Vitaphone Philo Vance shorts, some incredibly bouncy Merrie Melodies cartoons and other shorts and trailers.
---
50+ VITA SHORTS RESTORATIONS UPDATE
As previously reported, Warner Brothers, under the direction of Ned Price, is funding and restoring over 50 1926-30 Vitaphone short subjects. Bob Gitt, retired Chief Preservation Officer at UCLA, is assisting. The Project is providing the funding (with donations primarily from generous Dudley Heer) to make projectable 35mm prints (which WB does not require). At press time, about 25 of the shorts have been restored. Ned found that four shorts had badly cracked discs. The Project was able to provide replacements for two of them, For the other two, Ned is enlisting the expertise of Jim Cooprider, who repaired the severely cracked (in 5 places) disc for AL JOLSON IN A PLANTATION ACT (1926).
It is expected that at least some of the restored shorts will be available for public screening in early 2010. We will of course keep you posted on details when they become available.
---
MAMMY WITH COLOR SOON ON DVD
In addition to Warner Archive's current offering of individual DVDs of Jolson's THE SINGING FOOL ('28), SAY IT WITH SONGS ('29), BIG BOY ('30), WONDER BAR ('34) and THE SINGING KID ('36), MAMMY ('30) will also be available later this year as part of a planned Jolson boxed set. The Technicolor sequences, beautifully restored by UCLA, will be incorporated into the DVD. This is something early talkie and Jolson fans have been requesting for years.
---
CAPITOLFEST 7 ANOTHER TALKIEFEST
Art Pierce has done it again, assembling another weekend this August 7-9, chock full of early silents and early talkies at the Rome, NY Capitol Theatre. Included, as always, are some Vitaphone shorts. This time Art has scheduled HELEN MORGAN in 'THE GIGOLO RACKET' ('31), ANN BUTLER AND JAY BRENNAN in 'YOU DON'T KNOW THE HALF OF IT ('29) and CRIMES SQUARE ('30) starring Pat O'Brien. Features include the WB operetta VIENNESE NIGHTS ('30) and FOX MOVIETONE FOLLIES OF 1930.
For full details, go to: http://www.romecapitol.com/capfest7form.pdf
---
IF YOU WOULD LIKE TO BE NOTIFIED WHEN NEW ISSUES ARE ADDED TO THIS WEB SITE:
---
---

This web site is maintained by Patrick Picking: patrick@picking.com
Copyright 1996-2011