E-Mail this story to a friend
Cinefest 35!
---
IF YOU WOULD LIKE TO BE NOTIFIED WHEN NEW DETAILS ARE ADDED:
Add me to the Cinefest E-Mail list!
JOIN THE CINEFEST GROUP ON FACEBOOK!
---
It's time again to get ready for Cinefest! Cinefest is the celebration and viewing of rarely seen classic films. Cinefest 35 will be held Thursday - Sunday, March 19th - 22nd, 2015. We will be celebrating our 35th Anniversary! Make your hotel reservations early. The Hotel information is listed below!
Featuring great films to fill the four glorious days from the vaults of the world's greatest libraries and obscure specialties we are noted for from private collectors!
THIS IS THE LAST YEAR FOR CINEFEST!! :(
It's usually cold in March at Cinefest! Click here for the 10 day weather forecast!
Restaurants - Our attendees continue to return to THESE RESTAURANTS!
---
MORE TENTATIVE TITLES TO BE ANNOUNCED SOON!!
ONCE A SINNER - (1931) - starring Dorothy McKaill is on the schedule courtesy of UCLA Film And Television Archives
RISKY BUSINESS - (1939) - Remember "Okay America" the 1932 Universal film starring Lew Ayres that we screened at Cinefest back in 1991? Guess what? It was remade in 1939 with George Murphy, Dorthea Kent and everybody's favorite, El Brendel. The rarely seen remake, Risky Business (1939, Universal) will be screened at Cinefest 35 next March
SMOKING GUNS - (1934) - Smoking Guns (1934, Universal) was the last film made by Ken Maynard on his contract with Universal.
YELLOW FINGERS - (1926) - starring Olive Borden and Ralph Ince. This rarely seen silent film will be screened courtesy of The Museum Of Modern Art
THE NEW KLONDIKE - (1926) - Based on a short story by Ring Lardner and partially filmed in Florida, "The New Klondike" (1926, Paramount) was directed by Lewis Milestone and stars Thomas Meighan as a minor league ballplayer who gets mixed up with crooked land speculators in Florida. Our friends at Library of Congress will be providing the title to Cinefest 35 for screening next March. Note: the film is missing a bit of footage but those who have seen it, say that it will not effect your enjoyment of this rare title
WELCOME DANGER! - (1929) - the long unseen SILENT version of Harold Lloyd's first talkie!
SYNTHETIC SIN - (1929) The recently restored Colleen Moore film "The Synthetic Sin" (1929, First National) is on the schedule for Cinefest next March. Cinefest is grateful to so many people and archives who have made this screening possible and they will all be mentioned and thanked in the program book but we would like to mention here special thanks to Ned Price, Ron Hutchinson and Joe Yranski. This screening will be a highlight of the 35 March gatherings of the Syracuse Cinephile Society. If you have not seen the film at one of the recent screenings around the world, you will want to be at Cinefest for this special screening!
TESS OF THE STORM COUNTRY - (1914) with Mary Pickford, Harold Lockwood. New restoration.
OUT ALL NIGHT - (1935) with Zazu Pitts, Slim Summerville, and Shirley Temple
THE ROAD BACK - (1937) with John "Dusty" King, Richard Cromwell, Slim Summerville
THE DANGER GAME - (1918) Film Historian Richard Koszarski will introduce a new restoration of the long unseen Goldwyn romantic comedy filmed in Ft. Lee N.J. from 1918 "The Danger Game". The film was directed by Harry Pollard and stars Madge Kennedy and Tom Moore.
THE BIG BROADCAST - (1932) with Bing Crosby, Burns & Allen, Stu Erwin, Sharon Lynn
THE LAST MAN ON EARTH - (1924) Fox film directed by John Blystone. Starring Earle Foxe. Print is courtesy of The Museum of Modern Art.
THE SEA LION - (1921) "The Sea Lion" might not be as rare as it was when it was the first silent feature ever screened at the first Cinefest in 1981. It was loaned to Cinefest by legendary film collector and historian Gordon Berkow who always made available any film in his collection to Cinefest. To honor the memory of Gordon, we will be presenting several films from his collection at Cinefest 35. We thought it was apt to screen the exact same print of "The Sea Lion" thirty five years later at Cinefest 35.
THE RETURN OF PETER GRIMM - (1926) The Museum Of Modern Art will provide a print of the rarely revived silent version of "The Return Of Peter Grimm" (1926) produced by Fox Films and starring Alec B. Francis and Janet Gaynor.
LIFE IN THE RAW - (1933) UCLA Film And Television Archives will again be loaning Cinefest several rarely seen films made by Fox from the period between 1930 and 1933. Life In The Raw (1933) stars George O'Brien and Claire Trevor
MEN ON CALL - (1930) - stars Edmund Lowe, Mae Clarke and Warren Hymer. (courtesy of UCLA Film and Television Archives)
MY LIPS BETRAY - (1933) - starring Lillian Harvey and John Boles.
Rob Stone and Steve Massa will present two programs of short comedies from the archives of The Library Of Congress at Cinefest 35. One show will spotlight the FLORIDA FUN FACTORIES and highlight the comedies shot down there in the teens. The program will include:
AN EXPENSIVE VISIT - (1915) - Lubin starring Babe Hardy
A BATH TUB ELOPEMENT - (1916) - Eagle Film starring Marcel Perez, with Louise Carver & Tom Murray
A Vim made Pokes and Jabbs short, and others
Plus these special presentations:
A SONG IN THE DARK hosted by Richard Barrios
TRAILER MANIA hosted by Ray Faiola
BEST OF MOSTLY LOST hosted by Rob Stone and Rachel Parker
COLOR IN THE MOVIES hosted by Eric Grayson
RARE HAL ROACH COMEDY SHORTS hosted by Richard Bann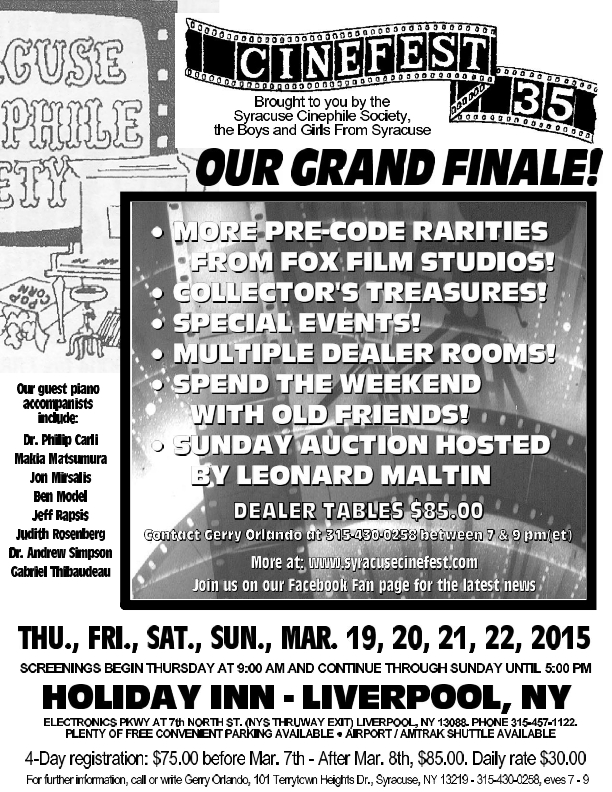 Piano accompaniments by
Dr. Philip Carli
Makia Matsumura
Dr. Jon Mirsalis
Ben Model
Jeff Rapsis
Judy Rosenberg
Dr. Andrew Simpson
Gabriel Thibaudeau

---
Hotel reservation sheet should be sent directly to the Holiday Inn, 7th North Street & Electronics Parkway, Liverpool, NY 13088. Their phone number is 315-457-1122. If there is no registration sheet, contact the hotel directly and be sure to mention code "CIN" for special room rates. The Holiday Inn is located on 7th North Street and Electronics Parkway (Exit 37 off the NYS Thruway, I-90) and one mile north of Exit 25 off of I-81- turn north off Exit 25 and continue one mile on 7th North Street and the Holiday Inn is directly in front of you.

Do you want the additional comfort of a SUITE while at Cinefest? The NEW Staybridge Suites is connected to our Holiday Inn. Call 315-457-1900 and mention code "CFT" to receive our special rates.

CINEFEST 35 begins Thursday, March 19 at 9:00AM and will conclude at 5:00PM Sunday, March 22, 2015. Our convention registration desk will be open at the hotel Wednesday March 18 at 7:00PM for your convenience.

Remember - Send completed Reservation Form and payment to Cinefest, Box 279, Manlius, NY 13104-0279.

Payment - Make your pre-registration check to: CINEFEST. Registration credentials and tickets will be held for your pick-up at the registration desk at Cinefest 35. It is also possible to register in person anytime during Cinefest providing we are not sold out.

Registration fee is required of each person attending Cinefest.

Registration fee for all four days is $85.00 per person. See Registration Form for discount!

Registration fee on a daily basis is $30.00 per person, per day.

Your registration will admit you to all activities at the Holiday Inn - all film screenings, dealer rooms.

Dealer's tables are $85.00 each. You must sell film or film related materials: stills, posters, books, magazines, records, videos or DVD's, supplies, etc. No items pertaining to pornography are permitted. Table rental fee is for all four days, Thursday through Sunday and includes Registration for Holiday Inn programs only. Dealers make note: Your tables or space cannot be sublet without authorization. Table locations are given out at the discretion of Cinefest. All dealers must confirm attendance by February 15th. After that date, tables will be on a first-come, first-served basis. No tables will be held because you have been here previous years. Call Gerry Orlando - 315-468-6147 Mon.-Fri. 7:00PM to 9:00PM for confirmation.

Remember - Send the Registration Form with payment (made out to CINEFEST) to:
Cinefest, Box 279, Manlius, NY 13104-0279.

For additional information and latest schedule contact CINEFEST at http://www.syracusecinefest.com/
You can reach Gerry Orlando at 315-430-0258, evenings 7:00PM to 9:00PM or by e-mail at mailto:?Subject=Cinefest!
---
Cinefest Registration Forms!
Download the form, Print it out, write your check, and send it in to reserve your space at Cinefest!!

The registration form is posted below. Get your registrations in early!!

Please fill out the registration form and send it to:

Cinefest
Box 279
Manlius, NY 13104-0279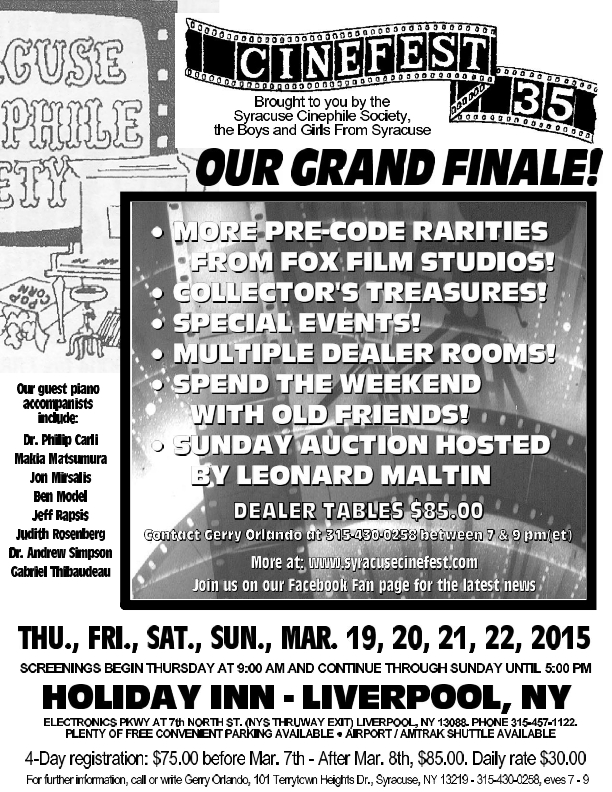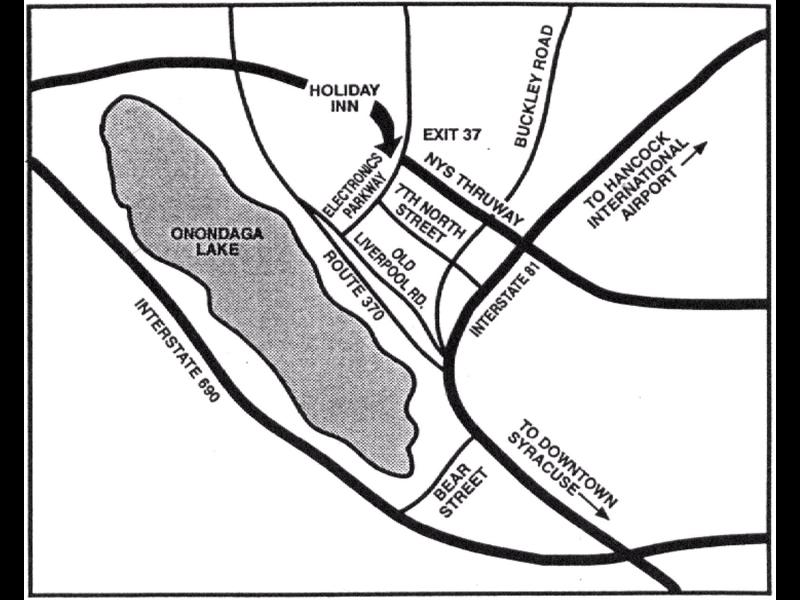 ---
MAKE YOUR HOTEL RESERVATIONS EARLY!
For hotel reservations call:
Holiday Inn - (same hotel as last year!)
441 Electronics Parkway
Liverpool, NY 13088
315.457.1122
BOOK YOUR RESERVATION ONLINE HERE! Use the code CIN for the Cinefest discount rate!!
http://www.mapquest.com/directions/main.adp?go=1&do=nw&cl=EN&un=m&ct=NA&1y=US&1a=&1c=&1s=&1z=&1ah=&2y=US&2a=441+Electronics+Parkway&2c=Liverpool&2s=NY&2z=13088&2ah=&formtype1=address&formtype2=address&idx=0&id=3ffd88d0-0012c-029fb-cdbcf383&aid=3ffd88d0-0012d-029fb-cdbcf383 - use Mapquest.com to find driving directions to the hotel from your location! Just enter your starting address. Your destination is already filled out for you!
Amenities:
Full service restaurant and lounge
Room service
Indoor Pool, jacuzzi, sauna, fitness center
In-room movies and cable
Meeting space available
Complimentary van shuttle to and from the airport/mall
Directions:
From Interstate 81
Exit 25 off 1-81 (Seventh North St.)
Take a right off the exit
Follow Seventh North until it ends
We are the white building straight ahead
From Interstate 90 (The New York State Thruway)
Exit 37 off I-90 (Electronics Pkwy)
Go straight off exit
We are the white building straight ahead