| | |
| --- | --- |
| Volume 9 Number 1 | Spring/Summer 2008 |
UPCOMING DVD RELEASES INCLUDE VITA SHORTS
We will never tire of telling people that Warner Home Video's 3 DVD deluxe box set of THE JAZZ SINGER was extremely successful and appears destined to be, by far, the biggest selling black and white DVD of 2008. It is clear that the presence of nearly 7 hours of extras, including 24 restored 1926-30 Vitaphone shorts, played a significant role in the set's success. WHV fully recognizes that, and this augurs well for possible future vintage releases that incorporate large numbers of rare shorts. While there are no firm plans yet as of press time, there are several pending DVD releases that include enjoyable Vitaphone shorts which will definitely be of interest to our readers:

WARNER BROTHERS PICTURES GANGSTERS COLLECTION VOLUME 4 - is due for release on September 23, 2008. The features in the set are THE AMAZING DR. CLITTERHOUSE ('38), THE LITTLE GIANT ('33), LARCENY, INC. ('42) (a hilarious sleeper of a little comedy starring Edward G. Robinson), INVISIBLE STRIPES ('39) and KID GALAHAD. ('37). But even if you're not a gangsters fan, get the set for the following shorts that are included:
NIGHT INTRUDER (Vitaphone/'38) *
JUST AROUND THE CORNER (Vitaphone/'33) a GE appliances advertising short brimming with studio stars Dick Powell, Warren William, Bette Davis, Ruth Donnelly and Joan Blondell!
QUIET, PLEASE (Vitaphone/'39) Technicolor comedy with Fritz Feld
ALIBI MARK (Vitaphone/'37) *
POSTAL UNION (Vitaphone/'37) two reel musical starring Georgie Price with tunes by Sammy Cahn & Saul Chaplin (then Brooklyn studio employees), including the wonderful "I'm Picketing Baby"
Plus loads of vintage cartoons, newsreels and trailers.
[* from the critically acclaimed Floyd Gibbons "Your True Adventures" series directed by Joseph Henabery]

THE BUSBY BERKELEY COLLECTION VOLUME 2 - due for release on September 16, 2008. The set's features are GOLD DIGGERS OF 1937 ('37), GOLD DIGGERS IN PARIS ('38), HOLLYWOOD HOTEL ('37) and VARSITY SHOW ('37). Again, the set is brimming with extras, including more Vitaphone shorts:
BOTH (that's right) restored reels from the otherwise lost GOLD DIGGERS OF BROADWAY ('29). In early two-strip Technicolor
THE CANDID KID (Vitaphone/'38) a Phil Silvers 2 reel musical
LITTLE ME (Vitaphone/'38) 2 reel musical starring Wini Shaw and Gil Lamb
DOUBLE TALK (Vitaphone/'37) starring Edgar Bergen & Charlie McCarthy
FLOWERS FROM THE SKY (Vitaphone/'37) - 2 reel musical with Charles King (of BROADWAY MELODY) and Josephine Huston
Plus more non-Vitaphone shorts, a feature length documentary on Busby Berkeley, and five vintage Warner Brother cartoons from the period
Producer George Feltenstein, who gave us the JAZZ SINGER set and the award winning first volume of Busby Berkeley features --- plus so much more that he should be nominated for sainthood - has also announced the planned broadcast in September 2008 of a new documentary about Warner Brothers, YOU MUST REMEMBER THIS. It will be a three-part program that will help kick off the new season of "American Masters" on PBS. The shows will also be released as a DVD set that includes a 550 page full color companion book written by film historians Richard Schickel and George Petty, with a forward by Clint Eastwood. All of this is in recognition of Warner Brothers Studios' 85th anniversary.

Consider pre-ordering these on www.amazon.com !
---
LARGE COLLECTION OF LATE '20's SILENT MOVIE CUE SHEETS DISCOVERED!

Prior to the coming of sound, as well as during a brief period at the transition, most film studios would send musical "cue sheets" along with their features. These were not complete scores, but rather brief portions of musical selections recommended to accompany the action. The "cue" was usually a brief excerpt from a title card or a description of on-screen action. That would be the indication to the pianist or orchestra to begin playing that suggested tune. Bandleader Vince Giordano has perhaps the largest known collection of cue sheets, some dating back to the early silent days.

Recently we were advised of another very large collection, consisting almost entirely of cue sheets for often lost late period silent films. In the case of films that survive, they offer the opportunity to recreate truly authentic accompaniments in modern screenings. Here is a list of the cue sheets in this newly found collection, as well as a few examples of what they look like:

It would be great to enjoy Harold Lloyd's last silent, SPEEDY ('28) with an authentic score as recommended by Paramount. And now, in theory, you could at least hear the score to the long lost Lon Chaney feature LONDON AFTER MIDNIGHT (MGM/'27)

Many of the surviving films like ROOKIES (MGM/'28), BABY MINE (MGM/28), THE SINGLE STANDARD (MGM/'29), LAUGH, CLOWN, LAUGH (MGM/'26), and BEN HUR (MGM/'25) are owned by WB and could be screened on Turner Classic Movies if an enterprising programmer (are you listening?) decided to commission new authentic scores.

If any readers of Vitaphone News know of a way to get these scores heard again and matched with surviving films, please let us hear from you at ron@vitaphoneproject.com
---
PEOPLE
Disney animator and documentarian Betsy Baytos has ramped up completion of her film on eccentric dancing. She recently traveled to England and spent time with the family of Lupino Lane. The music hall and film comedian (perhaps best remembered for his Educational silent two reelers and "The Lambeth Walk", was one of the leading exponents of eccentric dancing and "legomania". During her visit, Betsy found countless stills (one autographed to Lane by Chaplin) and some still to be screened film. She will also be working with BFI to view rare British DeForest Phonofilms of music hall performers filmed there in 1927-29
Richard Kozarski is film history professor at Rutgers University as well as past head of The Museum of the Moving Image based in the old Paramount Astoria studios. Richard's book on the history of film making in New York from the beginning is due out this fall
a delightful but little-known child performer, Sybil Elaine Krinney (later Sybil Trent) appeared in the 1935 Vitaphone kiddie short TROUBLE IN TOYLAND (1935). In it this extremely polished entertainer sings "I Can Sew A Button" and even does imitations of Joe Penner and vaudevillian Eve Sully. We always wondered what happened to her but always came up blank. Finally a chance search just for a "Sybil Elaine" turned up her history. As a child, she appeared in Billy Rose's JUMBO, Earl Carroll's Vanities, and in some features supporting Walter Huston and Melvyn Douglas. She had her own radio show at age 6 over WHN, and starred for two decades on radio's popular "Let's Pretend". Later in life she was casting director for Young & Rubicam. All of which explains her polish in her Vitaphone short. Sadly, she died in 2000, but her obit listed her two sons, mega-restauranteurs Tracy and Drew Nieporent. We contacted them and shared some of the film appearances we had. In return, Tracy (who with brother Drew run Nobu, Tribeca Grill with Robert DeNiro, and many other top eateries) sent us pictures from other Vitaphone shorts she made. We were able to identify titles which included shorts with Fatty Arbuckle, Jack Haley, and Sammy Davis, Jr.
fans of Vitaphone will love the recent books of author Richard Lamparski, whose "Whatever Became Of?" series is a staple of most film buff's libraries. Bear Manor has published two collections of Lamparski's short stories, "Manhattan Diary" and "Hollywood Diary". They are brimming with fascinating and often bizarre stories of film and stage legends like Zeppo Marx, Mae West, Darla Hood and others. The story about the unknown comic MC Jean Malin, whose new car backed into the ocean and drowned him while nearly killing passenger Patsy Kelly, is worth the price of admission alone
We first met author Allen Hauss when he provided us the disc for the 1927 FRED WARING AND HIS PENNSYLVANIAN Vitaphone short, as well as one for Eddie Cantor's lost first talkie, THAT PARTY IN PERSON (Par/1928). Allen recently penned the photo-filled book "South Jersey Movie Houses", which is part of Arcadia Publishing's "Images Of America" series
singer Michael Feinstein attended a recent record collectors show this June and talked to Project founders John Newton, Alan Cooperman and Ron Hutchinson regarding early Warners musicals
the theory of relativity continues unabated at the Project. Since our last issue we've heard from the grandsons of Vitaphone performers Larry (aka Dick) Rich and bandleader Henry Halstead (whose orchestra included Lou Ayres and Phil Harris in the late twenties), as well as the cousin of 1929 Vitaphone shorts performer Riva Reyes, billed in the film as "The Piquant Seniorita"
and we highly recommend getting singer Janet Klein's latest CD, "Ready For You", which features great tunes from early musicals. Our favorites are "My Canary Has Circles Under His Eyes" and "Take A Number from One To Ten". Checkout her website at www.janetklein.com and order her CD's at www.worldsrecords.com
---
DISC-OVERIES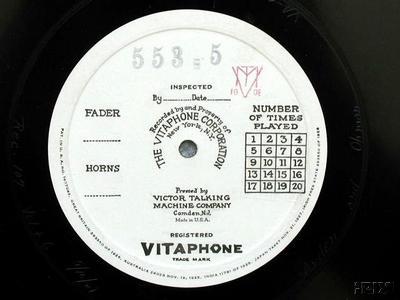 This time we can report not only the discovery of soundtrack discs, but also film and other materials:
Disc for reel 2 of the early talkie serial ACE OF SCOTLAND YARD
Discs for the trailer and also the overture to NO NO NANETTE (WB/'30)
Discs for reels 1 through 11 (except reel 10) for GOLD DIGGERS OF BROADWAY (WB/'29)
Disc for the trailer of UNDER A TEXAS MOON (WB/'30)
Reel 1 for WARNER BROTHERS SAN PEDRO THEATRE OPENING c. 1928
Disc for July 1926 Vitaphone short # 278 HAROLD BAUER "POLLONAISE"
Disc for the sixth released Looney Tunes THE BIG MAN FROM THE NORTH (WB/'30)
Discs for 1929-30 Vitaphone shorts SCHOOL DAZE, THE JAPANESE BOWL, HOLLAND and THE LONELY GIGOLO
Reel 1 for SWEET KITTY BELLAIRS (WB/'31)
Intermission music disc for THE SHOW OF SHOWS (WB/'29)
Disc for 1929 MGM Movietone short BOB NELSON
Reels 1 and 2 for ONE DAY TO LIVE (1931 Universal two reeler starring Emerson Treacy)
Reel 2 for THE COMEBACK (Univ./'30) (Leather Pushers short)
Reel 8 for THE KING OF JAZZ (UNIV/'30)
There have also been several important film discoveries since our last issue. John Leifert, who works for Getty Images in NYC is responsible for screening and identifying/categorizing footage that his archive acquires. He was pleasantly surprised while watching a reel from the 1930 Tiffany studios B Western, UNDER MONTANA SKIES. In a dance hall number, the dancing girls were lip synching to the tune "The Lock Step" sung by none other than The Boswell Sisters. They do another song later in the film, also not on camera. Research by Boswell's expert David McCain confirmed the singing team was indeed under contract to Tiffany in 1930, and may also be heard on the soundtrack of other studio releases.

The Motion Picture Academy has found what appears to be a film reel from the lost 1929 Universal musical feature MELODY LANE. The early talkie feature starred vaudeville great Eddie Leonard, whose minstrel inspired act was famous for his renditions of "Ida Sweet As Apple Cider" and "Them Roley Boley Eyes". The film has been lost for years and the sound on the surviving fragment is extremely poor. No discs are currently known. MELODY LANE is notorious in that Universal "borrowed" a Fox Movietone soundtruck allegedly for tests but instead shot the entire feature in a week using it!

Nearly one quarter of Fritz Lang's 1927 silent feature METROPOLIS, missing for decades, has been found in Buenos Aires, Argentina. Upon the film's initial release in the United States, Paramount demanded major cuts, and this footage was thought lost forever. A 16mm print of this footage was discovered in a small cinema museum. For more details of this major film discovery, and a look at some frame blow-ups, go to:

http://www.zeit.de/online/2008/27/metropolis-vorab-englisch
and
http://www.murnau-stiftung.de/en/04-00-00-news.html

And see elsewhere in this issue for information on the discovery of a huge collection of late 1920's silent movie cue sheets and Rudy Vallee home movies.
---
T-SHIRTS AVAILABLE!
We have a VERY limited number of 100% cotton T-shirts left over from our visit to the Syracuse CINEFEST this Spring.
SHAW & LEE CARICATURE SHIRT on white cotton, black ink. Features a previously unknown 1929 line drawing of the stars of Vitaphone shorts "THE BEAU BRUMMELS" (1928) and "GOING PLACES (1930).
WESTERN ELECTRIC - THE VOICE OF THE SCREEN logo shirt - on light blue cotton, black ink.
Because remainders are extremely limited, you must email us first to determine availability at medusashaircut@erols.com
Price is $15 each plus $2.00 postage in US, $5.00 postage elsewhere.
---
CINEFEST
For the first time (shameful!), The Vitaphone Project participated in the nearly thirty year old Cinefest in Syracuse, NY. Each year, four days are jam packed with screenings of super rare silents and talkies in both 16mm and 35mm. Over 400 film aficionados attend, including Leonard and Alice Maltin, representatives from The Library of Congress (James Cozart) and The George Eastman House (Pat Loughney, Anthony L'Abbate and Nancy Kauffman) and lots of friends of the Project like Scott Margolin, Rich Finegan, Rick Scheckman, Joe Yranski of NYPL, Rutgers Professor Richard Kozarski, and so many more. We were thrilled to hear how many of these folks were aware of the Project.
Ron Hutchinson introduced screenings of THE SINGING FOOL (WB/1928) with Al Jolson, and the delightful SHOW GIRL IN HOLLYWOOD (FN/1930) which stars Alice White and has many scene of Vitaphoning on the First National lot. Three Vitaphone shorts were screened in 35mm: IDLE CHATTER (1930) with monologist Lou Holtz, TEX McLEOD (1929) who was kind of a British Will Rogers and always sounded a little out of breath on the Vitaphone microphones, and one of the rarely screened GUS ARNHEIM AND HIS AMBASSADOR ORCHESTRA (1928) shorts featuring the legendary Russ Columbo as both a vocalist and violinist. We caught up with many folks we'd never met face to face, like silent film pianist Phillip Carli, webmaster Patrick Picking, and film producer Richard Gordon.
Needless to say, we plan to attend every Cinefest from now on. Rick Scheckman and Gerry Orlando, who assemble each year's film program, have asked us to participate in the planning for the 2009 show. We've already suggested some very rare and unseen material, so start making your travel plans to Syracuse now!
---
NEW THANK-YOU CD's AVAILABLE!
We've added yet two more rare soundtrack CD's to thank those who contribute to The Vitaphone Project. The latest additions are Volumes 1 and 2 of 1929-30 Universal Studios music themes used to intro segments of their ewsreels and shorts. Each selection runs only 30-40 seconds and would be a jazz, traditional or popular theme that would somehow tie to the action. Each CD contains over 80 (!!) selections. If you would like either or both of these CD's, specify:
UNIVERSAL 1929-30 THEMES VOL. 1
UNIVERSAL 1929-30 THEMES VOL. 2
Each counts as one CD.
VICTOR PICT-UR-MUSIC DISCS Vol. 1 (1)
VICTOR PICT-UR-MUSIC DISCS Vol. 2 (1)
And from our existing library.
MORE VITAPHONE SOUNDTRACKS - 2007 EDITION - Includes 13 tracks from 1926-30 vaudeville and band shorts, not included on any previous CD. (1)
SOUNDTRAX STUFF #1 - 29 soundtracks of musical performances from 1930 - 1940, featuring tunes from Paramount features, Vitaphone and other studio shorts, and peppy credits music. (1)
WHEELER & WOOLSEY TUNES (2 CD's) - includes virtually every one of the songs from their 1929-37 features. For real fans! (2)
OF PARAMOUNT IMPORTANCE, Vol. 1 - features musical selections from 1929-38 Paramount shorts and features. (1)
FOX MOVIETONE MUSICAL 78's - Prepared for audience entrance music at Film Forum's recent "Fox Before The Code" series, this CD features commercial 78's of songs from 1929-34 Fox Movietone musicals. Bands include George Olsen, The High Hatters, McKinney's Cotton Pickers and Anson Weeks. Toe tapping! (1)
GOLD DIGGERS OF BROADWAY ('29) Vitaphone discs - 99% of the sound from this still substantially lost early Vitaphone feature. (1)
MY MAN ('28) - all available discs from the lost Fanny Brice feature, plus trailer disc and contemporary 78's of film tunes. (2)
BABY ROSE MARIE, THE CHILD WONDER ('29) - all known 1929-38 78's by this popular child star, plus tracks from her 3 Vitaphone shorts, features and even her 1938 radio show. (1)
MISS FRANCES WILLIAMS - 78's, radio transcriptions and film soundtracks by this popular and sophisticated singer, 1927 - 1937. (1)
VITAPHONE SOUNDTRACKS - Vol 1-4 Selections from soundtrack discs from vaudeville, band and feature films. (4)
WHY BE GOOD? Soundtrack - the complete jazzy Vitaphone discs for this soon to be restored 1929 silent starring Colleen Moore. Believed to feature Jimmy Dorsey, Phil Napoleon and Eddie Lang among others. (1)
Remember that these are unique, non-professional (but highly listenable) recordings of rare early talkie material. No fancy notes or packaging, but we are sure you will enjoy them. Contributions, while not deductible, are greatly appreciated and help us continue to get the word out on our efforts. You may go to our website and contribute via PayPal, or send your check (payable to Ron Hutchinson) to 5 Meade Court, Piscataway, NJ 08854.

$50 - Pick any one
$75 - Choose any two CDs
$100 - Pick any three CDs
$150 - Pick any six CDs
$200 or more - Pick any eight CDs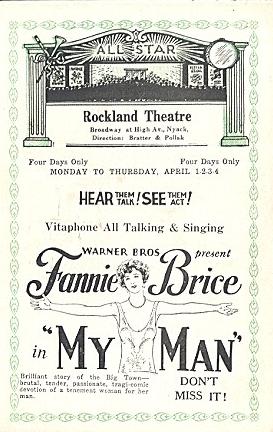 Donate to The Vitaphone Project securely with any major credit card through PayPal!
Checks (not deductible) should be made payable to:
Ron Hutchinson (NOT The Project)
5 Meade Court
Piscataway, NJ 08854
---
DONATED LATELY?
We greatly appreciate all of you who have generously supported The Vitaphone Project in the past. With the latest increase in postage and printing, getting out each issue now runs over $800. Over 450 hard copies are mailed out twice a year, and while we do not require a contribution to receive it, there are a number of recipients we have not heard from in many years.
So… if you've contributed in the last few years, thank you! If not, please consider any size donation to help keep this newsletter coming. The contribution, while not tax deductible, is GREATLY appreciated. Please make checks payable to:
Ron Hutchinson (NOT The Project)
5 Meade Court
Piscataway, NJ 08854
---
THE VAGABOND (Home Movie) LOVER
Another discovery by Getty Image's John Leifert has bee more of Rudy Vallee's home movies. Valle was an early fan of making 16mm silent home movies, and later even shot some sound-on-film 16mm footage in the late 1930's The earliest footage in the latest batch discovered by John includes on-the-set shots during the making of Valle's talkie debut in VAGABOND LOVER (RKO/'29) where Marshall Neilan is seen directing, and Vallee, Sally Blane and Marie Dressler are clowning. Shots of the brand new RKO lot and buildings, sound trucks and gagging by his Connecticut Yankees abound. Even more fascinating is footage taken during the making of Vallee's two early Paramount one reel musical shorts, MUSICAL JUSTICE ('31) and KNOWMORE COLLEGE ('32). The elaborate sets, Hollywood quality cameras, director Aubrey Scotto, a young Harriet Hilliard, composer Sammy Timberg and rehearsals are all seen. There is precious little on-set footage surviving that shows the making of shorts, so this is a real find.. Also among the discoveries are production home movies made at the Fox Movietone studios while shooting GEORGE WHITE'S SCANDALS ('34) with Alice Faye, Jimmy Durante and Cliff Edwards, and glimpses of guests on his Fleischman Hour, including Leslie Howard.
John advises there are still hours of Vallee home movie footage to screen, so who knows what else will be found?
---
JOLSON RESURGENCE FOLLOWING DVD SET
The Al Jolson Forum website at http://forums.delphiforums.com/aljolson reported a huge jump in hits following the release of THE JAZZ SINGER DVD set and screening of Jolson films on TCM.
Brian Decker of the Jolson society recorded a multi-part interview with Ron Hutchinson for the "Jolson And Friends" blog. It can be heard at www.JolsonBlog.com
The Project will also have a presence at the annual Jolson convention in August 2008 on Long Island.
---
CONVENTION CITY STILL HIDING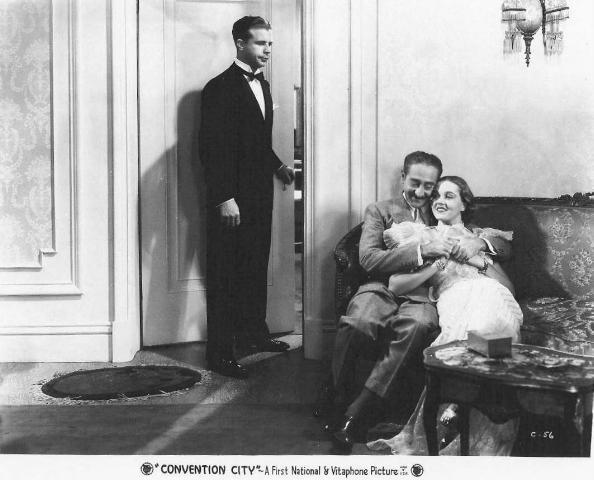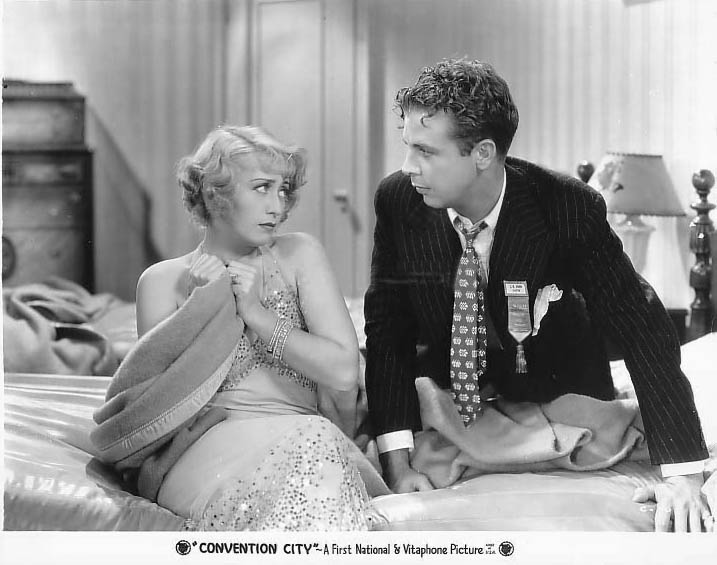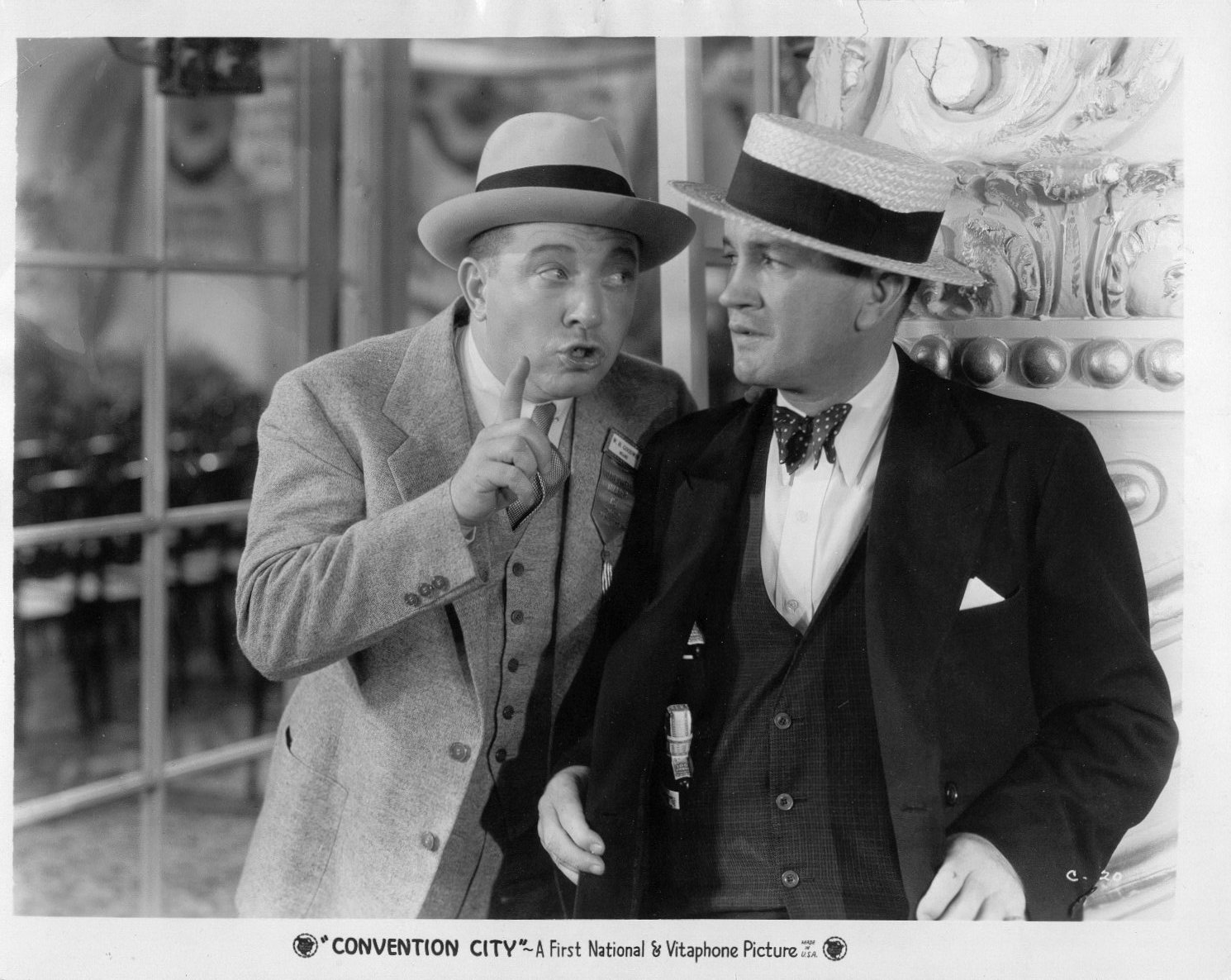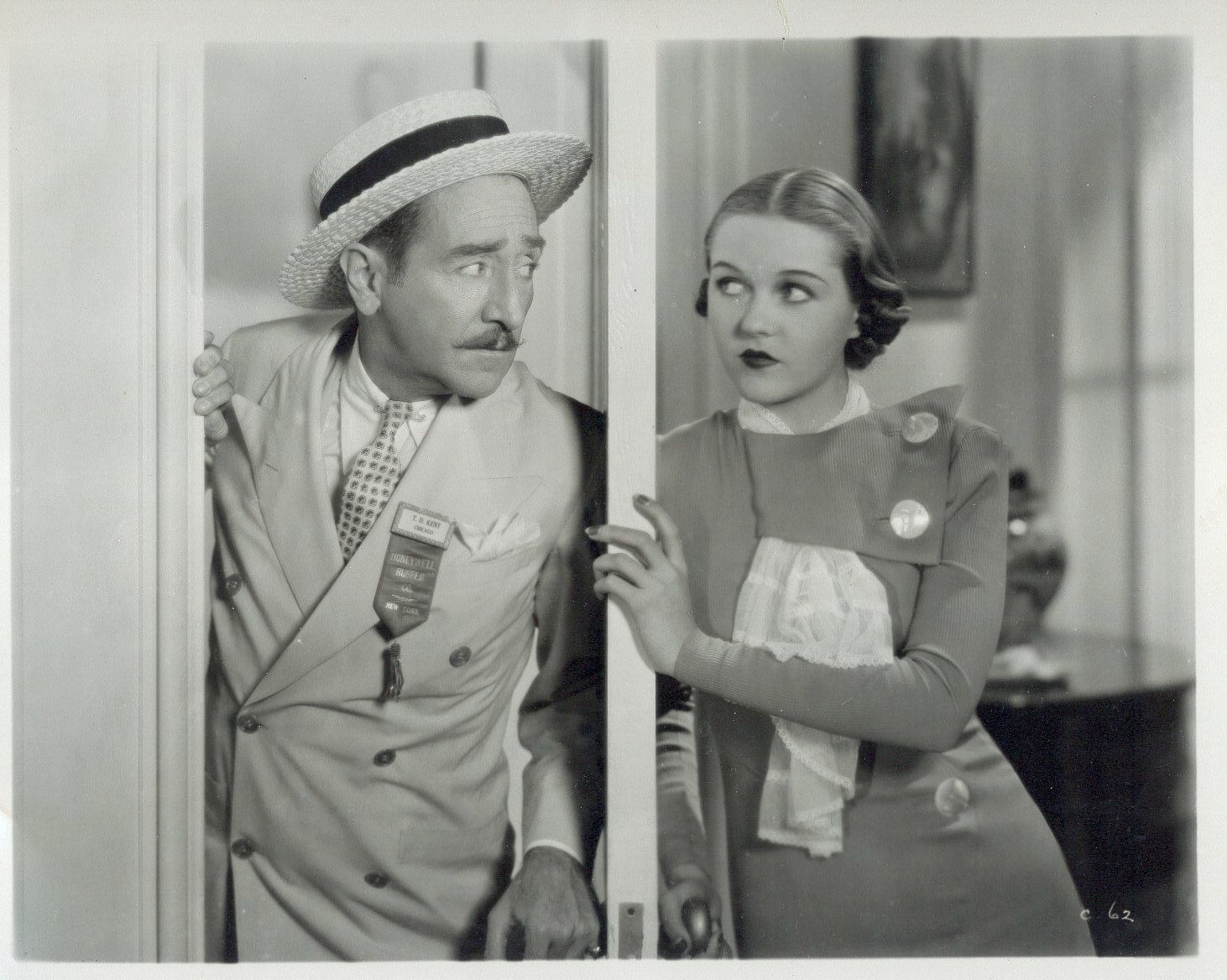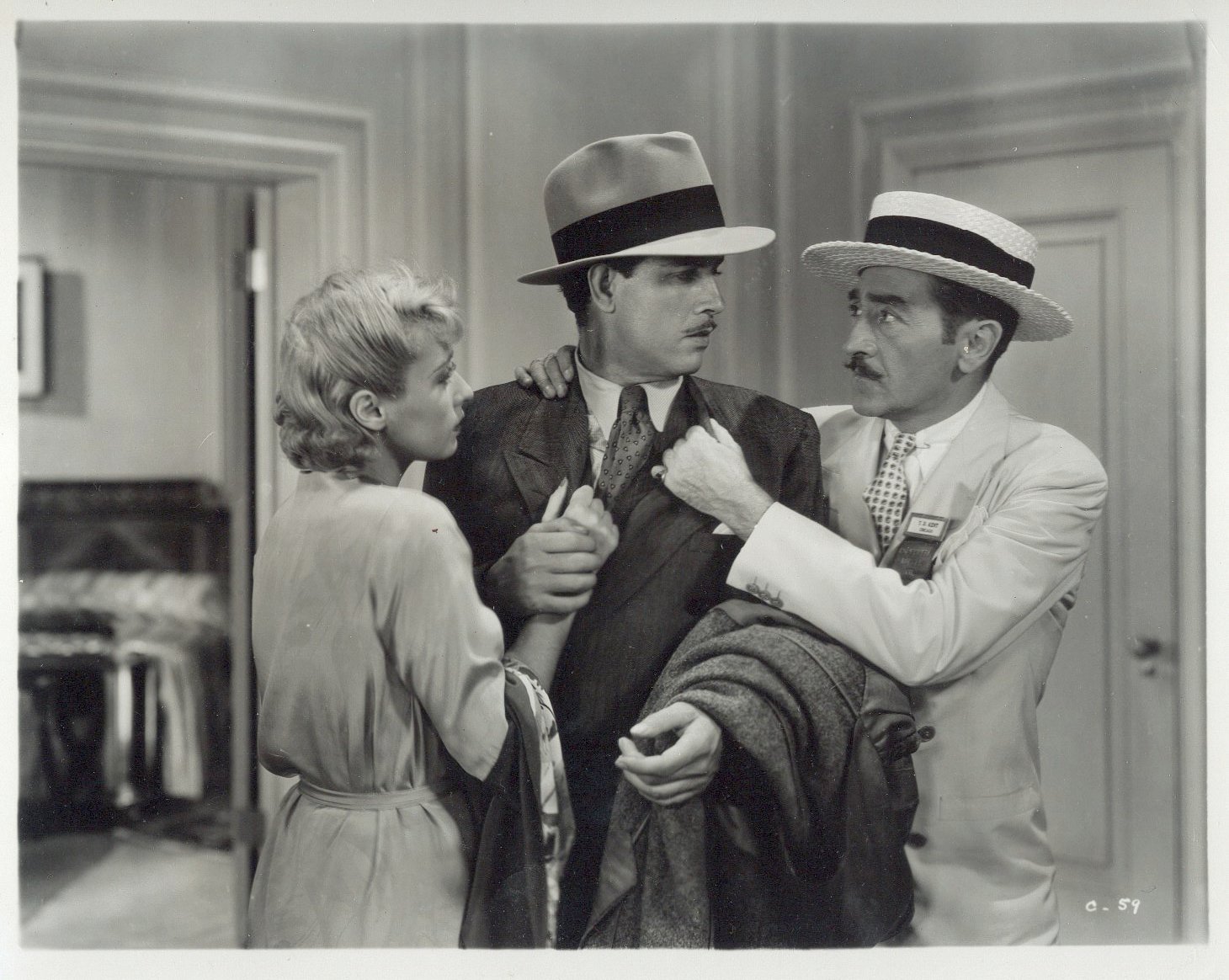 As reported in our last issue, as a sub-set of The Vitaphone Project, we've initiated an all out, worldwide search for the long lost pre-Code WB all star comedy, CONVENTION CITY ('33). We are pursuing leads, relatives and archives that had not previously been investigated. We have partnered with Nancy Kauffman of The George Eastman House, who had independently started here own quest for CONVENTION CITY around the same time we did. She indicated that Eastman has over 200 key brook stills from the film. The Motion Picture Academy Library, headed by Stacey Behmler (her husband is film historian Rudy Behmler, seen in the JAZZ SINGER set's "Dawn of Sound" documentary) also aided in our getting copies of all of their CC censor files records. Contrary to popular belief, there were few censor objections to this film during its release.

We continue to follow-up on leads, and truly hope to report in a future issue that this elusive film has finally been found!

In the meantime, film music researcher Richard Finegan sent along this ironic entry from a January, 1960 TV Guide:
---
50 + VITA RESTORATIONS CONTINUE AT WB, UCLA
Retired UCLA Film Preservation Officer Robert Gitt reports that his role in assisting and consulting on Warner Brothers' restoration of over 50 1926-30 Vitaphone shorts is yielding results "we can be very happy with". Bob should know, as he personally supervised the restoration of over 85 Vitaphone shorts and several features while at UCLA. The sound work on the current huge batch of restorations is being done by the same team that worked on the recent JAZZ SINGER release.
Bob advised that UCLA has moved its bi-annual film preservation program from summer 2008 to sometime early in 2009. It is hoped that a sufficient number of shorts will have been completed by that time, and can be show. We hope to obtain details from WB's Ned Price on the project for our next issue, but were unable to do so in time for this one.
---
OF PARAMOUNT (PUBLIX) IMPORTANCE
We were flattered to have been asked to participate in a day long panel discussion on "Vaudeville At The Brooklyn Paramount" this past March. The 1929 theatre hosted countless vaudeville and film stars --- from Bing Crosby, Rudy Vallee and Russ Columbo, to Bill Robinson, Clara Bow, Duke Ellington, and Mary Pickford.
Discussions included the history of vaudeville, female vaudevillians, black performers on the Paramount's stage, and individual stars. Ron Hutchinson of The Vitaphone Project showed some early talkie shorts of stars who performed at the theatre. David McCain discussed and exhibited films of The Boswell Sisters. Also speaking were nostalgia legend Joe Franklin, bandleader Vince Giordano, screenwriter (BLAZING SADDLES, MY FAVORITE YEAR] Norman Steinberg and NY Times film critic Dave Kehr.
The best quote of the day came from Mr. Kehr himself, who greeted Ron with the heartfelt "You are doing God's work!"
---
MARQUEE ARTICLE
Recipients of Vitaphone News domestically recently got a complimentary copy of The Theatre Historical Society's publication, MARQUEE. We wrote a story on Vitaphone and the coming of sound, especially from the theatre exhibitors' perspective. We hope you enjoyed it and may consider subscribing. Ken Bloom, who edits MARQUEE, kindly arranged for the mailing to those on our domestic mailing list.
---
IF YOU WOULD LIKE TO BE NOTIFIED WHEN NEW ISSUES ARE ADDED TO THIS WEB SITE:
---
---

This web site is maintained by Patrick Picking: patrick@picking.com
Copyright 1996-2008