| | |
| --- | --- |
| Volume 8 Number 3 | Spring/Summer 2007 |
VITAPHONE FANS' DREAMS ANSWERED!
LOADED "JAZZ SINGER" DVD SET OUT OCTOBER
Fans of the transition to sound and early talkies have good reason to celebrate this October. Not just because October 6th marks the 80th anniversary of the premiere of THE JAZZ SINGER and the true start of the switch to talking pictures, but because of Warner Home Video's release of a deluxe 3-DVD edition of THE JAZZ SINGER, overflowing with extras. The exact street date will be close to the October 6th anniversary.
The first disc will contain the newly-remastered feature, THE JAZZ SINGER, which has been meticulously restored from the earliest surviving original nitrate picture elements and best Vitaphone discs as the audio sources. What you've heard over the past 60 years has been a middling quality transfer to optical sound done in the early 1930's. The quality improvement is dramatic. WHV Senior VP George Feltenstein promises "exciting additional supplements on the feature disc". An audio commentary track will be available, and was recorded for the DVD by bandleader Vince Giordano and the Project's Ron Hutchinson.
Disc two will include a brand new feature length documentary, THE DAWN OF SOUND, created especially for this DVD release. The production details the development of early sound technologies, the battles between creative forces, the rise of Vitaphone, and how the movies were changed forever by this historic period. The documentary is being produced by Sparkhill Productions and the Project has worked closely with writer/producer Robert Bader to help identify content and sources. On-camera interviewees include Rose Marie, Leonard Maltin, "Speed of Sound" author Scott Eyman, veteran producer A.C. Lyles, Vince Giordano, Ron Hutchinson, Rudy Behmler, and "Sin In Soft Focus" author Mark Viera.
Now the best of all: Disc Three will have 20 - 30 pre-1930 restored Vitaphone shorts. Titles are still being selected at press time, but will include AL JOLSON IN A PLANTATION ACT (1926), THE JAZZ SINGER TRAILER, and many of the last 10 years of vaudeville and band shorts restorations. It's the first time on DVD for this material, and reason enough to buy the set! The package will include reproduction of original Warner Brothers memorabilia, including rare behind-the-scenes photographs.
This DVD release has been in the works for nearly four years.
Click here to preorder this title from Amazon.com or watch your local video store in early September for the announcement of the release of this incredible set. IMPORTANT!!!! We all need to make sure we spread the word on this set and help ensure that sales are outstanding. This is the ultimate way to ensure that more early Vitaphone shorts will be issued by DVD. Tell your friends, buy them as gifts, send out emails, do ALL you can to make this a hit so more great stuff will follow.
Our thanks to George Feltenstein for taking on this very personal and important project and making it a reality. So, until October 2007 when you buy the DVD set, you ain't heard nothin' yet!
READ THE PRESS RELEASE WITH ALL THE DETAILS HERE!
---
NEW THANK-YOU CD's AVAILABLE!
We appreciate the continued support of The Vitaphone Project and like to show our thanks by sending donors of $50 or more their choice of custom made CD's with rare soundtracks.
We've added a few more CD's, so those of you who have contributed in the past may want to consider these:
MORE VITAPHONE SOUNDTRACKS - 2007 EDITION - Includes 13 tracks from 1926-30 vaudeville and band shorts, not included on any previous CD. (1)
SOUNDTRAX STUFF #1 - 29 soundtracks of musical performances from 1930 - 1940, featuring tunes from Paramount features, Vitaphone and other studio shorts, and peppy credits music. (1)
And from our existing library….
WHEELER & WOOLSEY TUNES (2 CD's) - includes virtually every one of the songs from their 1929-37 features. For real fans! (2)
OF PARAMOUNT IMPORTANCE, Vol. 1 - features musical selections from 1929-38 Paramount shorts and features. (1)
FOX MOVIETONE MUSICAL 78's - Prepared for audience entrance music at Film Forum's recent "Fox Before The Code" series, this CD features commercial 78's of songs from 1929-34 Fox Movietone musicals. Bands include George Olsen, The High Hatters, McKinney's Cotton Pickers and Anson Weeks. Toe tapping! (1)
GOLD DIGGERS OF BROADWAY ('29) Vitaphone discs - 99% of the sound from this still substantially lost early Vitaphone feature. (1)
MY MAN ('28) - all available discs from the lost Fanny Brice feature, plus trailer disc and contemporary 78's of film tunes. (2)
BABY ROSE MARIE, THE CHILD WONDER ('29) - all known 1929-38 78's by this popular child star, plus tracks from her 3 Vitaphone shorts, features and even her 1938 radio show. (1)
MISS FRANCES WILLIAMS - 78's, radio transcriptions and film soundtracks by this popular and sophisticated singer, 1927 - 1937. (1)
VITAPHONE SOUNDTRACKS - Vol 1-4 Selections from soundtrack discs from vaudeville, band and feature films. (4)
WHY BE GOOD? Soundtrack - the complete jazzy Vitaphone discs for this soon to be restored 1929 silent starring Colleen Moore. Believed to feature Jimmy Dorsey, Phil Napoleon and Eddie Lang among others. (1)
Remember that these are unique, non-professional (but highly listenable) recordings of rare early talkie material. No fancy notes or packaging, but we are sure you will enjoy them. Contributions, while not deductible, are greatly appreciated and help us continue to get the word out on our efforts. You may go to our website and contribute via PayPal, or send your check (payable to Ron Hutchinson) to 5 Meade Court, Piscataway, NJ 08854.

$50 - Pick any one
$75 - Choose any two CDs
$100 - Pick any three CDs
$150 - Pick any six CDs
$200 or more - Pick any eight CDs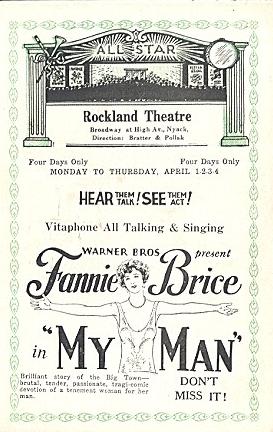 Donate to The Vitaphone Project securely with any major credit card through PayPal!
Checks (not deductible) should be made payable to:
Ron Hutchinson (NOT The Project)
5 Meade Court
Piscataway, NJ 08854
---
LINK GIVES BOOK UPDATES, ADDITIONS
Ed Bradley's THE FIRST HOLLYWOOD MOVIE MUSICALS book is highly recommended to all readers, as is his recent, filmography-packed THE FIRST HOLLYWOOD SOUND SHORTS, 1926-1931. Project supporter Carl Hallstrom has listed many additions, revisions and expansions to MUSICALS on his website:
So, if you haven't yet purchased Bradley's two books, or Roy Liebman's VITAPHONE FILMS which lists every Vitaphone short and feature, what are you waiting for? And Carl's work makes a great supplement for enthusiasts of this period.
---
DISC-OVERIES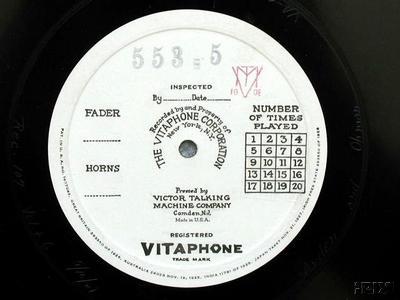 Virtually all the the soundtrack discs found since our last issue have been due to the Internet. People find our Project website, a back issue of our newsletter, or an article on our efforts, and sometimes the inquiry involves "what are these big records that I have?" Since our last issue, here is what has turned up:
Promotional disc for MAMMY (WB/'30) which seems like it would be played in a theatre lobby accompanied by Jolson cutout. Disc includes announcer Norman Brokenshire heralding the feature, and includes cuts from two of Jolson's concurrent Brunswick records with tunes from the film
From Belgium, British Phototone and French Cinedisc 12" soundtrack discs for 1928-29 one reel shorts by HERSCHEL HENLERE, RAY STARITA, THE FOUR ADMIRALS, THE FOUR FAYE SISTERS, singer JENNY STEINER, and BOUCOT
Disc for Vitaphone short #911 by opera singer MARIA VERO (1929)
12 inch Paramount Publix promo disc for POINTED HEELS (1929) with Helen Kane singing with a male quartet
Vitaphone disc for short #802 by ALBERT SPALDING (1929)
Discs for six editions of Ad-Vance Trailers from 1929 - 1930
Discs for 1930 Paramount shorts STEIN SONG (Fleischer Song Car-Tune), SKY SCRAPPING, and DRIFTING ALONG
Disc for the 1930 Vitaphone sing-along short SPOONEY MELODIES
---
PICTURES
---
THE VITAPHONE KIDDIE SHORTS 1935 - 39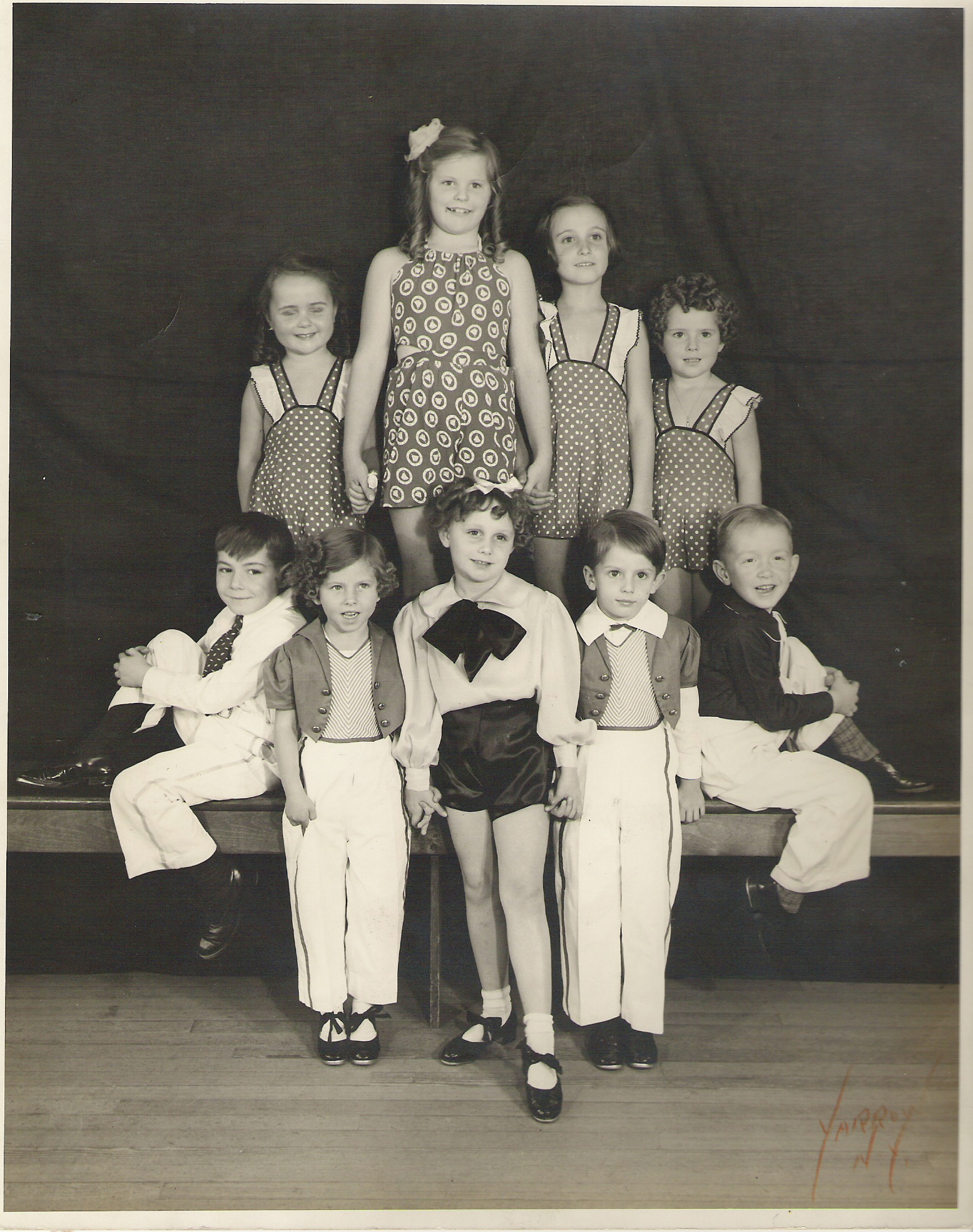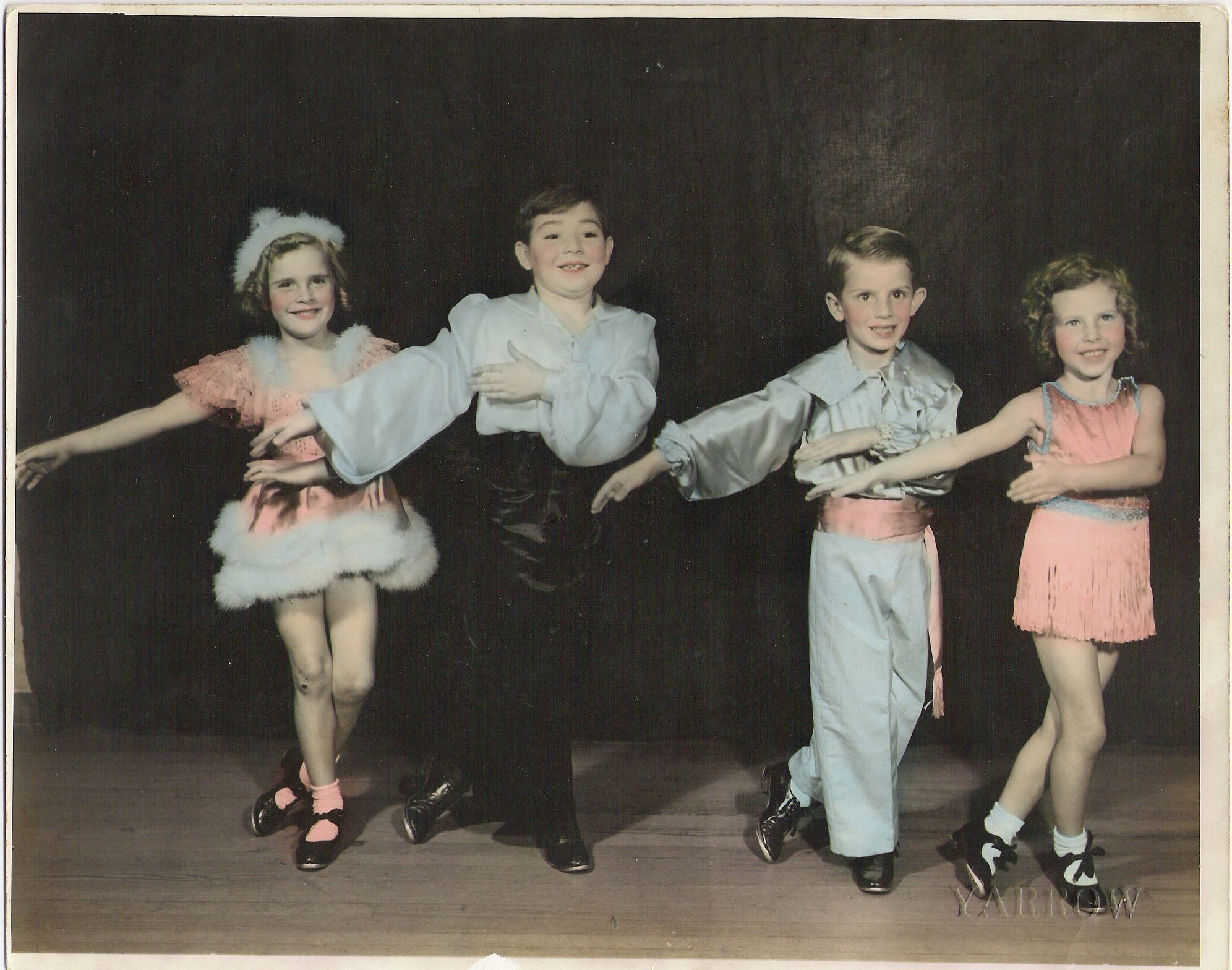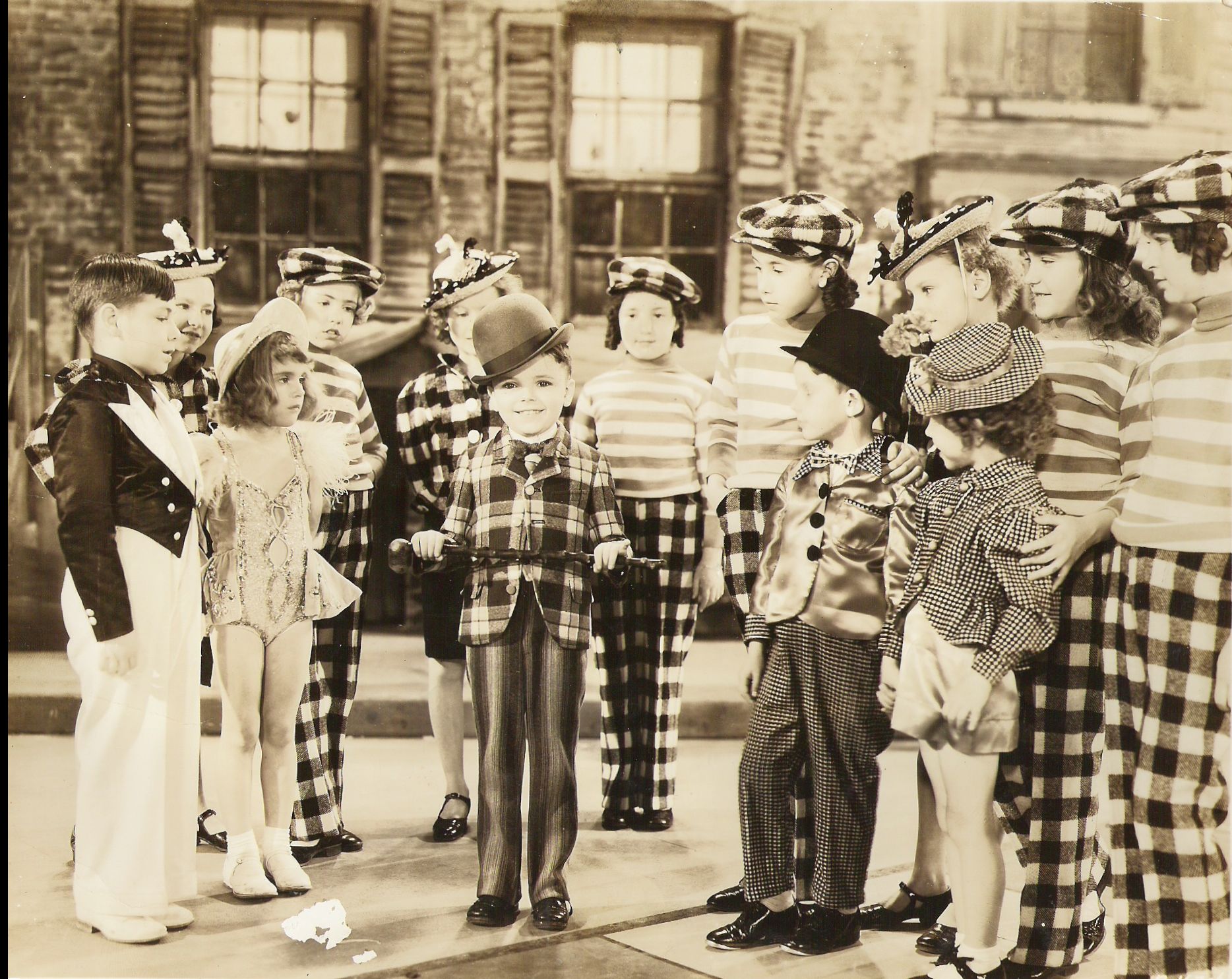 From 1935 to 1939, when the Brooklyn studios closed, Vitaphone produced one "kiddie" two reel musical a year using local child talent. Each short was directed by veteran Joseph Henabery, who joined the studio in 1931 after a long career in Hollywood directing the silent features of Rudolph Valentino, Fatty Arbuckle, Douglas Fairbanks and many others. Henabery's career, including his stint at Vitaphone, is detailed in his autobiography "Before, In and After Hollywood" (Scarecrow Press, 1997). The kiddie shorts were immensely popular in the New York metropolitan area, as relatives and friends attended repeat performances, and the local press gave their production and little stars lots of ink.
Seen today, the kiddie shorts still hold much charm, and Henabery wisely knew when to leave in a mistake despite misgivings of the editor. The annual series began with TROUBLE IN TOYLAND (1935), then was followed by THE BACKYARD BROADCAST (1936), STARLETS (1937), TOYLAND CASINO (1938) and finally WORLD'S FAIR, JR. (1939) While no major stars emerged, one child singer, Robert Hastings, later found national recognition on the "McHale's Navy" television series.
The Vitaphone Project regularly hears from relatives of some of the Vitaphone kiddie stars, who are seeking a copy of their parents' or grandparent's performances.
Frank and Joan Morgenbeck appeared in at least one of the kiddie shorts, TOYLAND CASINO. A surviving pay stub from the studio shows that they were paid $100 on May 8, 1938 for their work. The brother and sister act took lessons at the Lindsay & Mason Professional School of Dancing in Flushing. Lee Stewart, the casting director from the Warner Brothers Brooklyn Studios, as well as Vitaphone director Joe Henabery visited the school to judge potential talent for the short. Frank and Joan appear to be the only two children selected from the school, so other performers in the film apparently came from other talent schools near New York City.
While their memories of their work in TOYLAND CASINO are dim, both recall Henabery as a caring director who kept things moving. The film is occasionally shown on TNT. For their $100, Joan and Frank are on camera for about 20 seconds.
Pay Stub From Vitaphone Studios For Work On "Toyland Casino" (1938)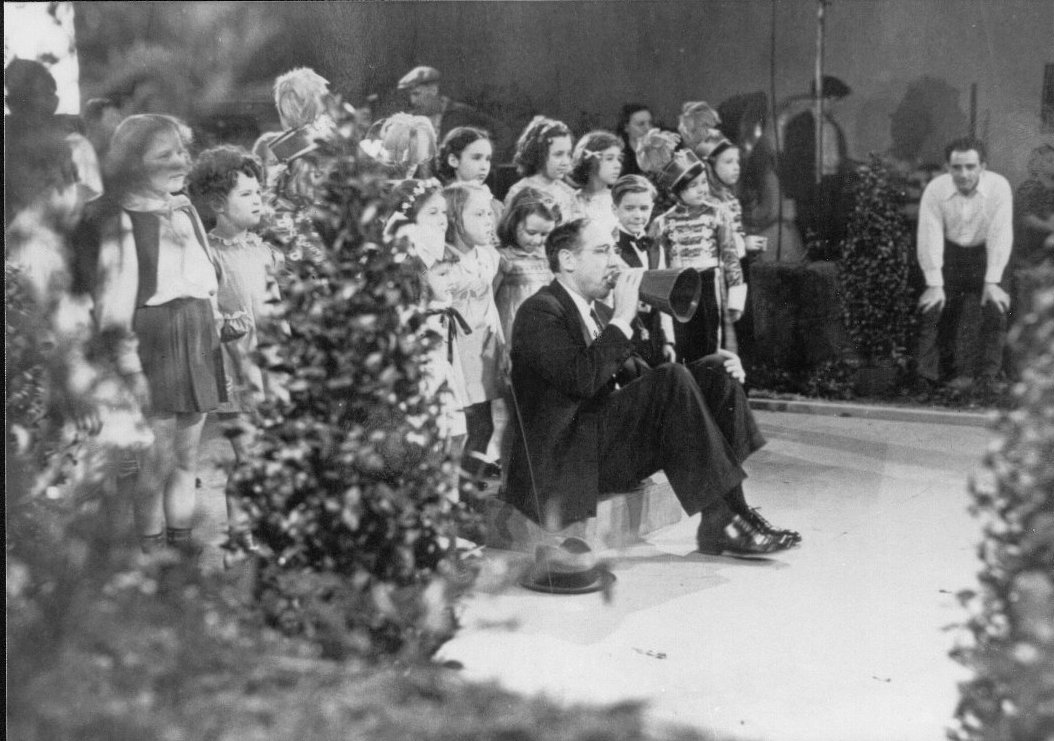 Joseph Henabery directing a scene from TOYLAND CASINO (1938) in Brooklyn.
---
ON WITH THE SHOWS
No, we don't mean the 1929 Warner talkie musical. We're talking about the increasing number of opportunities to see restored Vitaphone and other early shorts at public venues. The public's enthusiasm for these programs has been great. Here is a rundown on some recent and upcoming public programs with this material:
FILM FORUM (NYC) - Three programs of the latest batch of UCLA Vitaphone restorations in April drew big crowds again, despite a raging n'oreaster. This was the ninth Vitaphone show at this venue, and people traveled from as far as Boston to attend.
NYPL DONNELL MEDIA CENTER (NYC) - As a follow-up to the successful 2006 New York Public Library' "Vaudeville Nation" series, another series of five weekly two hour programs of Vitaphone and other vaudeville shorts was run in March, introduced by the Project's Ron Hutchinson. The theatre was close to capacity at each show, and the Q&A sessions following each program in some cases lasted an hour. At one, Eddie Cantor's grandson Brian Gari fielded audience questions with Ron.
COMING SOON…
CAPITOL THEATRE (ROME, NY) -"Capitolfest 5" at the restored Capitol Theatre in Rome, NY will be held on August 10-12, 2007. Always a wonderful series of early talkies and rare silents, this program is their most exciting yet. The full rundown is on the theatre's website at www.romecapitol.com Vitaphone shorts to be shown include: ROY FOX & HIS MONTMARTE CAFÉ ORCHESTRA (1929), JAY C. FLIPPEN, THE HAM WHAT AM (1928), and SHAW & LEE in GOING PLACES (1930). Features include the rare Paramount silent TOO MANY KISSES (1925) which marked Harpo Marx's film debut, John Gilbert's HIS GLORIOUS NIGHT (MGM/1929), several early and rare Columbia Screen Snapshots, and a bunch of Roach comedies.
HEIGHTS THEATRE (MINNEAPOLIS) - This historic theatre will again present a program of early Vitaphone shorts and early talkie features this September, 2007 A special treat will be the scheduled appearance of Rose Marie (formerly "Baby"). Go to the theatre's website at www.heightstheatre.com for details towards the end of the summer.
CINEFEST (SYRACUSE, NY) - While still in planning stages as of this printing, The Vitaphone Project is working with the team putting together the March 2008 Cinefest for a presentation of some Vitaphone shorts restorations. Stay tuned!
---
RESTORATIONS IN THE UCLA PIPELINE
Thanks to the generosity of film buffs and collectors, the restoration of 1926-30 disc recorded Vitaphone shots continues. With work done by the UCLA Film & Television Archive in Hollywood, this latest batch will put over ninety the number of shorts restored to date. UCLA works closely with The Library of Congress (which often has the film elements), individual collectors hold discs, the Project and generous funders of the $4500/reel (deductible) cost for the work.
Here are the shorts scheduled for restoration during the next year:
EDDIE PEABODY & JIMMY MAISEL in "BANJOLAND" (1928)
XAVIER CUGAT & HIS GIGOLOS (1928)
JOE FRISCO in "THE SONG PLUGGER" (1930) - 2 reels
HARRY FOX & BEE CURTIS in "THE FOX AND THE BEE" (1929)

also tentatively funded:

A second THE REVELERS (1926)
One 1930 Tom Dugan comedy
A Columbia "Victor Gem" disc-recorded one-reeler starring Georgie Price, titled STATION B.U.N.K. (1929)
---
EARLY TALKIES ON KINO DVD's

Kino is releasing three early talkie features on DVD which readers of the newsletter may be interested in:

Kino's shorts compilation DVD's of early Paramount talkie shorts are also recommended. Checkout their website at www.kino.com
---
TRAILER SOUNDTRACK DISCS UNCOVERED
Six twelve-inch soundtrack discs for the short-lived Ad-Vance Trailer Company were recently found by a New Jersey collector. This company produced what could be called trailers for the trailers in 1929-32. Before the studios made their own trailers, they were made by Ad-Vance as well as the National Screen Service which has operated for nearly 8 decades. Ad-Vance made talkie trailers with lesser known vaudevillians appearing on screen before the true coming attractions. They spoke to the audience about the theatre, unspecified upcoming films, and then went into about five minutes of song and patter. At the fadeout, the real trailers for specific films would be run. The Film Daily Yearbook only shows the company as operating through 1932, so they likely went out of business due to the Depression. No picture elements are currently known for Ad-Vance trailers.
---
WARNERS TO RESTORE 18 EARLY VITAPHONES
The restoration of pre-1930 Vitaphone shorts has been funded by private collectors and fans, while Warner Brothers (easily the most aggressively preservationist of the studios) has focused on restoration of features and preservation (onto safety) of over 400 1931-45 Vitaphone shorts. Warner Home Video has also put out more of this early material on DVD than any other studio, and with the upcoming JAZZ SINGER set, sets the bar high for other companies to dig into their vaults and issue early sound shorts and features.
That said, Warners has now joined the support of restoring pre-1930, disc recorded Vitaphone shorts. Ned Price, who heads WB's preservation effort and vaults, contacted the Project regarding selecting 15-20 shorts to be restored annually with studio funding. These will be in addition to those underwritten by private individuals. A proposed list of restoration candidates has been provided to Ned, and includes a cross-section of vaudeville, operatic, playlet, comedy and musical shorts, almost entirely from the 1927-29 period. The list was being finalized at the time we went to press, and we'll share it with you in an upcoming issue. This is great news, and means in the next year over 25 Vitaphone shorts will be restored, an absolute record. Thanks to Ned and Warner Brothers for their commitment to film preservation.
---
PEOPLE
---
DISCS FOUND IN BELGIUM
Nearly a dozen soundtrack discs for 1928-29 French and British short subjects recently surfaced in Belgium. These are 12 inch diameter discs for shorts made by the Cinedisc and British Phototone processes. They tended to feature performers from England and France, including musical comedian Herschel Henlere and saxophonist Ray Starita. The films do not run more than 5 minutes, as opposed to their American Vitaphone counterparts whose 16 inch discs permitted up to 11 minutes of sound. The Project has acquired several of these discs. At present, it is unknown what picture elements survive. The Project's British emissary Malcolm Billingsley is now investigating what exists.
---
TCM CELEBRATING DAWN OF SOUND
Mark your calendar for Tuesday, October 16, 2007. That's the night Turner Classic Movies will be presenting a full evening saluting the coming of sound. At 8 PM EST, the "Dawn of Sound" documentary (see cover story) will premiere. Next, the restored JAZZ SINGER will be shown. Then the first batch of early restored Vitaphone shorts. Also planned as of this writing is a showing of the second Vitaphone-ed feature, THE BETTER 'OLE (1927) with Syd Chaplin. The documentary will be reprised, and there will be more early Vitaphone shorts. The Project was still working with TCM's programming director Dennis Millay at press time.
---
NPR's "ALL THINGS CONSIDERED" SPOTLIGHTS VITAPHONE
National Public Radio's "All Things Considered" program featured a spot on Vitaphone this past May. Producer Ben Shapiro had attended many of the Film Forum Vitaphone shows, and had always wanted to do a piece on the subject.
Listen to the broadcast at this link:
http://www.npr.org/templates/story/story.php?storyId=10286252
---
IF YOU WOULD LIKE TO BE NOTIFIED WHEN NEW ISSUES ARE ADDED TO THIS WEB SITE:
---
VITAPHONE NEWS
ISSN 1066-5951
Corresponding Secretary & Editor
Ron Hutchinson
5 Meade Court
Piscataway, NJ 08854
(732) 463-8521
FAX: (732) 463-8521
medusashaircut@erols.com
Database
Rich Markow
richmarkow@aol.com
Treasurer
Alan Cooperman
23 Clover Hill Road
Willington, NJ 07946
Co-Founders:
John Newton
P.O. Box 7191
Wilmington, DE 19803
Sherwin Dunner
P.O. Box 1992
New York, NY 10013
Vince Giordano
1316 Elm Avenue
Brooklyn, NY 11230
Vitaphone Project Web Page
http://www.vitaphoneproject.com
medusashaircut@erols.com
NOTE ABOUT DESIGNATION OF THIS ISSUE: The Vitaphone News is issued twice annually, normally in July and December. From the beginning, issues have been designated with a Volume/Number and also a sometimes confusing seasonal title (Ex: Winter/Spring 2003). Issues have consistently been mailed about 6-8 weeks after the end of the listed season. To make the designation more accurate, this edition is titled "Spring/Summer 2007" The last issue was "Summer/Fall 2006" There was no "Winter" issue and you have not missed any issues. We hope going forward this minor bit of confusion can be eliminated.
---

This web site is maintained by: patrick@picking.com
Copyright 1996-2007