| | |
| --- | --- |
| Volume 7 Number 3 | Winter/Spring 2005 |
YOU ASKED FOR IT: VITA SHORTS NOW ON DVD!

By far, the most frequently asked question received by The Vitaphone Project is : Where can I buy Vitaphone shorts on home video --- VHS or DVD. While there have not yet been any official releases of shorts-only packages, Warner Home Video is including shorts on many of its vintage feature DVD's. Old laserdisc boxes set of Vitaphone shorts are frequently auctioned on eBay, and sometimes fetch prices over $700. Each boxed set, released in the early 1990's by MGM/UA, contained up to 45 Vitaphone shorts. Titles were "THE DAWN OF SOUND, Vols. 1-3", "SWING, SWING, SWING", and "A 70th ANNIVERSARY CELEBRATION". Some bidders also bid elsewhere on eBay for used laserdisc players so they can view these sets. You can search eBay (for Vitaphone on video by checking the titles and descriptions box and using keyword Vitaphone.

We have compiled a partial list of recent WARNER HOME VIDEO DVD releases which include one or more Vitaphone shorts. Senior VP George Feltenstein notes that including shorts on future DVD's of pre-1960 features "will be the rule rather than the exception". Help show support for the inclusion of shorts in these releases by purchasing them! Perhaps one day we will indeed see an all-shorts DVD. In the meantime, consider the following, if only for the Vitaphone shorts they contain:

This is by no means a complete list, and releases are coming out monthly. Checkout the Warner Home Video website and let them know you like the shorts and want MORE!
---
THANK YOU GIFTS FOR DONATIONS OF $50 OR MORE!
We've added a new 2 CD sampler of twenties and thirties Vitaphone soundtracks to our selection of thank you gifts for donations of $50 or more. We are very grateful to all of the readers (both hardcopy and on the web) of VITAPHONE NEWS for financial support of our efforts. Large donations are redirected to UCLA for specific restorations. But your contributions of $20, $50, etc. are used to pay for the printing and distribution of this newsletter, and for stationery, postage and supplies. As each issue now costs us about $750 to print and distribute, you can see why all of the donations go into this important networking activity. If you've contributed already, THANKS! If not, please consider doing so.
You may now select from a growing choice of "thank you" Vitaphone CD's when making your (non-deductible) donation. Remember, these are unique, non-professional (but highly listenable) recordings of rare early talkie material. No fancy liner notes or slick packaging, but hours of enjoyment await you! Just let us know your pick:

$50 - Pick any one
$75 - Choose any two
$100 - Pick any three
$150 - Pick any six
$200 or more - Pick any eight
Available Vitaphone CD's. # CD's avail in () :
* = New offering

Complete WHY BE GOOD? ('29) track (1)
1926-34 Vitaphone, Educational shorts tracks (2)
*Sylvia Froos 78's & Soundtracks 1930 - 1950's (1)
*GOLD DIGGERS OF BROADWAY ('29) 95% of the full track plus trailer (2)
*Warner Brothers 1932-36 Musical Radio Promos (1)(includes WONDER BAR, TWENTY MILLION SWEETHEARTS, GO INTO YOUR DANCE, GOLD DIGGERS OF 1935, much more)
Baby Rose Marie, The Child Wonder 1929-38. (1) Includes her three Vitaphone tracks, all her 78's of this period, plus other film tracks and a full 15 minute '38 radio show.
Miss Frances Williams (1) - The great risqué songstress, include all but one of her 78's, her '27 Vitaphone short, soundtracks to her 1930's features, and radio shows.
MY MAN (2) - All 11 Vitaphone discs that exist, plus trailer, related pop 78's of the featured tunes.
Vitaphone Shorts and features soundtracks 1926-31 (4). Vaudeville, bands, trailers, music & effects. Over 40 tracks.
Vitaphone shorts music tracks, 1932-38. (2)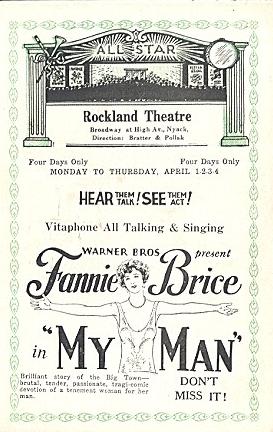 Donate to The Vitaphone Project securely with any major credit card through PayPal!
Checks (not deductible) should be made payable to:
Ron Hutchinson (NOT The Project)
5 Meade Court
Piscataway, NJ 08854
---
JUNE MacCLOY, 95, "TALKIE CINDERELLA"
June MacCloy, who appeared with Leon Errol in the recently restored 3 strip Technicolor Vitaphone short GOOD MORNING, EVE ('34), died on May 5 at the age of 95. She was a statuesque blond showgirl who displayed her dusky contralto and lithe good looks in equal measure while proceeding to Hollywood from vaudeville, via Broadway.
"Few talkie Cinderella stories are as devoid of hardships and hard work and other handicaps as June's is," a Washington Post gossip column said in 1931.
Cast from age 17 in glamorous roles on stage and screen, MacCloy played in "Earl Carroll's Vanities" and George White's "Scandals." In 1932, MacCloy had a featured role in Florenz Ziegfeld's last production, "Hot-Cha!"
In Hollywood, MacCloy made a splash singing Irving Berlin's "When the Folks High Up Do The Mean Low Down" with Bing Crosby and Bebe Daniels in "Reaching for the Moon" (1930). "With a little encouragement, she would have stolen the picture," the Los Angeles Times wrote.
She was hired for "Earl Carroll's Vanities" in 1928, but was forced to resign, the Washington Post gossiped, because her mother found her dress too revealing. Within days she was hired by "George White's Scandals," doing an impression of the Broadway star Harry Richman.
In 1930, MacCloy was hired by Paramount to make a series of short films at its studio in Astoria, and one of these ended up serving as the screen test that got her a movie role, in "Reaching for the Moon," starring Douglas Fairbanks and set aboard a "high deco" transatlantic liner. Her next Hollywood role was in "June Moon" (1931), based on a play by Ring Lardner and George S. Kaufman. She went on to make several more indifferently received films, as well as shorts directed under an alias by the scandal-tainted Roscoe Arbuckle. "Fatty Arbuckle was a peach of a guy," she recently told a friend, Peter Mintun, a long time supporter of The Vitaphone Project.
For the rest of the 1930s, she sang with the orchestras of Johnny Hamp, Henry King, Ben Pollock, Jimmie Grier, and Griff Williams, with whom she recorded for Decca. She married for the third time, to Chicago jazz trumpeter Otts Whiteman. Things reached a low ebb when she declared bankruptcy in 1937; the marriage was dissolved.
In 1940, MacCloy returned to Hollywood in "Glamour for Sale," in which she played the owner of an escort service, and "Go West." Soon after, she retired from show business and married for the fourth and final time, to Sonoma, Calif., architect Neal Wendell Butler. She was widowed in 1985.
--- Excerpted from The Daily Sun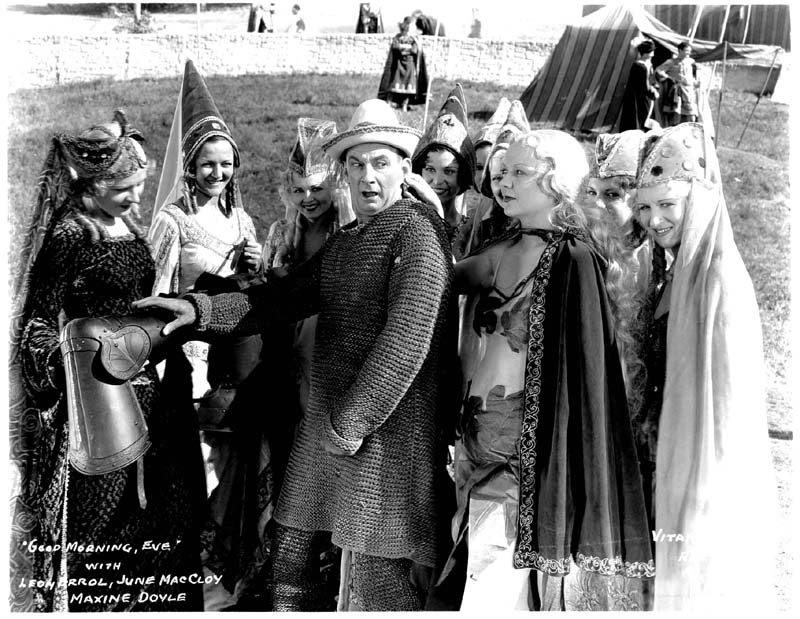 Leon Errol gets his ear pulled by June MacCloy in the Technicolor Vitaphone short, GOOD MORNING, EVE (1934). The short actually preceded LA CUCARACHA as the first live action 3 strip Technicolor film.
---
SAN PEDRO WARNERS CELEBRATES 75th
The San Pedro, CA Warner Brothers Theatre will celebrate its 75th anniversary in January, 2006. As was the case with many of Warners' flagship theatres during the coming of sound, the studio would provide a special two reel film to show at the grand opening. This usually consisted of a generic reel in which Warner stars would welcome opening night audiences to the (unspecified) new Warner theatre. The second reel often would be theatre-specific, with custom filmed shots of local dignitaries. We are aware of a number of such shorts being made between 1929 and 1931, including for Atlantic City (Warners on the boardwalk) , Philadelphia (the Mastbaum) and even Cairo, Egypt.
Such a two reeler was shown at the San Pedro Theatre on opening night January 20, 1931. While no film has been located, Project co-founder John Newton has the discs and will be providing theatre manager Tom Politeo with a sound transfer to play at their anniversary celebration.
---
PEOPLE
Author Travis Stewart is finishing up his book on vaudeville and is working with the Project and Bruce Goldstein to hopefully assemble a program of Vitaphone vaudeville shorts this fall to be shown when his book is released…
Rich Remberg is working on a PBS documentary about Warner Brothers' famous dog Rin Tin Tin. The canine star and his owner, Lee Duncan, appeared in a 1927 as well as a Bell Labs test reel, Number 165, in April 1926 before theatrical Vitaphone shorts production began…
Alice Simpson, daughter of famed eccentric dancer Hal Sherman (who appeared in Vitaphones ANGEL CAKE ('31) and ONE FOR THE BOOK ('39) has created a new website on her dad. Check out the site at www.alicesimpson.com
Filmmaker John Carpenter, whose pseudo-1928 two reel short LATE TO LUNCH sports a Vitaphone track, is working on a documentary about his challenges, titled SMELLING LIKE A ROSE
John Goodwin of the UK is hoping to put together a site about the early disc system Hepworth talkies made before 1920. Check out his research to date at www.hepworthfilm.org
Anthony DiFlorio II regularly compiles a great listing of performers over 85 who are still alive. A number worked in Vitaphone productions, including Fayard Nicholas (90), and June Allyson (87)
E.M. Broecker is a relative of Vitaphone performer, Ray Mayer, who has been a constant hit in revivals of both of his 1928 Vitaphone shorts MAYER & EVANS, in which Ray appears with his wife, singer Edith Evans. Mr, Broecker is extensively researching Ray's career, which included many films ("Follow The Fleet"), other shorts (Universal's "The Big Benefit" ('32)), and Broadway ("Very Warm For May", "Banjo Eyes"). Ray Mayer died at age 47 in 1948. Anyone who has seen Mayer's wisecracking gum chewing performances in his Vitaphone shorts will never forget him.
---
DISC-OVERIES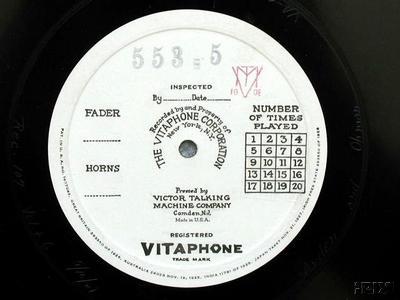 The pace on the discovery of soundtrack discs has picked up in recent months. Remember that if you have never seen a Vitaphone or similar soundtrack disc, here is what to look for:
Normally 16 inches in diameter
Post 1929 discs can be 12 inches
Have an arrow incised into wax just outside of perimeter of the label. This indicated where the needle was to be placed
Most labels contain a known studio name (Vitaphone, Columbia, Universal, MGM, Paramount, etc.) but not always.
The title of the film with related reel numbers also is usually written in the wax around the label
If in doubt, let us know. When writing about a discovery, please let us know studio, title, and any numbers on the label or in the wax.

Here are the soundtrack discs that have been uncovered since our last issue…
FOOLISH FOLLIES, a one reel Pathe short from 1930
reels 8 and 8 of the Fox feature THE YELLOW TICKET
reel 6 for the Pennsylvana/Ohio/Virgina censors' version (!) for SHE WANTED A MILLIONAIRE (Fox)
disc for THE BARNYARD BATTLE, a Powers Cinephone for a Mickey Mouse cartoon
Exit Music disc for THE TRIAL OF MARY DUGAN (MGM/'30)
reel 1 of the Harry Langdon Hal Roach short THE BIG KICK ('30)
THE BILTMORE TRIO ('29) and MGM Movietone short
BOB NELSON (MGM/'29) another Movietone Acts short
a full set of discs in he original Universal Pictures shipping box found buried in Alabama
a bunch of discs for 1929-30 Pathe shorts: BIG MONEY, DANCE WITH ME, HIGH STEPPERS, KID THE KIDDER
Celebrity Pictures (Pat Powers) shorts discs for EBONY SHRINE, FELINE FIGHTERS, HOT TAMALE and UNDERCOVER
Reels 2,3,4, 5, and 7 for the Columbia feature FOR THE LOVE O' LIL
reels 2 and 5 for Columbia feature MURDER ON THE ROOF
discs for three editions of the 1929 UNIVERSAL NEWSREEL
disc for 1929 Jones & Hare (The Happiness Boys) Movietone Act WHO'S THAT PRETTY BABY ? (MGM)
Reels 6 and 7 for LILAC TIME (First National, '28)
Reel 1 for Pathe feature PARDON MY GUN ('30)
Reel 7 for THE BROADWAY MELODY (MGM/'29)
Reel 6 for HIS FIRST COMMAND (Pathe)
Reel 4 for ON WITH THE SHOW (WB/'29)
and reel 10 for SMILING IRISH EYES (First National//'29)
and discs for the following Vitaphone shorts:
ARNAUT BROTHERS, ('27)
MISS INFORMATION ('28) with Edward Everett Horton and Lois Moran
THE OPRY HOUSE ('29)
POET AND PEASANT OVERTURE ('26), JACK SMITH
THE WHISPERING BARITONE ('26)
and reel 8 for THE JAZZ SINGER ('27)
---
NEW TALKIE SHORTS BOOK IS RELEASED
Ed Bradley's expansive "The First Hollywood Sound Shorts, 1926-1931 [ISBN 0-7864-1030-2] has been released by McFarland & Company. Our last issue detailed this encyclopedic work which lists thousand of shorts from all the major and most of the minor studios during the first years of sound. Nearly 70 previously unpublished photos, filmography by type for each studio --- including casts, synopses, release dates and frequet reviews. This book is a must-have for all Vitaphoniacs, and serves as a perfect companion to Roy Liebman's VITAPHONE FILMS, also from McFarland. Both may be ordered from amazon.com or directly from McFarland at 1-800-253-2187.
---
THEATRE ANNIVERSARY TO FUND RESTORATION
Tom Letness, who operates the historic Heights Theatre in Minneapolis, MN will be celebrating their 75th anniversary of sound being installed with an ambitious Vitaphone program. An RCA Photophone and disc set-up was originally installed to convert the theatre to talkies. On September 25, 2005, The Heights will present twelve Vitaphone shorts plus the restored 1930 Paramount Technicolor feature FOLLOW THRU with Buddy Rogers, Nancy Carroll, Jack Haley and Thelma Todd. Proceeds fro the show after expenses will go towards funding a still to be determined Vitaphone short restoration.
Shorts to be shown are:
GEORGIE PRICE in 'DON'T GET NERVOUS' - 1929
BEN BERNIE & HIS ORCHESTRA - 1930
BABY ROSE MARIE - 1929
BURNS & ALLEN in 'LAMBCHOPS' - 1929
THE FOY FAMILY in 'CHIPS OFF THE OLD BLOCK' - 1928
HARRY WAYMAN'S DEBUTANTES - 1928
MAYER & EVANS - 1928
SHAW & LEE, THE BEAU BRUMMELS - 1928
DICK RICH & HIS MELODIOUS MONARCHS - 1928
EDDIE PEABODY in 'BANJOLAND' - 1928
JACK OSTERMAN in 'TALKING IT OVER' - 1929
GOOD MORNING, EVE (3 strip Technicolor) - 1934
The program will be introduced by noted film collector and Project friend Bob DeFlores.

For more information, contact Tom at tom_letness@minnesotatheatres.com or call 763-458-2969.
---
THELMA WHITE, 94, VAUDE/VITAPHONE STAR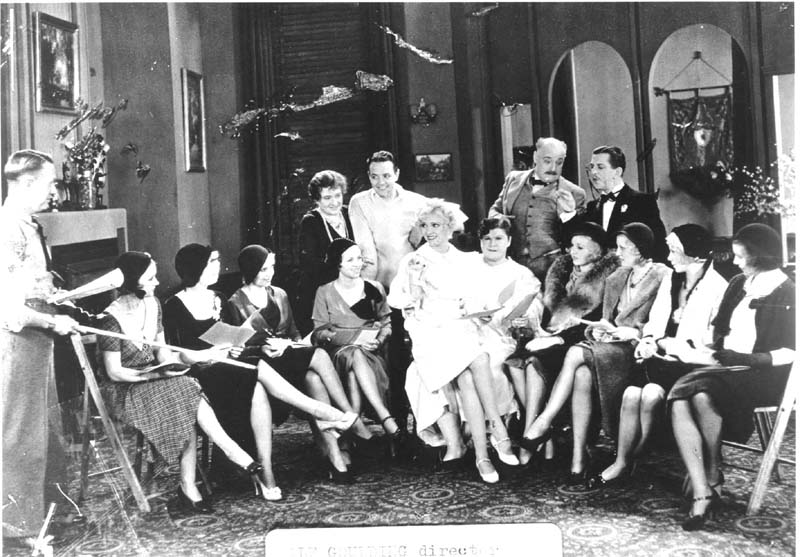 Thelma White, center (sitting on partner Fanny Watson's lap) being directed by Alf Goulding, far left, in a 1932 Brooklyn Vitaphone short.
Thelma White, who with her stage (not blood ) sister Marjorie White of WOMAN HATERS and DiPLOMANIACS fame, played the Palace in 1918 and went on to make countless stage and shorts appearance, passed away on January 5, 2005 at the age of 94. We first met Thelma and her husband Tony Millard in 1994 at her memorabilia laden home in Studio City, CA. Appearing in vaudeville and Earl Carroll's Vanities, she transitioned to talkie shorts at Pathe in 1929. While filming SIXTEEN SWEETIES at Pathe's 134th Street studios in New York, and arc light set off a fire which killed ten performers and crew. "I wasn't able to report to work that day, and if I had it is likely I would have died," Thelma recalled. Long lost, SIXTEEN SWEETIES was subsequently found by Portland collector Gary Lacher. Following the fire --- - which led to major cutbacks of studio activity in NYC --- the film was completed in Fort Lee. The restored film clearly shows a different curtain behind the emcee in the second half of the short
After several more Pathe's, Thelma began a productive career at the Brooklyn Vitaphone studios in 1931. First appearing with her vaudeville partner Billy Wayne, she was soon teamed with rotund Fanny Watson (of the Watson Sisters) for a series of two reelers as a kind of female Laurel & Hardy. Mainly directed by Laurel pal Alf Goulding, these shorts were well received. In all, she starred in sixteen Vitaphones between 1931 and 1932. She later moved to California and appeared in features at RKO and, notoriously, in REEFER MADNESS (recently revived as a Broadway show). Later in life, she became an agent and handled (with extreme difficulty) Patsy Kelly among others.
After meeting Thelma in 1994 we were able to track down all of her Vitaphone shorts and SIXTEEN SWEETIES so she could again see them. She fondly recalled working at the Brooklyn studios, studio head Sam Sax, how Fanny's sister Kitty was banned from the studio because she was a troublemaker. And how the Vitaphone schedules still allowed her to work nights on Broadway.
She spent the last ten years of her life writing her memoirs, which have been published as "THELMA WHO?" It is available through amazon.com or Scarecrow Press [ISBN 0-810841266], and is a 376 page history of Thelma's nearly 100 years in show business.
We will miss Thelma greatly!
---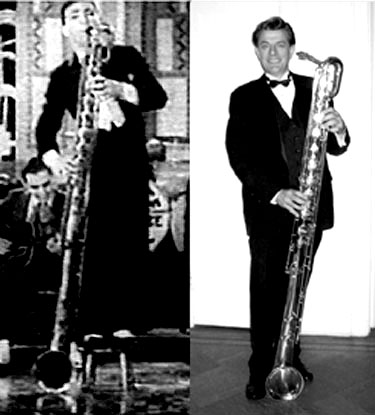 VITAPHONE SAX-APPEAL CONTINUES 74 YEARS LATER!
On the left, a frame capture from the 1931 Vitaphone one-reeler IT'S A PANIC, starring versatile Chicago-based bandleader Benny Meroff. On the right, Project member and noted bandleader Vince Giordano playing the same six-foot saxophone used in the short. In the short and in his stage act, Meroff juggled, danced, did impressions and acrobatic dancing. In one scene, he played this huge sax. Curious about if it survived, Ron Hutchinson checked the internet "white pages" for any Meroff's, and within days heard back from Benny's son and widow.. When asked if the stage sax was still around, his widow said "Oh yeah, it's upstairs!" Minutes later Ron had Vince talking to her and a deal was cut to purchase it. After a considerable amount of restoration work, the sax is now playable. See the article elsewhere in this issue on how to catch Vince Giordano's Nighthawks live on the web.
If you get a chance on a Monday or Tuesday night-- check out Vince Giordano's Nighthawks LIVE on the web:
http://www.earthcam.com/events/nighthawks
EarthCam and Riese Restaurants bring you exclusive live streaming video and audio coverage of the legendary 11-piece Jazz Age Big Band Vince Giordano and his Nighthawks Orchestra at Charley O's Restaurant in the heart of Times Square at 49th and Broadway NYC. Enjoy toe-tapping vintage jazz of the 20's and 30's every Monday and Tuesday, during three shows from 8:30 p.m. to 11:30p.m. Phone : 212 246 1960
The 11-piece group has been featured on movie soundtracks including Ghost World, Cotton Club, Finding Forrester and Bloodhounds on Broadway, and appears in and plays music for Martin Scorsese's Howard Hughes biopic, The Aviator. Vince, as a member of Dick Hyman's orchestra has provided music for Woody Allen's last six films.
---
IF YOU WOULD LIKE TO BE NOTIFIED WHEN NEW ISSUES ARE ADDED TO THIS WEB SITE:
---
---

This web site is maintained by: patrick@picking.com
Copyright 2001-2005