| | |
| --- | --- |
| Volume 8 Number 4 | Fall/Winter 2007 |
VITAPHONE THRILLS THE WORLD (Again)
DURING EVENT-FILLED YEAR
Even before the new JAZZ SINGER 3 DVD set was released in October 2007, the year was already brimming with 80th anniversary-related events around the world. Countless news articles gave the set glowing reviews, including a half-page story by Dave Kehr in The New York Times and another in The London Telegraph. Upon release on October 16th, the set's initial sales on Amazon.com were unbelievably strong. One would be hard pressed to find any black and white DVD in the top 1000. The set debuted at an awesome #26 --- that's of ALL categories of DVD's including recent features, television series, and everything else. It remained in the top 100 for the first week, and continues to do well as we go to press. This bodes well for future releases of rare shorts and features from "the dawn of sound". Articles on the anniversary as written by the Project appeared in CLASSIC IMAGES and THE MISSISSIPPI RAGE in early fall.
Events celebrating Vitaphone began earlier, with a program of early talkies and Vitaphone shorts at Art Pierce's Capitol Theatre in Rome, NY. Art has included shorts in his annual "Capitolfest" each year and is already planning more in 2008. Over Labor Day weekend, Leonard Maltin hosted a program of the cream of restored Vitaphone shorts at the annual Telluride Film Festival, garnering enthusiastic response from the largely film industry attendees. In September the historic Heights Theatre in Minneapolis was privileged to have Rose Marie appear in person as part of a Vitaphone shorts program arranged by manager Tom Letness and hosted by film collector Bob DeFlores.. See the poster for this wonderful event on our website.
John Newton and Ron Hutchinson were invited to Hollywood to participate in two celebratory events in early October. The Academy of Motion Picture Arts & Sciences, in conjunction with Warner Brothers, held a gala evening at the Samuel Goldwyn Theatre in Beverly Hills on October 5th. Introduced by Leonard Maltin, the Academy screening in state-of-the art digital projection, the newly restored THE JAZZ SINGER as included in the DVD. It looked brand new and drew repeated applause and sighs from the packed theatre. Appropriately, the screening was preceded by the original JAZZ SINGER trailer hosted by actor John Miljan. Maltin noted that there were actually more words spoken in the trailer than the feature. Next, BABY ROSE MARIE, THE CHILD WONDER (1929) was screen, and the audience was thrilled when Leonard brought out Rose Marie afterwards to reminisce about her career, crossing paths with Jolson, and the thrill of seeing her Vitaphone short restored decades after Jack Warner had told her (in the 1950's) that it was long gone.
As can be seen on the DVD, the beautifully restored feature reveals much that had been missed or missing in the print that has circulated for the past seven decades. Perhaps most notable was the restoration of two fleeting but important shots. First, at the finale, we see Jolson's "Jack Robin"' 's name in lights in front of the New York Wintergarden Theatre. We have since learned that this was no studio model. Jolson appealed to friend Jake Schubert to change the real marquee at WB expense for this brief shot, and that is what we now see in the restored version. Immediately afterwards, we see in extreme long-shot, Jolson gingerly skipping out onto the stage. Again, this was missing in the version we've all seen for years. The sharpness of the restoration also reveals how loose fitting Jolson's black wig is as he puts on his make-up. And in the history changing scene with his mother when he sings "Blue Skies" at the piano, we can clearly see that actress Eugenie Besserer was missing several fingers when she caresses her son.
We understand that the DVD set only contains 2, rather than 3, discs in the version being sold in England and perhaps elsewhere. This was not the decision of Warners in Hollywood, and we'd encourage overseas readers to get the full 3 disk set fro amazon or other outlets as you'll otherwise miss out on nearly four hours of restored1926-30 Vitaphone shorts.
The day after the Academy show, American Cinematheque held a screening of A PLANTATION ACT (1926) at the EGYPTIAN Theatre in Hollywood. Preceded by a wonderful live program of Jolson song hits by Richard Halpern, the evening also included a panel discussion on the trials and twists of restoring A PLANTATION ACT. Panelists, interviewed by author and musician Brad Kay, included Bob Gitt of UCLA, record repairer extraordinaire Jim Cooprider, Ron Hutchinson and John Newton of The Vitaphone Project, and Jolson biographer Herbert Goldman.
For the balance of 2007, the events and screenings continued. TCM ran the restored JAZZ SINGER and selected shorts on October 16th, triggering large numbers of calls and emails to the Project. Also that month, bandleader Vince Giordano and Ron (who teamed to do the audio commentary track for the feature) hosted a screening of parts of the DVD at the historic PLAYERS CLUB in New York. In November, Ron introduced the screening of THE JAZZ SINGER at the 1929 Loews Jersey theatre in Jersey City, and did an hour of Q&A afterwards. Articles on the anniversary ran in several NJ papers, resulting in the Project being contacted by one man who had four original JAZZ SINGER discs. The daughter of Vitaphone sound engineer George Sattan, who worked at and set up the Brooklyn studios in 1928, also contacted us after reading an article in The Bergen Record. In November, Bob Gitt hosted two Vitaphone programs in England, first "VITAPHONE VARIETIES 1926-30" which is the complete 2006 UCLA restoration program, followed by the restored 1928 Vitaphone part-talkie THE BARKER. On December 1st, The San Francisco Silent Film Festival ran a VITAPHONE VAUDEVILLE program of selected 1926-30 shorts, hosted by Bob Gitt.
Vitaphone-related events will continue into 2008. Ron will host some screenings of shorts at the long running CINEFEST in Syracuse in March and will also host five weeks of shorts screenings at The New York Public Library that month. In April he will host 35mm screenings in Palo Alto, CA as part of the annual Association of Recorded Sound Collectors (ARSC) conference. Bruce Goldstein at Film Form is working on 2008 Vitaphone program planning. And the next issue of MARQUEE magazine, published by the Theatre Historical Society, will be devoted to Vitaphone.
And Sam Warner said "Who the hell wants to hear actors talk??" !
---
NEW THANK-YOU CD's AVAILABLE!
We appreciate the continued support of The Vitaphone Project and like to show our thanks by sending donors of $50 or more their choice of custom made CD's with rare soundtracks.
We've added a few more CD's, so those of you who have contributed in the past may want to consider these:
VICTOR PICT-UR-MUSIC DISCS Vol. 1 (1)
VICTOR PICT-UR-MUSIC DISCS Vol. 2 (1)
And from our existing library
.
MORE VITAPHONE SOUNDTRACKS - 2007 EDITION - Includes 13 tracks from 1926-30 vaudeville and band shorts, not included on any previous CD. (1)
SOUNDTRAX STUFF #1 - 29 soundtracks of musical performances from 1930 - 1940, featuring tunes from Paramount features, Vitaphone and other studio shorts, and peppy credits music. (1)
WHEELER & WOOLSEY TUNES (2 CD's) - includes virtually every one of the songs from their 1929-37 features. For real fans! (2)
OF PARAMOUNT IMPORTANCE, Vol. 1 - features musical selections from 1929-38 Paramount shorts and features. (1)
FOX MOVIETONE MUSICAL 78's - Prepared for audience entrance music at Film Forum's recent "Fox Before The Code" series, this CD features commercial 78's of songs from 1929-34 Fox Movietone musicals. Bands include George Olsen, The High Hatters, McKinney's Cotton Pickers and Anson Weeks. Toe tapping! (1)
GOLD DIGGERS OF BROADWAY ('29) Vitaphone discs - 99% of the sound from this still substantially lost early Vitaphone feature. (1)
MY MAN ('28) - all available discs from the lost Fanny Brice feature, plus trailer disc and contemporary 78's of film tunes. (2)
BABY ROSE MARIE, THE CHILD WONDER ('29) - all known 1929-38 78's by this popular child star, plus tracks from her 3 Vitaphone shorts, features and even her 1938 radio show. (1)
MISS FRANCES WILLIAMS - 78's, radio transcriptions and film soundtracks by this popular and sophisticated singer, 1927 - 1937. (1)
VITAPHONE SOUNDTRACKS - Vol 1-4 Selections from soundtrack discs from vaudeville, band and feature films. (4)
WHY BE GOOD? Soundtrack - the complete jazzy Vitaphone discs for this soon to be restored 1929 silent starring Colleen Moore. Believed to feature Jimmy Dorsey, Phil Napoleon and Eddie Lang among others. (1)
Remember that these are unique, non-professional (but highly listenable) recordings of rare early talkie material. No fancy notes or packaging, but we are sure you will enjoy them. Contributions, while not deductible, are greatly appreciated and help us continue to get the word out on our efforts. You may go to our website and contribute via PayPal, or send your check (payable to Ron Hutchinson) to 5 Meade Court, Piscataway, NJ 08854.

$50 - Pick any one CD
$75 - Choose any two CD's
$100 - Pick any three CD's
$150 - Pick any six CD's
$200 or more - Pick any eight CD's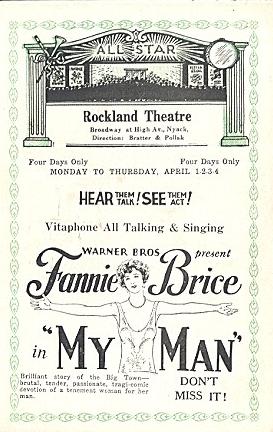 Donate to The Vitaphone Project securely with any major credit card through PayPal!
Checks (not deductible) should be made payable to:
Ron Hutchinson (NOT The Project)
5 Meade Court
Piscataway, NJ 08854
---
OPERATIC VITAPHONES STILL NEED FUNDING
Since the inception of The Vitaphone Project, nearly 90 1926-30 short subjects have been restored through partnerships between UCLA, Warner Brothers, BFI, George Eastman House, The Library of Congress, and of course the private individuals who provide financial support or the loan of discs. To date, all of the restored shorts fall into the categories of vaudeville, bands, and playlets. No one has yet stepped forward, $4500 in hand, to fund any of the operatic and classical shorts. We've received dozens emails on this over the years, often critical of the fact the operatics have not been done yet. However, until --- like vaudeville and other shorts --- someone offers to actually fund one of these shorts, they will remain in limbo. At one point in the 1990's, J. Paul Getty III pledged to fund the restoration of all the operatic and classical shorts. Unfortunately, he died before the funding could be realized.
The titles listed below have both 35mm picture and soundtrack disc, and could be restored and once again seen and heard by audiences. So, if you know of someone who loves this genre and is willing to step up with actual (deductible) funding, please let us know.
Beniamino Gigli in "Cavalleria Rusticana", 1927
Charles Hackett & Rosa Low in "Romeo et Juliette Tomb Scene", 1927
Beniamino Gigli in selections from "Opera La Gioconda", 1927
Giuseppe De Luca singing "Largo al Factotum", 1927
John Charles Thomas in two selections, 1927
Marion Talley, DeLuca, Gigli and Jeanne Gordon in quartette from "Rigoletto", 1927
Martinelli in "Celeste Aida", 1927
Martinelli in duet from Act IV of "La Juive", 1927
Martinelli in Selections from "Carmen", 1927
Rosa Raisa & Giacomo Rimini duet from "Trovatore", 1927
Schumann-Heink in three selections, 1927
Schumann-Heink singing "By The Waters of the Minnetonka" & others, 1927
Schumann-Heink singing "Danny Boy and others", 1927
Pasquale Amato in "A Neopolitan Romance", 1928
Charles Hackett in "Faust", asst. by Chas. Baromeo, 1929
The Monastery Quartet in "In A Monastery Cellar", 1927
---
MASSIVE WB/UCLA/VITAPHONE PROJECT RESTORATIONS BEGIN
For the past 16 years since The Vitaphone Project's founding, the process for getting early sound on disk shorts restored has depended upon funding coming from generous private individuals. The current cost to restore one short is $4,500 (deductible) and paid directly to UCLA. Donors who love this material include Dudley Heer (who has funded more than 15 shorts), Scott Margolin, Hugh Hefner, Robert Lipton, David Stenn and Frank Buxton. Warner Brothers has directed its resources to preserving over 300 Vitaphone short that were on nitrate, as well as extensive restoration and reissue of features.
In an exciting development prodded by WB's Ned Price, the studio is funding the restoration of a block of nearly fifty 1926-30 Vitaphone shorts over the next 18 months. The meticulous restoration work will be done at UCLA Film & Television Archive under the watchful eye and guidance of recently retired Chief Preservation Officer Robert Gitt. The list of shorts to be restored is based largely on one developed by the Project. A few more additions may be made. WB will be covering all costs related to the access and clean-up of both picture and sound elements, the creation of new sound-on-film fine grains and work prints. Funding primarily from Dudley Heer and supplemented by Scott Margolin, will underwrite the making of projectable 35mm sound-on film prints.
WB expects to be able to have several programs' worth of restored shorts ready to show at the Summer 2008 film series at UCLA. Here's the current list of planned restorations to be completed by early 2009:
#278 HAROLD BAUER "Polonaise in A Flat" (1926)
#757 ANN CODEE and FRANK ORTH in "A Bird in the Hand" (1929)
#783 BUD HARRIS & FRANK RADCLIFFE "At the Party" (1929)
#786 FRED ARDATH in "These Dry Days" (1929)
#810 OKLAHOMA BOB ALBRIGHT and HIS RODEO DO FLAPPERS
#815 CHARLES C. PETERSON Billiard Champion of Fancy Shots (1929)
#826 MEL KLEE in "The Prince of Wails" (1929)
#828 HARRY FOX AND HIS SIX AMERICAN BEAUTIES (1929)
#829 HARRY FOX and BEATRICE CURTIS in "The Bee & the Fox" (1929)
#835 BILLIE "SWEDE" HALL & COMPANY in "Hilda" (1929)
#849 JOHN T. MURRAY and VIVIEN OAKLAND in "Satires" (1929)
#864 CARLENA DIAMOND Harpist Supreme (1929)
#866 ANDERSON & GRAVES in "Fishing Around" (1929)
#874 COLETTA RYAN and DUKE YELLMAN (1929)
#941 CLARA BARRY and ORVAL WHITRIDGE in "Jest For Awhile" (1929)
#970 BETTY & JERRY BROWNE in "Let's Elope!" (1929)
#1019/20 JOE FRISCO in "The Song Plugger" (1930) (2 reels)
#2234 MITCHELL LEWIS in "The Death Ship" (1928)
#2235 GLADYS BROCKWELL in "Hollywood Bound" (1927)
#2278 MONTAGUE LOVE in "Character Studies" (1927)
#2418 HENRY B. WALTHALL in "Retribution" (1928)
#2543 BERT SWOR "A Colorful Sermon" (1928)
#2586 VAL & ERNIE STANTON "Cut Yourself a Piece of Cake" (1928)
#2607 ROBERT OBER "A Regular Business Man" REEL ONE (of 2) (1928)
#2650 KJERULF'S MAYFAIR QUINTETTE in "A Musical Mélange" (1928)
#2689 EDDIE WHITE "I Thank You" (1928)
#2699 FLORENCE BRADY "A Cycle of Songs" (1928)
#2741 MARLOWE & JORDAN "Songs and Impressions" (1929)
#2759 VAL HARRIS & ANN HOWE in "The Wild Westerner" (1929)
#2789 AL LYONS and his "FOUR HORSEMEN"
#2849/50 ROBERT EMMETT KEANE in "Gossip" (2 reels)
#2885 BORN & LAWRENCE The Country Gentlemen (1929)
#2900 THE RANGERS "After the Roundup" (1929)
#2919 ARTHUR PAT WEST in "Ship Ahoy" (1929)
#2940 BORN & LAWRENCE in "Pigskin Troubles"
#3674/5 POOR AUBREY (1929) by George Kelly with Franklin Pangborn
#3679 "REVIVAL DAY" with SLIM TIMBLIN (1929)
#3722/23 TRIFLES REEL ONE (1929) (2 reels)
#3778 "NIAGARA FALLS" (1929) with Bryant Washburn & Helen Jerome Eddy
#3849 "WHAT A LIFE" (1929)
#3883 "SURPRISE" (1930) with Tom Dugan & Barbara Leonard
#3900 "SHE WHO GETS SLAPPED" (1930) with Tommy Dugan
---
DISC-OVERIES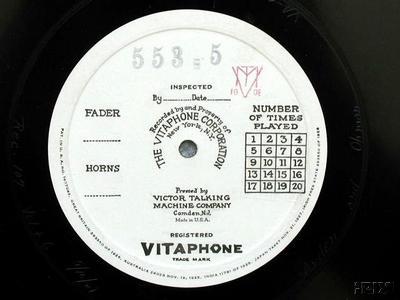 Following the publicity surrounding the JAZZ SINGER DVD release, the Project heard from a number of people who had soundtrack discs in their possession. Appropriately, the first report came from a man in northern NJ, who had four original discs from the initial release of THE JAZZ SINGER (1927). It is unclear how his late father acquired these, as he worked for the famed show business photographer Apeda in NYC.
Also found since our last issue:
the disc for reel 1 of A MAN'S MAN (MGM, 1929)
reel 1 for a low budget western QUICK TRIGGER LEE (Big 4 Productions, 1931)
reel 2 for the serial ACE OF SCOTLAND YARD (lost, UNIV, '29)
exit music disc for THE DESERT SONG (WB, '30)
film collector Tim Romano has restored the nitrate 35mm print of Texas Guinan's silent western short WHITE SQUAW ('20) which was later released with synchronized music and sound effects accompaniment. The disc is still sought
a most unique disc has been reported to us from the daughter of Vitaphone sound engineer George Sattan. Unlike every other disc that has turned up, this one has a DIFFERENT short on either side, consecutively numbered. Recorded on one side is the sound for #2348 ADELE ROWLAND and the reverse has STOLL, #2349 FLYNN AND COMPANY. Coincidentally, both of these 1928 shorts are contained on Disc 3 of the new JAZZ SINGER set. We wonder if the WB sound technicians had some custom discs pressed for some reason, as it is doubtful that this disc was intended for theatre use.
---
VITA COMPOSER SANDY GREEN DIES
Sanford Green, prolific composer for dozens of 1930's Vitaphone shorts, and later Hollywood features, passed away on August 26, 2007 at the age of 93. The Project got to know Sandy about ten years ago. Ironically, his Central Park South apartment was only a few blocks from where singer Sylvia Froos had lived for five decades. Sandy had written several songs for a Froos Vitaphone, SOFT DRINKS AND SWEET MUSIC ('34). Peter Mintun later put together a reunion luncheon at The Players Club with Sylvia, Sandy, Peter, bandleader Vince Giordano, and Ron Hutchinson.
Peter wrote of Sandy's career: " Many of Sanford Green's songs gave Vitaphone shorts their most memorable moments, and were performed by such stars as Phil Harris, Georgie Price, Bernice Claire, Sylvia Froos, Mitzi Mayfair and Hal LeRoy. Green shorts include SWING FOR SALE ('38), DOUBLE OR NOTHING ('36, an Academy Award nominee), THE POLICY GIRL ('34), SYNCOPATED CITY ('34) and THE LOVE DEPARTMENT ('35). "Sandy composed songs for more than 35 musical shorts between 1934 and 1937. He also contributed incidental and ballet music for several features, including KID GALAHAD ('37), A SHOT IN THE DARK (41) and THE CASE OF THE BLACK PARROT ('41). He worked as an arranger and musical conductor all his life, and has a son who is a theatre conductor. He conducted a touring company of HIGH BUTTON SHOES in which his wife, Loys, appeared. "
Sandy's legacy is also enjoyed by cartoon buffs, as he wrote the title tune of the Warner Brothers carton BINGO CROSBYANA ('36).
Over the years, Sandy's collaborators included Mack David, Irving Kahal, Jack Manus and Harry Ross. He appears on screen in the TCM documentary on short subjects, ADDED ATTRACTIONS (2002) which is now on the Laurel & Hardy DVD for BONNIE SCOTLAND/FRA DIAVOLO.
Sandy's last work for the public to see is his appearance in THE DAWN OF SOUND (2007) documentary that is part of THE JAZZ SINGER 3 DVD set.
---
VITAPHONE VARIETIES WEBSITE
Before you checkout Jeff Cohen's unbelievable website, "VITAPHONE VARIETIES: Observations on Film, Music and Imagery Of The Past", be forewarned. Once you connect to the link, expect to be there for the rest of the day! Jeff, a long time friend and supporter of the Project, provides fascinating insights into early talkies, pioneer recording and Broadway artists, lost films, and much more. Many mp3 musical downloads from rare soundtrack discs are also included for your enjoyment. He updates the site several times each month, and recent topics have included deep-digging looks at lost films (MARCH OF TIME, PARIS), performers (Eddie Foy Sr.) and stars of 78's (Franklyn Bauer of The Revelers). But this is just the tip of the iceberg.
Once on Jeff's site, you can pick any monthly blog link on the top right, and you're off.
So, plan to spend many happy and informative hours once you click on:
---
OF PARAMOUNT IMPORTANCE
The Project was contacted this fall by Long Island University Professor Michael Hittmann. In the early 1960's, the University bought the Brooklyn Paramount Theatre on Flatbush Avenue, and converted to auditorium into a basketball court. The court floor was installed directly over the seats, and game attendees often wondered why the ceilings and walls were so architecturally elaborate! The theatre is massive, and was one of the first built specifically for the talkies in 1928. Over the years the theatre hosted such stars as Rudy Vallee, Bing Crosby, Cab Calloway and Duke Ellington on its stage.. Its original Wurlitzer organ is still there and was recently restored. In the 1950's Alan Freed brought the races together with blockbuster shows of rock and roll stars.
Little was permanently removed or destroyed when the theatre was converted. At a program held just feet from the stage in December, shorts made by performers who appeared at the Paramount (Lillian Roth, Vallee, Herman Timberg, Burns & Allen) were screened by the Project's Ron Hutchinson. The University is now consulting with the Project on possibilities for restoring the theatre to its past glory, and perhaps producing a documentary on its storied history.
---
PEOPLE
The relatives of several more "Vitaphone Kiddie" acts who appeared in 1935-39 Vitphone shorts have contacted us and we were happy to provide copies of their parents' shorts to show them. The Catri Kids appeared in TROUBLE IN TOYLAND ('35) doing a great tap dance routine. Their nephew, Brian, contacted us and has even posted the clip on You Tube. Bart Azzaro contacted us about him mom's short, STARLETS ('37) in which she appears as Chickie Popora. He showed her the short recently and it brought back a flood of memories. Checkout our website at www.vitaphoneproject.com to see Chickie's contract, telegram to report to the Brooklyn studio, and stills
In a related area, Drina Mohacsi is Founder and Curator for the "Young Hollywood Hall of Fame" and has a great website at www.younghollywoodhof.com She is adding info on the various Vitaphone child stars
THE Warner Brothers child star was Sybil Jason, who we had the pleasure of meeting while out in Hollywood in 2007. We highly recommend her two books, available on amazon, MY FIFTEEN MINUTES and 5 MINUTES MORE
Writer Steve Ramm keeps us posted on details of Vitaphone related DVD releases. He reminds us that WHV's new LEADING LADIES COLLECTIONS Volume 2 has two classic Lillian Roth Vitaphone shorts and the WVB GANGSTERS COLLECTION VOLUME 3 due in March 2008 is packed with Vitaphone shorts and cartoons. Thanks Steve!
Karen Welles is starting a Rudy Vallee website at www.rediscoveringrudyvallee.us She is also campaigning for Vallee to be featured on a US postage stamp. Vallee's screen debut was in a 1929 Vitaphone short RUDY VALLEE AND HIS CONNECTICUT YANKEES (#771)
---
IF YOU WOULD LIKE TO BE NOTIFIED WHEN NEW ISSUES ARE ADDED TO THIS WEB SITE:
---
VITAPHONE NEWS
ISSN 1066-5951
Corresponding Secretary & Editor
Ron Hutchinson
5 Meade Court
Piscataway, NJ 08854
(732) 463-8521
FAX: (732) 463-8521
medusashaircut@erols.com
Database
Rich Markow
richmarkow@aol.com
Treasurer
Alan Cooperman
23 Clover Hill Road
Willington, NJ 07946
Co-Founders:
John Newton
P.O. Box 7191
Wilmington, DE 19803
Sherwin Dunner
P.O. Box 1992
New York, NY 10013
Vince Giordano
1316 Elm Avenue
Brooklyn, NY 11230
Vitaphone Project Web Page
http://www.vitaphoneproject.com
medusashaircut@erols.com
---

This web site is maintained by Patrick Picking: patrick@picking.com
Copyright 1996-2008