| | |
| --- | --- |
| Volume 7 Number 1 | Winter/Spring 2004 |
PROJECT BIDS GOODBYE TO SYLVIA FROOS
VITAPHONE's LITTLE PRINCESS OF SONG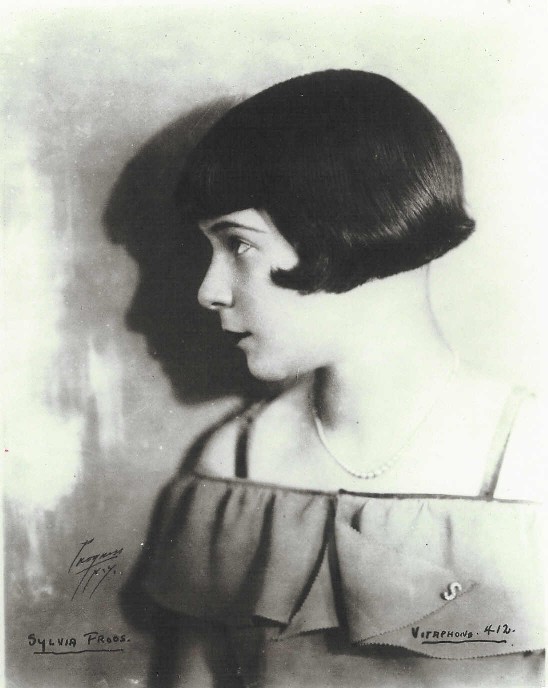 1914 - 2004
When we began The Vitaphone Project in 1991, it was to find discs, film, and funders of restorations. The unanticipated highlight of our efforts, however, has been finding the actual people who worked in Vitaphone films. One of the first we tracked down with the help of Alan Cooperman was singer Sylvia Froos. It was our privilege to show Sylvia many of her short subjects, films she rarely saw because of her busy stage and radio career. Sylvia passed away on March 28, 2004 following a stroke. She was 89. When many of her fans assembled a CD of her many 78's and film soundtracks, she was appreciative but truly had no idea what a CD actually was. Ironically, her entire career was marked by entry into new phases of the entertainment industry just as they were emerging.
As Baby Sylvia Froos, she made her first radio appearance in 1925, only five years after the first commercial radio broadcast in the United States. Then, in April 1927, she appeared in two Vitaphone one reel shorts filmed in New York. As "The Little Princess of Song", Sylvia sang three pop tunes in each short. The picture portion of each short survives, while the discs --- avidly sought in recent years --- have still not turned up. She was 13 at the time the Vitaphone shorts were made, and she still wore her stage attire of a much younger child. This prompted several state censors to protest the films as obscene. We shared this sidelight with Sylvia in December and she thoroughly enjoyed hearing about the controversy. In the mid-1930's, she appeared on experimental television in England and then made a number of Soundies. These three minute short films were shown on Panoram machines in bars and clubs and were precursors of modern music videos. Her Vitaphone shorts, including EDDY DUCHIN AND HIS ORCHESTRA ('33), RAMBLING ROUND RADIO ROW ('32) and SOFT DRINKS AND SWEET MUSIC ('34), have been shown frequently on Turner Classic Movies and resulted in new fan mail and recognition worldwide.
During her career, Sylvia performed with countless stars, including Al Jolson, Paul Whiteman, Duke Ellington, Harry Richman, Willie & Eugene Howard, and Bill Bojangles Robinson. On her 85th birthday, she was treated to a special celebration at The Cajun in New York, where Vince Giordano and his Nighthawks with Peter Mintun performed many of her signature tunes from records and films. She was awe struck when the audience sang "Broadway's Gone Hillbilly" from her sole feature, STAND UP AND CHEER (Fox/'34).
Sylvia would have been both surprised and delighted to know how much publicity her passing attracted. Obituaries were run by the Associated Press, Reuters, CNN, BBC, and in special articles in The New York Times and The New York Sun, among many others. She was a wonderful friend to the Project, and we will miss her deeply. We are richer for having known her.
---
A picture of the side of a Warner Brothers theater in 1929, you think? Wrong! The is a newly painted wall on the side of the restored Smoot Theater in West Virginia. Several years ago, the Project provided some sample artwork to the folks who are restoring this old theater, which converted to Vitaphone and Movietone in 1928. This is the result. Many thanks to Brian Abbott of Parkersburg, WV for sending us the photo.
---
NEXT VITAPHONE RESTORATION SHOW SET FOR UCLA ON AUGUST 13th 2004
"We have an embarrassment of riches," say UCLA's Chief Preservation Office Robert Gitt of the current batch fourteen of Vitaphones to be shown there on Friday, August 13th. This is the biggest batch of restored shorts yet, and the program (to be duplicated at Film Forum in New York on September 23rd) offers a wide variety of comedy, vaudeville, and musical legends. All of the shorts were made in the 1927-29 period, and were generously funded by Project supporters Dudley Heer, Anthony Ponaras, David Stenn, Scott Margolin, Robert Lipton and Bobby DePace. Restorations now cost $4,500 (deductible), so this programs represents donations of nearly $60,000. To date, The Vitaphone Project has helped secure over $250,000 in contributions to UCLA for Vitaphone restorations. There are already several shorts in the pipeline for the next round of restorations, and usually these programs generate new interest in donations.
UCLA will premiere this batch of Vitaphone shorts at a program beginning at 7:00PM on Friday, August 13th. Check UCLA's website at http://www.cinema.ucla.edu/public/specialevents.html for details. Here's the program (not in order):
#2338 - ABE LYMAN & HIS BAND (1928)
#791 - JACK WHITE AND HIS MONTREALERS (1929)
#2677 - LARRY CEBALLOS' ROOF GARDEN REVUE (1928)(w/Lyda Roberti)
#742 - PAUL TREMAINE AND HIS ARISTOCRATS (1929)
#709 - SOL VIOLINSKY (plays piano and violin simultaneously)
#753 - ETHEL SINCLAIR & MARGE LAMARR (1929)(vaude comedy team)
#443 - BERNARDO DEPACE, WORLD FOREMOST MANDOLINIST (1927)
#2285 & 2294 - EARL BURTNETT & HIS HOTEL BILTMORE ORCHESTRA (1 to be shown)
#2138 - THE NIGHT COURT with WILLIAM DEMAREST (1927)
#2236 - RAY MAYER & EDITH EVANS in 'WHEN EAST MEETS WEST' (1928)
#2320 - THE POLICE QUARTETTE (1927)
#2595 - DICK RICH AND HIS MELODIOUS MEN (1928)
Both the UCLA and Film Forum programs will also include a restored Vitaphone feature, THE SECOND FLOOR MYSTERY (1930).
---
DISC-OVERIES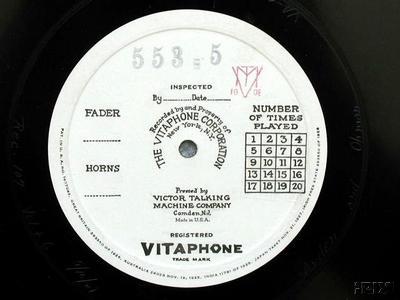 Lots of soundtrack discs have turned up since our last issue. Here is what has turned up (over 100!):
Vitaphone Overture disc of STARS AND STRIPES FOREVER (1928)
both discs for the 1930 two-reel Vitaphone short CURSES
trailer discs for FIFTY MILLION FRENCHMAN (1931) and CHANCES (1931)
disc for Vitaphone short BELIEVE IT OR NOT #12 (1931)
disc for Vitaphone short THE NAGGERS (1930)
all feature discs plus trailer for John Barrymore's THE MAN FROM BLANKLEYS (1930)
disc for Vitaphone short THE RECRUITS (1930)
multiple discs for 1932 editions of UNIVERSAL NEWS REEL
all discs for American versions of THE MUMMY (Univ/1932), COLLEGE RHYTHM (Par/1934), TOMORROW AT SEVEN (RKO/1933), and LITTLE WOMEN (RKO/1933)
both discs for two-reel Universal shorts RACING WITH DEATH (1930), ONE DAY TO LIVE (1930), A SCREAM OF TERROR (1930), NO PRIVACY (1930), DANGER ISLAND (1930) and the one reel Universal short GO TO BLAZES (1930)
reel 6 of the Alice White feature PLAYING AROUND (FN/1930)
reels 1 through 6 for MURDER ON THE ROOF ('30)
all discs to Garbo's last silent THE KISS (MGM/1929)
12 sound discs for a 1936 reissue of THE BIRTH OF A NATION (1915)
discs for the early Vitaphone shorts BRUCE BAIRNSFARTHER (1926) (two more discs reported this time!) and ARDEN AND OHMAN (1927)
reels 4 and 6 for FOX MOVIETONE REVUE OF 1929
reels 5 and 6 of CITY GIRL (Fox, 1929)
all 10 discs for THIS IS HEAVEN (UA/1929)
discs for reels 2,4,5,6,7 and 8 for the "A" version of CITY LIGHTS (UA/1931)
discs for reels 1,2,3,4,8 and 9 of SPITE MARRIAGE (MGM/1929), Keaton's last silent
discs for reels 1,2,5,6,7,and 8 for SPEEDWAY (MGM/1929)
disc for reel 3 of THE LONE WOLF'S DAUGHTER (Col./1929)
disc for reel 6 of TRIAL MARRIAGE (Col./1929)
Then from a large stack of soundtrack discs found in Indiana by our own Rich Markow:
reels 2 & 6 for BORN RECKLESS (Fox)
reels 2 through 10 for CONDEMNED (UA)
reels 1,2,3,4,5,6,7 and 9 for THE CRIMINAL CODE (COL/'31)
all reels including some dupes for THE CUCKOOS (RKO/1930)
all reels for THE DEVIL TO PAY (UA/1929)
all reels to ESCAPE (RKO)
all ten reels to A FREE SOUL (MGM/1931)
all 10 reels for "A" version of THE FRONT PAGE (UA/1931)
reels 3 through 10 for GENERAL CRACK (WB/1930)
all seven reels for HE KNEW WOMEN (RKO/1930)
all ten reels for HOLIDAY (PATHE/1930)
all 10 reels except reel 5 for JOURNEY'S END (TIFFANY/1930)
reel 8 for MOBY DICK (WB/1930)
reel 1 for Pathe Short SOME BABIES (1930)
reels 2, 4,5,6,7 and 8 for TAMING OF THE SHREW (UA/1929)
reels 1 through 12 for THE VAGABOND KING (PAR/1929)...
all reels for WOMEN EVERYWHERE (FOX/1930)
---
DATABASE UPDATE
Rich Markow, who maintains our soundtrack disc database, has extensively updated it to include the many recent discoveries as well as all those discs present in UCLA's collection. The alphabetic list includes title, disc number, studio, reel number(s), coding for the holder of the discs, and notes regarding condition. Rich is now working with web site manager, Patrick Picking, to include the full database of thousands of discs on our site www.vitaphoneproject.com.
---
NEW CHOICES OF VITA CD GIFTS FOR DONATIONS OVER $50!
We've added some new "thank you" CD's to our list, so check them out. We are very grateful to all of the readers (both hardcopy and on the web) of VITAPHONE NEWS for financial support of our efforts. Large donations are redirected to UCLA for specific restorations. But your contributions of $20, $50, etc. are used to pay for the printing and distribution of this newsletter, and for stationery , postage and supplies. As each issue now costs us about $750 to print and distribute, you can see why all of the donations go into this important networking activity. If you've contributed already, THANKS! If not, please consider doing so.
You may now select from a growing choice of "thank you" Vitaphone CD's when making your (non-deductible) donation. Remember, these are unique, non-professional (but highly listenable) recordings of rare early talkie material. No fancy liner notes or slick packaging, but hours of enjoyment await you! Just let us know your pick:

$50 - Pick any one
$75 - Choose any two
$100 - Pick any three
$150 - Pick any six
$200 or more - Pick any eight
Available Vitaphone CD's. # CD's avail in () :
* = New offering

Complete WHY BE GOOD? ('29) track (1)
1926-34 Vitaphone, Educational shorts tracks (2)
*Sylvia Froos 78's & Soundtracks 1930 - 1950's (1)
*GOLD DIGGERS OF BROADWAY ('29) 95% of the full track plus trailer (2)
*Warner Brothers 1932-36 Musical Radio Promos (1)(includes WONDER BAR, TWENTY MILLION SWEETHEARTS, GO INTO YOUR DANCE, GOLD DIGGERS OF 1935, much more)
Baby Rose Marie, The Child Wonder 1929-38. (1) Includes her three Vitaphone tracks, all her 78's of this period, plus other film tracks and a full 15 minute '38 radio show.
Miss Frances Williams (1) - The great risqué songstress, include all but one of her 78's, her '27 Vitaphone short, soundtracks to her 1930's features, and radio shows.
MY MAN (2) - All 11 Vitaphone discs that exist, plus trailer, related pop 78's of the featured tunes.
Vitaphone Shorts and features soundtracks 1926-31 (4). Vaudeville, bands, trailers, music & effects. Over 40 tracks.
Vitaphone shorts music tracks, 1932-38. (2)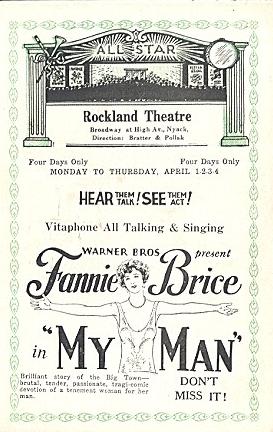 Donate to The Vitaphone Project securely with any major credit card through PayPal!
Checks (not deductible) should be made payable to Ron Hutchinson (NOT The Project) and sent to 5 Meade Court, Piscataway, NJ 08854.
---
PEOPLE
We note with sadness the passing of another friend of the Project, John R.T. Davies. John was the unseen force behind the restoration of thousands of early 78 rpm sound recordings released on CD. He recognized the fact that getting every last bit of sound out of shellac grooves was both an art and a science. He will be missed.
PBS Producer Michael Kantor is putting the finishing touches on the five part PBS series BROADWAY. We assisted on the twenties and thirties segments. It will be presented this Fall nationally.
Paul Giuricki reports that his Laughsmith Entertainment organization has just released a wonderful new 4 DVD boxed set of Roscoe "Fatty" Arbuckle rarities. Included are Sennett and Paramount shorts, LEAP YEAR (an Arbuckle feature with tints), a batch of Arbuckle directed Educational shorts with Lupino Lane, Johnny Arthur, Al St. John and Lloyd Hamilton, a Paramount East Coast feature SPECIAL DELIVERY ('27) with Eddie Cantor which he directed, and much supplemental material. For details and ordering information, checkout www.laughsmith.com
Author and musical bon vivant Will Friedwald recently related a bit of dialog from a 1942 radio promo program for SHIP AHOY (MGM) with Tommy Dorsey and Frank Sinatra:
FS: I thought I'd do a song from our movie.
TD: You mean our new MGM picture, SHIP AHOY?
FS: No --- I mean that Vitaphone short you made in 1929!
Randy Haberkamp of the Motion Picture Academy is assembling a program titled "Great To Be Nominated" which will feature a segment of stills, sound tracks, and other remaining elements of otherwise lost films.

Pat Timberg, daughter of Fleischer songsmith Sammy Timberg, has just released a great CD of newly recorded Betty Boop, Popeye, and other Fleischer tunes. You will love it. For more info, contact Pat at timberginc@aol.com.
---
VITAPHONE SHOW AT FILM FORUM

Two days of glorious Technicolor and recent Vitaphone restorations will be featured this fall at New York's Film Forum. On September 22, 2004, Bob Gitt will present a program on the history of color in motion pictures. To illustrate the presentation, color films will include the eye-popping Vitaphone short GOOD MORNING, EVE ('34) with Leon Errol, THE DEVIL'S CABARET (MGM/'31) with Eddie Buzzell, and the recently restored all-star HOLLYWOOD PARTY (MGM/'37) hosted by Charlie Chase.
On September 23, a program of 12 recently restored Vitaphone shorts (see the description of the UCLA program for content) will be hosted by Project co-founder Ron Hutchinson. A newly restored Vitaphone feature, THE SECOND FLOOR MYSTERY (1930) will also be presented. Content and times could change, so check Film Forum's web site at http://www.filmforum.com
---
NEW EARLY SOUND SHORTS BOOK DUE OUT THIS FALL
"The First Hollywood Sound Shorts, 1926-1931" [ISBN # 0-7864-1030-2} by Edwin M. Bradley will be published this fall by McFarland & Company. The 480 page book will include over 70 photos, and contain the most comprehensive list to date of talkie shorts from all the major and many minor studios. Each big studio (MGM, Paramount, Roach, Pathe, Universal, Fox, etc.) gets a large chapter to itself. Poring over these filmographies, even the most seasoned film buff will find countless unknown productions and surprises. For example, W.C. Fields' brief appearance in a March 1929 Fox Movietone newsreel --- getting a golf lesson --- was previously unknown and never mentioned in any Fields biographies (even James Curtis' recent superb entry}. We have since seen the raw footage for this and it is incredible. What other gems await rediscovery through this book?
Project stalwarts Cole Johnson, Scott Margolin and Ron Hutchinson provided many of the never-before pictures. Ed's earlier work, The First Hollywood Musicals is still available from McFarland. The new shorts book will make a wonderful companion to Roy Liebman's Vitaphone Films.
---
RELATIVITY
As usual, we continue to hear from the relatives of many Vitaphone performers. They usually track us down via the Internet when a search of their relative's name turns up our web site. Since our last issue, we have heard from Lee Chase, daughter of famed vaudevillian Chaz Chase. He starred in the recently restored CHAZ CHASE, THE UNIQUE PERFORMER ('28). Ms. Chase reminded us that he didn't eat everything! Monologist LOU HOLTZ appeared in IDLE CHATTER ('30) for Vitaphone as well as the 1934 Columbia Musical Novelty SCHOOL FOR ROMANCE whose risque pre-Code comedy was a hit last year on both coasts. His son LOU HOLTZ, JR. called us and has since seen his dad's work. Lou Jr. wrote the screenplay for THE CABLE GUY with Jim Carrey. Lou is now hoping to get a copy of his father's other Columbia short, WHEN DO WE EAT? ('34) set in a nudist restaurant! DOROTHY DARE appeared in a number of 1933-34 Vitaphone shorts with Hal Leroy, Phil Regan and Arthur and Florence Lake. She then moved to Hollywood and appeared in such WB musicals as GOLD DIGGERS OF 1935. We got an email from Dorothy this winter and she remembers how much fun she had making those films. The Project and Peter Mintun have provided her with video copies of most of her films. We have had no luck so far finding any relatives of CONVENTION CITY (WB/'33) director Archie Mayo. Even famed "tracer of lost persons" Bill Cappello has come up empty. It is our hope that by finding a Mayo relative, we might also find a surviving print of the lost CONVENTION CITY. It was normal for directors to get a print of each film they worked on. As reported in our last film, this star filled pre-Code feature has been among the holy grail of film historians for over six decades.
---
FUNDING STILL NEEDED FOR 'WHY BE GOOD?'
While a 35mm nitrate print of Colleen Moore's long lost final silent, WHY BE GOOD? (First National/1929) was found two years ago in Italy, and a full set of discs exists, funding has still not been secured to do the restoration. As an 8 reel feature, restoration will cost substantially more than for one reel shorts. UCLA estimates that the cost to restore WHY BE GOOD? will run to about $29,000. This would cover restoration of both picture and sound, synchronization of the Vitaphone discs to the picture, and the production of two 35mm sound-on-film prints.
The soundtrack of this feature is particularly notable (it's available as a thank you gift --- see this issue for details). It is one of the jazziest ever, with countless pop tunes of the period played by top musicians. Jazz experts believe that Jimmy Dorsey, Joe Venuti, Phil Napoleon, and Eddie Lang (among others) are present. Surviving stills from the Joseph Yranski Collection confirm this is a visually striking deco production. And Jean Harlow has a prominent extra role in her first feature appearance.
So.... all it will take is some funding and we can see this wonderful film again. Let us know if you have any candidates.
---
PROJECT NOTES RAY STARK'S PASSING
Film producer Ray Stark had many Vitaphone connections. He was the son-in-law of MY MAN ('28) star Fanny Brice. He worked for many years at Warner Brothers. And in the mid-1950's he was in charge of putting together the WB television package of hundreds of Vitaphone short subjects. A full set of these 1930-50 shorts still exists in 16mm at The University of Wisconsin.
Scott Margolin had met Ray several times, along with Fanny's nephew Bill Brice. Both were able to hear the rediscovered discs for MY MAN.
---
BROADWAY (UNIV/'29) REDISCOVERED AFTER 75 YEARS!
Director Paul Fejos brought a rare visual fluidity to Universal's BROADWAY (1929), but only the memory of those who saw it originally could vouch for that. The film has been among several dozen lost features from the transition to sound. Just as we went to press, we learned of a Hungarian print that has just been discovered. It is from the silent version, so it is unknown what scenes may have been cut. Within days of this discovery, we learned through Film Forum's Bruce Goldstein of the existence of several reels of the American version in 16mm. Soundtrack discs for the film survive, so it remains to be seen what kind of restoration will be possible. Nevertheless, the rediscovery of BROADWAY gives hope that such other lost early talkie features (MY MAN, HONKY TONK, etc.) may one day turn up.
---
CHECKOUT MALTIN'S MOVIE CRAZY!
The Project highly recommends subscribing to Leonard Maltin's quarterly newsletter, MOVIE CRAZY. Named after Harold Lloyd's 1932 feature, the publication features great interviews with stars of the golden era by Leonard himself, as well as unknown sidelights on film productions, great graphics. Recent articles included interviews with Mary Brian and Grace Bradley, a history of Soundies, and a look into how John Barrymore tested for the lead in THE MAN WHO CAME TO DINNER. Very much a large format reincarnation of the best of Leonard's FILM FAN MONTHLY. To subscribe, send $25 (U.S.), $36 (Canada) or $40 (overseas) for four issues to:
Movie Crazy
P.O. Box 2747
Toluca Lake, CA 91610
www.leonardmaltin.com

---
IF YOU WOULD LIKE TO BE NOTIFIED WHEN NEW ISSUES ARE ADDED TO THIS WEB SITE:
---
---

This web site is maintained by: patrick@picking.com
Copyright 2001-2004