| | |
| --- | --- |
| Volume 6 Number 2 | Summer/Fall 2002 |
---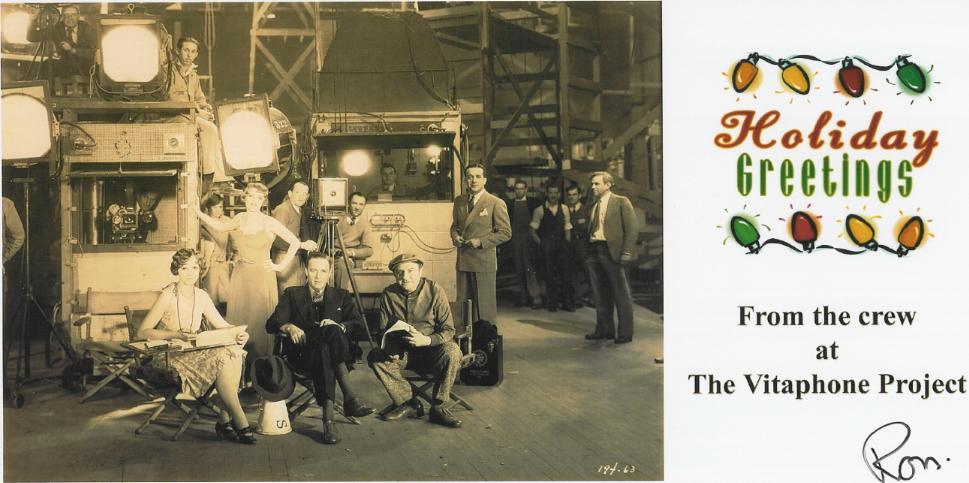 IF YOU WOULD LIKE TO BE NOTIFIED WHEN NEW ISSUES ARE ADDED TO THIS WEB SITE:
---
LOST NO MORE!
Following the October 3, 2002 Film Forum Vitaphone program, we were contacted by long time supporter Jeff Cohen and, through him, NY Public Library archivist Joe Yranski regarding Colleen Moore's lost last silent feature, WHY BE GOOD? (First National, 1929).



The last issue of Vitaphone News mentioned that Project co-founder Ron Hutchinson had acquired all 8 soundtrack discs. The track contains hot dance music and sound effects, but no dialogue. The performances are energetic and clearly jazz inspired. Dubs were shared with jazz experts who have identified the presence of such musical legends as guitarist Eddie Lang, Jimmy Dorsey, Phil Napoleon, and possible Joe Venuti, Ben Selvin, George Hamilton Green and other twenties music greats. Nearly two-thirds of Colleen Moore's features are considered lost. With Jeff and Joe's digging, they incredibly turned up 35mm silent nitrate prints in great shape for both WHY BE GOOD? and Moore's previous Vitaphone scored (and also "lost") feature SYNTHETIC SIN (First National, '29). Both films reside in a small European archive which received these and other prints from actor Antonio Moreno (who appears in WHY BE GOOD?). Joe also has over 400 production stills from WHY BE GOOD? , Ron Hutchinson has the window card, and UCLA has the trailer and its disc. From totally lost to thoroughly found in just a short time! At press time, the Project was working with potential funders and several archives in order to get these films restored. Only one Vitaphone music-and-effects disc exists for SYNTHETIC SIN, but Joe has the complete set of music cue sheets so perhaps Vince Giordano's Nighthawks can be enlisted to do an accurate recreation of the soundtrack.
---
PHOTOS!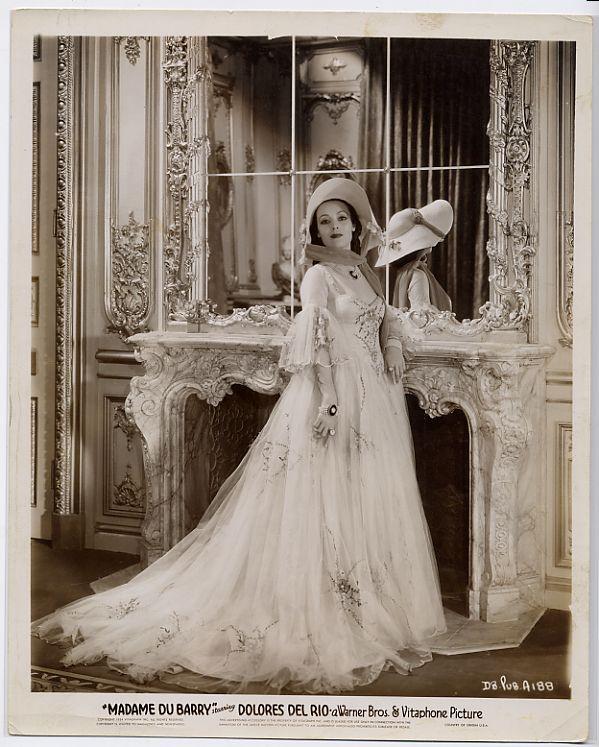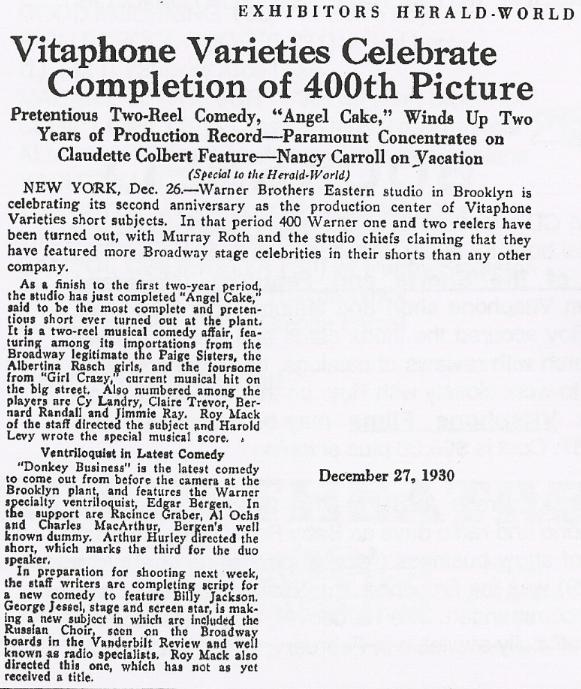 ---
VITAPHONE BOOKSHELF
This holiday season offers a treasure trove of books and CD's for fans of Vitaphone. Please encourage more such offerings with your purchase. First, the essential book for every Vitaphoniac is finally here! Roy Liebman's mammoth Vitaphone Films: A Catalog of the Shorts and Features (McFarland, ISBN 0-7864-1279-8) lists detailed info on every known Vitaphone short and feature. This hardcover, 400 page volume will be available in December 2002. Roy scoured the index cards and files in the WB archives at USC, and supplemented his exhaustive research with reviews of catalogs, trade papers, stills, and film-by-film file folders. The Project has been happy to work closely with Roy on this wonderful book, and provided many of the over 100 stills that it contains. Vitaphone Films may be ordered through amazon.com or directly from McFarland at 1-800-253-2187. Cost is $95.00 plus shipping.
Rose Marie's Hold The Roses (University of Kentucky Press, ISBN 0-8131-2264-3) traces the legendary performer's career from her vaudeville, Vitaphone and radio days as Baby Rose Marie, through television, Broadway, Las Vegas and every other facet of show business ("except circus" as she told a UCLA crowd). "Baby Rose Marie, The Child Wonder" ('29) was the first short The Vitaphone Project was involved with restoring. This wonderful bio is strongly recommended. The hardcover, 203 page book is available on amazon.com for $17.50 plus shipping and is officially available in February, 2003 (but you can place your order it now!)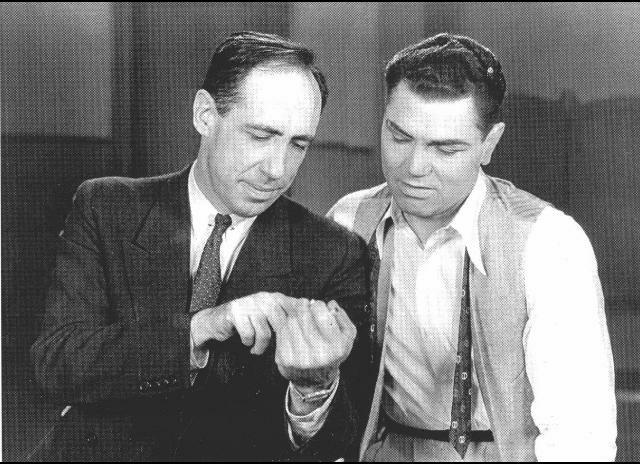 Vitaphone director Joseph Henabery (l), who appeared as Lincoln in THE BIRTH OF A NATION and went on to direct Arbuckle, Fairbanks and Valentino in silent features, here is shown giving fistic guidance to boxer Jack Dempsey for a 1932 Vitaphone short. While Henabery was present at the Brooklyn studios when Arbuckle returned to the screen for his 1932-33 two-reel Vitaphone comedies, Henabery did not direct any of them.
---
EARLY PATHE TALKIES ON VHS, DVD!
Here is the updated listing of restored early Pathe talkie shorts and features offered by Gary Lacher. You'll recall Gary found nearly 30 films and discs for the shortlived home talkie 16mm system and has done a great job of restoring and resynching them. Many of these films were previously "lost" and survive only because the home talkie system used 16mm safety, rather than nitrate, film.
Volume One: AESOP FABLES CARTOONS: (1928-1930) WOODCHOPPERS; SKATING HOUNDS; FLY'S BRIDE; ROMEO ROBIN; SNOWTIME; WESTERN WHOOPEE; THE OFFICE BOY
Volume Two: TWO PLUS FOURS (1930) Bing Crosby and the Rhythm Boys; TWO FRESH EGGS (1930) Al St.John, Jimmy Aubrey; CHILLS AND FEVER (1930) Al Shean
Volume Three: SIXTEEN SWEETIES (1929) Eddie Elkins Orchestra, Thelma White, Sy Wills; NEAT AND TIDY (1930) (British) All star music hall comedians; HIGH TONED (1929) Buck and Bubbles
Volume Four: I'LL TAKE THAT ONE (British) (1930) Directed by Monte Banks, with George Clark; MIND YOUR BUSINESS (1930) with Bobby Agnew: A PERFECT MATCH (1929) Paul Baron and Ann Butler
Volume Five: LOVE, HONOR AND OH, BABY! (1929) Evalyn Knapp: FAIRWAYS AND FOUL (1929) James and Lucille Gleason; MUSICAL BEAUTY SHOP (1930) British Music Hall Revue
Feature: SAILOR'S HOLIDAY (1929) Alan Hale (Sr.) Sally Eilers, Directed by Fred Newmeyer. Running time: 60 minutes
Feature: PARIS BOUND (1929) Fredric March, Ann Harding. Running time: 77 minutes
All films have been re-mastered in a digital process format. Program and studio notes are included with each issue. Each package of shorts runs about 60 minutes. VHS tapes: $19.95 each, DVD's: $29.95 each. Tapes are sent first class in US. Please include $3.50 postage and handling for shipment. Add $1.50 for each additional tape or DVD. Send to:
GARY LACHER
1821 SE HAZEL ST.
PORTLAND, OR 97214
e-mail: gplacher@aol.com
---
UCLA, FILM FORUM VITA SHOWS HITS
Programs of twelve recently restored 1926-29 Vitaphone shorts at UCLA (August 3rd) and NYC's Film Forum (October 3rd) were enthusiastically received in full houses. The shows included shorts restored over the past two years, and which made their first theatrical appearance since their initial release. Restoration funding was provided by Dudley Heer (WARING'S PENNSYLVANIANS ['27], GRACE JOHNSTON & THE INDIANA FIVE ['29], HARRY WAYMAN'S DEBUTANTES ['29], CHAZ CHASE, THE UNIQUE PERFORMERS ['28], and ROY FOX & HIS MONTMARTRE CAFE ORCHESTRA ['29]), Anthony Ponaras (MAYER & EVANS ['28]), Scott Margolin (JACK OSTERMAN in 'TALKING IT OVER ['29]), and Count Robert Deiro (GUIDO DEIRO, THE WORLD'S FOREMOST PIANO-ACCORDIONIST ['28]). Also on the bill were BILLY JONES & ERNIE HARE, THE HAPPINESS BOYS ['26] and KRAFT & LA MONT ['29]. UCLA premiered the program, then generously allowed the east coast screening two months later.
A number of relatives of on-screen performers were able to attend the Film Forum show. Comedian Jack Osterman's grandson Michael Klein was there, along with five relatives of members of The Indiana Five.
The unexpected hit of the program was MAYER & EVANS, whose fresh tongue-in-cheek act convulsed audiences (a second Vitaphone short they made in 1928 is restorable). Unknown monologist JACK OSTERMAN also went over quite well, with a funny, unrehearsed kind of delivery . Jazz fans were treated to a hot rendition of "Clarinet Marmalade" by The Indiana Five, and the bizarre CHAZ CHASE had audiences in disbelief as he ate a steady string of stuff, including string itself. But all the films went over well and have already prompted funding of more Vitaphone shorts.
Visit their website for more information: http://www.filmforum.com
---
NEW VITA SOUNDTRACK CD GIFTS FOR DONATIONS OVER $50!
ALL ARE WELCOME!
We've added some new "thank you" CD's to our list, so check them out. We are very grateful to all of the readers (both hardcopy and on the web) of VITAPHONE NEWS for financial support of our efforts. Large donations are redirected to UCLA for specific restorations. But your contributions of $20, $50, etc. are used to pay for the printing and distribution of this newsletter, and for stationery , postage and supplies. As each issue now costs us about $750 to print and distribute, you can see why all of the donations go into this important networking activity. If you've contributed already, THANKS! If not, please consider doing so.

You may now select from a growing choice of "thank you" Vitaphone CD's when making your (non-deductible) donation. Remember, these are unique, non-professional (but highly listenable) recordings of rare early talkie material. No fancy liner notes or slick packaging, but hours of enjoyment await you! Just let us know your pick:

$50 - Pick any one
$75 - Choose any two
$100 - Pick any three
$150 - Pick any six
$200 or more - Pick any eight
Available Vitaphone CD's. # CD's avail in () :
* = New offering

Complete WHY BE GOOD? ('29) track (1)
1926-34 Vitaphone, Educational shorts tracks (2)
*Sylvia Froos 78's & Soundtracks 1930 - 1950's (1)
*QUEEN OF THE NIGHTCLUBS ('29) full track (1)
*HARD TO GET ('29) full track (1)
*Warner Brothers 1932-36 Musical Radio Promos (1)(includes WONDER BAR, TWENTY MILLION SWEETHEARTS, GO INTO YOUR DANCE, GOLD DIGGERS OF 1935, much more)
Baby Rose Marie, The Child Wonder 1929-38. (1) Includes her three Vitaphone tracks, all her 78's of this period, plus other film tracks and a full 15 minute '38 radio show.
Miss Frances Williams (1) - The great risqué songstress, include all but one of her 78's, her '27 Vitaphone short, soundtracks to her 1930's features, and radio shows.
MY MAN (2) - All 11 Vitaphone discs that exist, plus trailer, related pop 78's of the featured tunes.
Vitaphone Shorts and features soundtracks 1926-31 (4). Vaudeville, bands, trailers, music & effects. Over 40 tracks.
Vitaphone shorts music tracks, 1932-38. (2)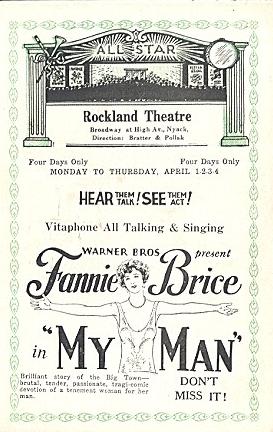 Donate to The Vitaphone Project securely with any major credit card through PayPal!
Checks (not deductible) should be made payable to Ron Hutchinson (NOT The Project) and sent to 5 Meade Court, Piscataway, NJ 08854.
---
ABANDONED NM MINE YIELDS FILM CANS
Archaeologist Neal Ackerly was searching through New Mexico mines this summer and was surprised to find a number of (sadly empty) 35mm film cans from the short-lived early talkie producer Fowler Studios. Fowler produced a series of 1929-30 one-reel shorts variously called "Fowler Varieties" and "The Voice Of Vaudeville". Each reel featured three acts, and included such performers as black singer Tessie Maize, Roy Fox and his Orchestra, Ray West, and others. A number of these shorts have been included in Yazoo's videos "Times Ain't What They Used To Be" and "At The Jazz Band Ball". The films were produced at the Fowler studios on Lillian Way in Hollywood. The studio was previously where Buster Keaton produced his independent shorts and features. It's unknown how or why these film cans ended up in New Mexico mines. No other film related material was found.
---



Original Program for GLORIOUS BETSY
---
WARNER/LOC EFFORT NOW PRESERVING 100's Of VITAPHONES
Warner Brothers, through the initiative and guidance of Chief Preservation Officer Dick May, continues to work with The Library of Congress in preserving hundreds of 1930-45 Vitaphone shorts onto 35mm safety film. These films are from the post-disc period, and include many on and two reel musicals, comedies, three-strip Technicolor and specialty shorts. Over 200 shorts have already been preserved through this effort. Just a few shorts now saved and ultimately available again for viewing, broadcast and eventually home video, are:
THE BORDER PATROL ('30) w/ Joe Frisco
BED TIME VAUDEVILLE ('36) - kiddie musical
A CABINET MEETING ('34) - Radio Ramblers
BIG HOUSE PARTY ('31) - gay band in prison!
ABE LYMAN BAND ('32) - great band short
DR. CUPID ('38) - Ken Murray comedy
EASY ACES ('33) -w/ radio duo
FILM FOLLIES ('35) - 2 reel musical
DOUBLE CROSSING OF COLUMBUS ('33)
MARTINELLI IN "FAUST" ('28)
GOLD DIGGING GENTLEMEN ('30)
FOUR WHEELS, NO BREAKS ('32)
THE GRAND DAME ('30) - w/ Patsy Kelly
GOOD MOURNING ('30) - w/ Eddie Foy, Jr.
HIGH SCHOOL HOOFER ('31) w/ Hal Leroy
I'LL FIX IT ('30) - w/ Alice Lake
MADAME OF THE JURY ('30) w/Helen Broderick
SCRIPT GIRL ('37) - Cross & Dunn 2 reel musical
ALMA MARTYR ('32) w/Waring's Pennsylvanians
YACHT CLUB BOYS ('27)
THE CLYDE MYSTERY ('31) - SS. Van Dine
WHAT, NO MEN! ('35) w/ El Brendel
CAMPUS CINDERELLA ('38) w/ Penny Singleton
IN THE FAMILY ('31) w/ Thelma White
LUCKY BREAK ('30) w/Glenda Farrell
and over 175 more so far!
---
DISC-OVERIES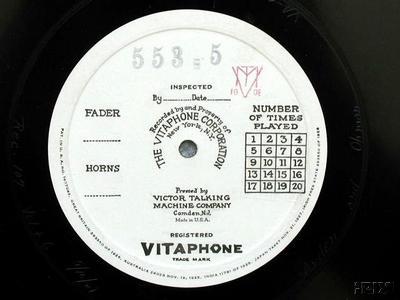 A smaller number of finds this time, but what has turned up recently is of major significance.
Elsewhere in this issue you can ready about the discovery of complete 35mm nitrate prints of two previously "lost" Colleen Moore First National Vitaphone-scored silents SYNTHETIC SIN ('29) and WHY BE GOOD? ('29). Film collector Tim Romano has also acquired a batch of about 40 nitrate films, some of which are early talkie shorts. These include "WHITE SQUAW" (Melody Productions) which was part of a 1929 series presented by famed "Texas" Guinan. No disc was found although others from this series have turned up.
On the soundtrack disc front, the following have turned up since our last issue:
In England, discs for the following Vitaphone shorts - JACK & JOHNNY TRIGO and JOHN MAXWELL, THE ORIGINAL SIX BROWN BROTHERS ('27), MARTINELLI in 'CELESTE AIDA', DANCE OF THE PAPER DOLLS ('29), THE NORMAN THOMAS QUINTETTE in 'HARLEMANIA' ('30), and BENIAMINO GIGLI in "GIACONDA". In the same collection were discs for WHOOPEE (UA, '30), WORDS AND MUSIC (Fox, '31), SHE GOES TO WAR (UA, '30), three discs for the German musical DELIKATESSAN, and five for a feature titled PHANTOME DES GLUCKS
In another British collection (previously held by a early talkie cinema projectionist) were discs for Fanny Brice's MY MAN (reels 1 through 9 and 11), A MOST IMMORAL LADY ('30) (with Walter Pigeon) reels 1 through 8, Al Jolson's SAY IT WITH SONGS ('29) reels 6, 8 and 9, SALLY ('30) reels 2, 4, 9, and 11, and Jolson's THE SINGING FOOL ('28) reels 2, 4, 5,6, 7, 8, 9 and 10
Project co-founder John Newton has an incredible knack for finding the rarest of the rare. He recently obtained the music track (only) of Bing Crosby singing "Poor Little G String" from the aborted MGM 1930 musical THE MARCH OF TIME. That film was halted in mid-production due to the public's souring on musicals. The film boasted a cast that included Buster Keaton, The Duncan Sisters, Crosby, Weber and Fields, and many others. Clips from the unfinished film subsequently turned up in MGM color shorts with The Three Stooges, Jans and Whalen, and Benny Rubin.
---
PEOPLE
This summer, the Project was contacted by Myron Britton of Ridgewood, NY seeking info on his father, Milt Britton. Milt & Frank Britton made several shorts for Vitaphone and Paramount, and were also in Rudy Vallee's musical feature SWEET MUSIC ('35). The Britton act preceded Spike Jones by a decade, and the act involved a quiet classical performance degenerating into smashing instruments over band members' head, squirting seltzer and other slapstick bits. The Britton Vitaphone requires preservation but is on Dick May's list to be done. We were able to share copies of the Paramount short and SWEET MUSIC with Myron and his mom (Milt's widow)
John Carpenter's Vitaphone scored 1928-esque short LATE TO LUNCH continues to receive many screenings and mentions. It was featured at the Long Island International Film Expos and has been mentioned on Joe Franklin's nationally syndicated Bloomberg Radio show
Library of Congress's Sam Brylawski, a long-time Project friend, seeks a copy of the 1923 National Vaudeville Artists yearbook which has a picture of his grandfather who ran an early Washington, DC movie house
Claude Kenneson, Professor Emeritus at University of Alberta, contacted the project to get a copy of the 1927 Vitaphone #614 Horace Britt. Prof. Kenneson knew Britt and is working on a book about Britt's life. He has sought this short, unsuccessfully, for three decades but we were able to share a copy with him
Singer Janet Klein, with her "Parlor Boys", presented a wonderful "VITAPHONE NIGHT" show at Hollywood's SILENT MOVIE THEATER the day before the UCLA program. Janet recreated tunes from the lost 1927 Frances Williams Vitaphone short and (with Miles Krueger) performed much of the Burns & Allen Vitaphone, LAMBCHOPS ('29). Thanks Janet!
Film buff Robert Lipton has attended several of the Film Forum Vitaphone programs and has generously provided funding to restore William Demarest's 1928 musical comedy one-reeler NIGHT COURT
Performer Sharon McNight continues to have success with her off-Broadway show "Red Hot Mama" about the life of Sophie Tucker. She (along with us) seeks anything on Sophie's lost Vitaphone feature, HONKY TONK ('29). Only the discs (some on Take Two's great Tucker CD) exist
Marsha Green contacted us and seeks and materials or film on her father, Sam Levine, who appeared with The Radio Ramblers in a number of 1930's Vitaphone shorts impersonating radio and film stars. Levine subsequently had a career on television in the fifties, appearing as "The Banana Man" on "Captain Kangaroo" mimicking an earlier act by A. Robins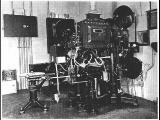 A 1928 Vitaphone disc projector set-up.
---
JAZZ SINGEER SOON AVAILABLE ON DVD
Warner Home Video is now completing work on a DVD which will present a restored and improved soundtrack (direct from discs) for THE JAZZ SINGER (WB, '27). Versions currently shown use an early 1930's sound-on-film print and digital technology can now significantly improve the sound quality by working directly from discs provided by the Project's John Newton and UCLA. The DVD will also include visual materials (posters, programs, etc.), intermission music, and several still to be determined shorts (although Jolson's A PLANTATION ACT ('26) and the JAZZ SINGER trailer are definite as of this writing.

---
LOST '31 DR. SEUSS VITA CARTOONS SOUGHT
Author Charles Cohen was putting the finishing touches on his Random House biography on Dr. Seuss, and uncovered two previously unknown screen credits for him. Two Vitaphone animated cartoons, 'NEATH THE BABABA TREE and PUT ON THE SPOUT were released on 6/1/1931 and appear to be short advertising films for Flit insect spray. "These cartoons predate the earliest Seuss-related animation by more than 10 years," says Charles, "as the Bob Clampett adaptation of HORTON HATCHES THE EGG (4/42) and George Pal's Puppetoons of THE 500 HATS OF BATHOLOMEW CUBBINS (4/43) and AND TO THINK THAT I SAW IT ON MULBERRY STREET (6/44) were his earliest previously known animated work.
Consultation with Dick May turned up no prints in the WB vaults and animation experts Leonard Maltin, Will Friedwald and Jerry Beck, Don Crafton, Mike Barrier, the LOC and others also came up empty. The cartoons were definitely released, and appeared in theatres during a brief period in the early 1930's when commercial shorts were shown before the feature. Clark & McCullough and Ruth Etting, among others, made commercial shorts. They rapidly wore out their welcome. Charles continues his investigation, and plans to contact Exxon (current corporate reative of Flit). Any readers who can shed some light on these films, or where they might be, is urged to contact the Project.
---
GREAT SOUNDS OF VITAPHONE ERA
Let us recommend some great vintage CD's with a Vitaphone flavor. Checkout Janet Klein's web site at http://janetklein.com and see her many CD's in the "mail order" section. Her latest includes several Vitaphone shorts-inspired tracks. And longtime Project member Vince Giordano has a number of vintage 1920's - 1930's CD's available if you can't make his Monday/Thursday shows at NYC's The Cajun. Check them out at http://www.jazzbymail.com/artists/giordano.html
Courtesy of Peter Mintun
---
---

This web site is maintained by: patrick@picking.com
Copyright 2001-2002