| | |
| --- | --- |
| Volume 5 Number 4 | Summer/Fall 2001 |
IF YOU WOULD LIKE TO BE NOTIFIED WHEN NEW ISSUES ARE ADDED TO THIS WEB SITE:
---
PROJECT LOSES CO-FOUNDER AND FRIEND: DAVID GOLDENBERG
David Goldenberg, one of the founding members of The Vitaphone Project in 1991, died unexpectedly on July 18, 2001. David had successfully battled cancer for several years, and his sudden death from other causes was both a shock and a major loss to all who knew him. When I first floated the idea of the Project in the late spring of 1991, it was David who responded first. His enthusiastic letter of support and desire to actively participate was accompanied by a business card containing the Vitaphone flag trademark. It was clear he was a kindred spirit. In June 1991, we finally met at a NJ record collectors show, with co-founders John Newton and Sherwin Dunner also in attendance. My immediate impression of David was that he was a kind, upbeat person who exuded generosity. And during our friendship of almost exactly ten years, that opinion never wavered. Many record collectors are suspicious types who are reluctant to share their discoveries. David was an aberration in the collectors' community. He frequently shared his latest finds and on more than one occasion asked me "Do you have this?" When I answered "no", he would hand it to me with "Now you do!".
David was also a long time officer in the International Association of Jazz Record Collectors (IAJRC) and the fall issue of their magazine has nearly a dozen pages devoted to the reminiscences of his colleagues. All have the underlying themes of David's generosity, kind heartedness and enthusiasm. I last saw him just two weeks before his passing. He had been experiencing severe back pain, but insisted on riding up from Pennsylvania to my home in New Jersey to see visiting record collectors. He hid his pain well, but left after only a few hours. He had hoped to attend the Film Forum Vitaphone show the following day but warned that he might not be there. Unknown to me, the pain was worse than he let on and he sadly was not able to attend the sellout programs. But he called the next day for a full report.
The night before the attack which led to his death, David spoke to co-founder John Newton who was quite concerned over Dave's discomfort. After a very brief review of his medical ills, David, characteristically, shifted the conversation away from himself. "Talk to me about records," he said. Pure David Goldenberg.
David had handled The Vitaphone Project's newsletter distribution and its small treasury. Longtime Project booster and friend Alan Cooperman has volunteered to take on these duties. We apologize for the slight lateness of our last issue, but clearly these sad developments explain the reason.
We continue to keep in close contact with David's widow, Eloise, and daughter Rachel. Collector Scott Margolin has kindly volunteered to fund restoration of David's favorite short, "JACK OSTERMAN in TALKING IT OVER'" (1929), a delightful monologue by a gifted but forgotten comedian.
------- Ron Hutchinson -------
And Co-Founder John Newton adds...
Dave always helped keep us focused in the early meetings, and later on as well when we'd wander away from a subject of business and onto film and record tangents. I was a close, personal friend of Dave's for more than 36 years. He was an inspiration for film and record collectors alike, always seeking to learn as well as watch and listen to film tracks. For Dave, seeing re-discovered and newly restored films was like seeing an old friend after a long, long time. His enthusiasm and knowledge, as well as his warn friendship, will be sorely missed.
---
BUY THAT BLANK VIDEOTAPE NOW! TCM SHORTS DOCUMENTARY TO BE ACCOMPANIED BY OVER 150 SHORT SUBJECTS!!
First, our apologies for forgetting to point out that the February 2002 Turner Classic Movies documentary on short subjects was scripted by Project supporter Leonard Maltin! We deserve three spit-takes in the face for failing to mention this earlier! At press time, the exact air date of this documentary had not been set, but look for it to premiere on TCM sometime this February. Producer John Griffin and Co-Producer Helen Scheer are pleased with the finished product, as is Executive Producer and Turner Entertainment Senior VP George Feltenstein. George produced those great Vitaphone laser disc boxed sets that now attract bids of over $250 each on eBay. The documentary intersperses clips from shorts (including many Vitaphones) with interviews of surviving performers and people who worked behind the scenes. From Vitaphone's Baby Rose Marie, Sylvia Froos, Thelma White and songwriter Sandy Green, to members of Hal Roach's Our Gang series and 96 year old RKO shorts director Sam White, these reminiscences will be a unique treat for film buffs everywhere.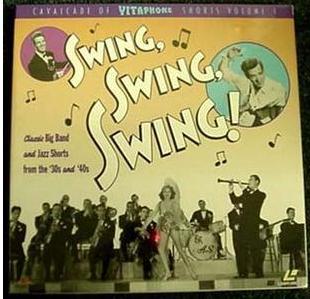 To complete the experience, TCM will be running over 150 short subjects during the week of the documentary's premiere. Many will be first-time showings and again a significant number of previously unaired Vitaphone shorts will be included. It is also planned that the just-restored 1937 three-strip Technicolor MGM all-star short HOLLYWOOD PARTY, hosted by Charley Chase, will debut on TCM that same week. There are no schedules on when specific titles will air, so warm up your VCR's are get ready to expand your home library of vintage shorts! If you don't have TCM, now is a good time to bug your cable carrier.
---
NEW VITA SOUNDTRACK CD GIFTS FOR DONATIONS OVER $50!
ALL ARE WELCOME!
We've added some new "thank you" CD's to our list, so check them out. We are very grateful to all of the readers (both hardcopy and on the web) of VITAPHONE NEWS for financial support of our efforts. Large donations are redirected to UCLA for specific restorations. But your contributions of $20, $50, etc. are used to pay for the printing and distribution of this newsletter, and for stationery , postage and supplies. As each issue now costs us about $750 to print and distribute, you can see why all of the donations go into this important networking activity. If you've contributed already, THANKS! If not, please consider doing so.

You may now select from a growing choice of "thank you" Vitaphone CD's when making your (non-deductible) donation. Remember, these are unique, non-professional (but highly listenable) recordings of rare early talkie material. No fancy liner notes or slick packaging, but hours of enjoyment await you! Just let us know your pick:

$50 - Pick any one
$75 - Choose any two
$100 - Pick any three
$150 - Pick any six
$200 or more - Pick any eight
Available Vitaphone CD's. # CD's avail in () :
* = New offering

Complete WHY BE GOOD? ('29) track (1)
1926-34 Vitaphone, Educational shorts tracks (2)
*Sylvia Froos 78's & Soundtracks 1930 - 1950's (1)
*QUEEN OF THE NIGHTCLUBS ('29) full track (1)
*HARD TO GET ('29) full track (1)
*Warner Brothers 1932-36 Musical Radio Promos (1)(includes WONDER BAR, TWENTY MILLION SWEETHEARTS, GO INTO YOUR DANCE, GOLD DIGGERS OF 1935, much more)
Baby Rose Marie, The Child Wonder 1929-38. (1) Includes her three Vitaphone tracks, all her 78's of this period, plus other film tracks and a full 15 minute '38 radio show.
Miss Frances Williams (1) - The great risqué songstress, include all but one of her 78's, her '27 Vitaphone short, soundtracks to her 1930's features, and radio shows.
MY MAN (2) - All 11 Vitaphone discs that exist, plus trailer, related pop 78's of the featured tunes.
Vitaphone Shorts and features soundtracks 1926-31 (4). Vaudeville, bands, trailers, music & effects. Over 40 tracks.
Vitaphone shorts music tracks, 1932-38. (2)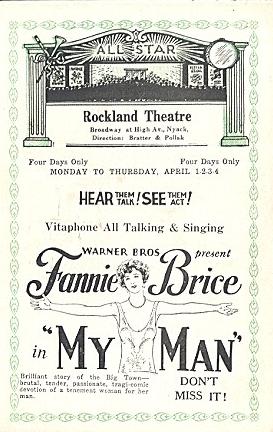 Donate to The Vitaphone Project securely with any major credit card through PayPal!
"CHAZ CHASE, THE UNIQUE COMEDIAN" (Vitaphone #2696, 1928) will be restored in 2002 with funding generously provided by Dudley Heer. Chase's vaudeville act included eating matches, flowers, paper, string, and razor blades!
"EDDIE PEABODY in BANJOLAND" (Vitaphone # 2560, 1928) is the only one of four Vitaphone shorts Peabody made in which both film and disc exist. It is being funded by film collector and banjo enthusiast Bob DeFlores. This still is from a concurrent short Peabody made, titled "BANJOMANIA".
This c.1928 still shows the construction of the new, sound proofed Vitaphone studios on East 14th Street and Locust in Brooklyn. We stood at the lower right corner of this building on 12/1/2000 during the filming of the TCM shorts documentary. The opening visible in the lower right corner (arrow) is for the tunnel we still seek to open one day.
---
FILM FORUM SHOW SELLS OUT AGAIN
The June 24th program of Vitaphone shorts and four long unseen Columbia Musical Novelties drew sellout crowds to all three programs. This was the third program of early talkie shorts assembled by the Project for Film Forum Repetory Director Bruce Goldstein. Included in the program were the just-restored VAN & SCHENCK (1927), THE HARD GUY (1930) which marked Spencer Tracy's debut, a reprise of JOSEPHINE HARMON in HARMONIZING ('30), two reels in two-strip Technicolor of GOLD DIGGERS OF BROADWAY, THE ROGUE SONG (MGM/1929) trailer and another three-minute clip from that otherwise lost film, and the hit of the program, a breathtaking print in three-strip Technicolor of the 1934 Vitaphone two reel musical GOOD MORNING, EVE with Leon Errol. The color was so vibrant in this short that each audience sighed in awe of its impact.
The Project is now assembling the next Film Forum program for Bruce, which will take place on May 28, 2002. Program selections are not yet complete, but will include a second Errol Technicolor Vitaphone short, SERVICE WITH A SMILE (1934), a batch of vaudeville Vitaphone shorts from 1926-30, and will accompany the feature, Eddie Cantor in PALMY DAYS (1931).
---
ADVERTISEMENTS!

---
VITAPHONE SHORTS BOOK SET FOR 2002
Professor Roy Liebman's book listing virtually every Vitaphone short and feature made has just been submitted to his publisher, McFarland & Company. The tentative title is "VITAPHONE FILMS: A CATALOGUE OF THE FEATURES AND SHORTS". Roy had scoured the USC Warner Brothers archives and has assembled as complete a filmography of these shorts, in numerical order, as is possible. The sometimes obscure Warner Brothers numbering system has been cracked, and most unaccounted for films have been tracked down. The Vitaphone Project has provided Roy with 8x10 stills from its own collection and also that of film buff Tom Toth. McFarland plans to include one hundred or more stills in the book.
A firm publication date has not been set yet, but will likely be late in 2002. We will keep you posted as this is a book that every Vitaphone enthusiast will want.
---
YOUNGEST MUTE TALKIE FINALLY GETS ITS VOICE: CHARLEY CHASE IN TECHNICOLOR!

Previous issues of VITAPHONE NEWS have reported that a goal has been to find the soundtrack for the youngest of the mute talkies: HOLLYWOOD PARTY, a 1937 all-star three-strip Technicolor two reeler hosted by comedian Charlie Chase. A beautiful, but silent, 35mm color print has existed in the WB archives for years, but the soundtrack as missing until recently. Last year, an Australian collector reported of having most of reel one (only) with sound-on-film. Gaining support for a partial restoration is always difficult, so no action was taken. In July, 2001, a totally different Australian collector reported having BOTH reels in sound-on-film, albeit with substandard picture quality.

The Project immediately advised Dick May at Warner Brothers and arrangements were made to obtain a digital transfer of just the soundtrack for match-up with the existing, pristine mute Technicolor print. "It was some feeling to know I was the first person in over 60 years to see and hear this!" Dick reported after completing the restoration.

Stars in the film include Clark Gable, Joe E. Brown, Freddie Bartholomew, Joan Bennett, Leon Errol, Joe Morrison, Anna May Wong and Al Lyons' Band (somewhat reminiscent of Spike Jones). Dick had to insert some appropriate music in the one brief segment of the film (a fashion show) which was still missing sound.

The opportunity to see Chase in color and to again enjoy this star-packed short will come in February 2002 when it will be shown as part of the airing of over 150 short on Turner Classic Movies around the time the short subjects documentary premieres.
---
ZOUARY DEFOREST BOOK SPAWNS KINO DVD RELEASES
Film collector and author Maurice Zouary reports strong sales of his book "DeFOREST, FATHER OF THE ELECTRONIC REVOLUTION" (1st Books, ISBN # 1-58721-449-0), partly due to interest in the 1922-29 DeForest Phonofilm shorts filmography --- a first in print. DeForest produced nearly 200 sound shorts of vaudevillians, bands, singer, politicians and British music hall stars during this period. Except for the occasional clip of the Eddie Cantor or Sissle & Blake shorts, these films have not been seen by the public since their initial release.
Maurice is partnering with Kino on a planned DVD/VHS release of many of the surviving sound shorts, including Ben Bernie, an all girl orchestra, Eva Puck and Sammy White, Phil Baker, Dewolf Hopper, Fannie Ward, Weber and Fields, and many unknown but entertaining performers. We will let you know when this release is available.
---
VITAPHONE STARS

---
VITAPHONE GOES HILLBILLY --- 1928 STYLE
A silent print of Vitaphone #715, THE ORIGINAL HILLBILLIES, has been run for many years at the exhibit hall of the Country Music Museum. This film represents perhaps the first theatrical (non-newsreel) sound film of country music. The Project learned of the soundtrack disc for this short two years ago. It was part of a cache of nearly 40 sixteen inch discs (mainly WWII radio transcriptions) discovered in Baton Rouge, LA. Four of the discs were Vitaphone soundtracks for 1928 shorts, all of which had film in existence at The Library of Congress but no known sound. It took two years of negotiations, but the Project (working on behalf of Rich Nevins of Shanachie Entertainment and Yazoo Records) succeeded in obtaining all of the soundtrack discs in October 2001. The discs have been shipped to Rich and half of the funding to restore THE ORIGINAL HILLBILLIES has already been secured.
---
"MAMMY" COLOR/SOUND RESTORATION UPDATE
We reported in our last issue that the two-strip Technicolor musical sequences for Al Jolson's MAMMY" (1930) had been found in The Netherlands. Under the direction of Dick May an WB and Bob Gitt at UCLA, a full restoration of this feature is now in progress. A decision has been made to go back to the original Vitaphone discs for the best possible sound. Existing prints use disc transfers to film done in the 1930's. Bob Gitt feels the sound quality obtainable directly from, the discs themselves will be noticeably superior to the current version. Record collector and Take Two Records President Jim Bedoian has loaned most of the needed MAMMY discs to UCLA, and the Project's John Newton has provided the disc for reel one as well as an audience overture music disc.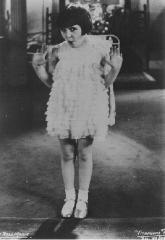 Our friend, "Baby" Rose Marie (here shown in her 1929 Vitaphone one reel short, "THE CHILD WONDER") received her own star on the Hollywood Walk of Fame on October 3, 2001. "I loved every moment of it," she writes, " and feel so proud to be honored in this way." Rose Marie has performed in every field of show business --- except circuses!
---
PEOPLE
Martha Jett, who helms "The Damfinos" International Buster Keaton Society, seeks any information on a 1933 independent talkie feature Buster allegedly at least partially filmed in St. Petersburg, Florida. The title was THE FISHERMAN, and announced cast members included Olive Borden, Ford Sterling and Reed Howes. It appears at least some of the film was shot but never released...

Documentarian Betsy Baytos has secured Shirley MacLaine to narrate her production on eccentric dancing. The documentary will include many clips from Vitaphone shorts...

A banjo documentary by Cynthia Sayer is also in the works, and expects to use clips from such Vitaphone shorts as THE INGENUES ('28), HARRY RESER AND HIS ESKIMOS ('28) and the soon to be restored BANJOLAND ('28) with Eddie Peabody...

Vitaphone Project co-founder Ron Hutchinson was featured in a New York Post article by Chip Defaaa on the Project's many discoveries...

Richard Hayes, Archivist for The Kate Smith Commemorative Society, seeks any materials on the lost Vitaphone short #817, KATE SMITH, SONGBIRD OF THE SOUTH ('29). Currently, only the soundtrack disc for this film exists...

Norman Andrews continues to work on a book about platinum blonde thirties starlet Toby Wing. She made one Vitaphone short with Hal Leroy, RHYTHMITIS ('36) and was interviewed for the TCM shorts documentary just a few weeks before her death early this year...

Peter Mones seeks information on his Great Uncle, British comedian Herschel Henlere, who made one starring Vitaphone short. In a strange coincidence, Peter points out that Mr. Henlere co-wrote a 1919 film song for KISMET with Guido Deiro. Deiro's 1928 Vitaphone short, "The World's Foremost Piano-Accordionist" is now being restored at UCLA with funding from his son, Robert...

Mrs. George H. Ward, known to thirties audiences as singer Vera Van, continues to seek copies of several of her Vitaphone shorts. She appeared in MIRRORS ('34) with Freddie Rich's Orchestra and one entry of 'RAMBLING ROUND RADIO ROW ('34) with George Jessel and Patsy Flick , both of which she has on VHS. However, she has yet to view NOTHING BUT ('35), THE TUNE DETECTIVE ('33), and I'M MUCH OBLIGED ('36) which she also made for the studio.
---
NEW WEBSITE ID
Patrick Picking, who manages The Vitaphone Project website, has arranged for the address to be simplified from www.picking.com (which still works) to the more easily remembered
Spread the word! The site is loaded with back issues of VITAPHONE NEWS, stills, sheet music covers from Vitaphone features and shorts, frequently asked questions, a list of restorable shorts seeking funding, and great links.
---
DISC-OVERIES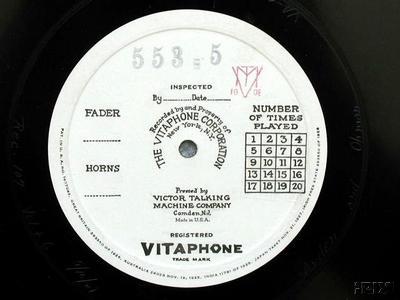 Australian early talkie buff Allan Osborne, reports that he has three Vitaphone discs in his collection: reels 2 and 3 for THE JAZZ SINGER ('27) are particularly interesting because they are brand new, unplayed copies with the unbroken orange studio seal still over the center hole! His third disc is for the 1926 short BRUCE BAIRNSFARTHER (no reel number on it. May be a test or from the actual released short). Allan's collection also includes advertising banners for early Vitaphone features, Vitaphone, RCA, Photophone and Movietone theatre plaques, and original Vitaphone disc shipping boxes.... Tim Romano adds to his reported soundtrack disc holdings with reel 2 of Pathe comedy short A TIGHT SQUEEZE...disc for reel 1 of D.W. Griffith's final talkie, THE STRUGGLE (UA/'31) found in New Jersey...as mentioned elsewhere in this issue, two reels of a 35mm sound-on-film print of the previously mute HOLLYWOOD PARTY (MGM/'37) Technicolor short hosted by Charlie Chase was found in July in Australia...in arranging for a loan to UCLA of his disc for the pending restoration of Eddie Peabody's BANJOLAND ('28), we learned from collector Michael Khanchalian that he had acquired two more Vitaphone discs. Both were for shorts with previously known picture element, but no sound. so both may now be restored. They are #427 WARING'S PENNSYLVANIANS ('27) which was shot at the same time as #428 which is being restored now at UCLA, and a playlet, #2849, ROBERT EMMETT KEANE IN "GOSSIP" ('28).
---
VITAPHONE, PROFESSOR, PLEASE!
In October, the Project received a letter from 82 year old Barbara Nyhan, who performed as one of The Three De-Lovelies in the 1930's. Barbara was attending a Jazz History class taught by Professor Dan Salmasian at Florida Atlantic University who uses film clips from shorts and features during the course. Barbara mentioned to him that she had appeared in both a Vitaphone and an Astoria-produced RKO "Nu-Atlas" short. Dan kindly had connect her with us, and some research revealed that the RKO short was from 1939 and was titled CARNIVAL SHOW. Also in the cast were opera star Jan Peerce and The Cotton Club Tramp Band. Continuing the coincidence further, the Project's Alan Cooperman had a copy of CARNIVAL SHOW and made a video dub of it for Barbara. She wrote to us, saying "Needless to say, Ron, it's a thrill! I never expected in my lifetime to ever see it. I was 19 years old when I made it and I never saw it [when it came out]. Only my dad, sitting in the movies in Springfield, Massachusetts, saw it and shouted out excitedly 'That's my daughter!' "
We are happy to have helped Barbara with her quest to see one of her film performances. We have searched Vitaphone catalogs and internet databases, but so far have been unsuccessful in finding the title of Barbara's c.1939 Vitaphone short.
---
---

This web site is maintained by: Patrick@Picking.com
Copyright 2001-2002