| | |
| --- | --- |
| Volume 2 Number 1 | Winter 1993-1994 |
VITAPHONE PROJECT GOES WEST
We're pleased to report that a close working relationship has begun between UCLA and the Vitaphone Project. Elsewhere in this issue, you will find an excerpt of our list of possible restoration: cases where both mute film and soundtrack disc elements are known to exist. Since our last issue, work is complete on restoration of three Vitaphone shorts thanks to the kind donations of discs from collectors. "Trixie Friganza in 'Bag 'O Trix'" was restored using nitrate that was beginning to deterorate, and a disc found in Jerry Lewis' stack of 16 inch transcriptions of audience reactions to Martin & Lewis features. Since Mr. Lewis doesn't recall ever acquiring this disc and another (Jack Haley and Flo McFadden in 'Haleyisms'), the theory is that these Vitaphone discs were in the preview theater since 1929, and got mixed in with the Martin & Lewis discs when the stack was given to Lewis. This is a wonderful short with top vaudevillian Friganza speaking in code over the phone to her girlfriend, as her young son takes it all down to blackmail her for a new bike.
"Baby Rose Marie, The Child Wonder" should be done by presstime, along with the wonderful 1929 Vitaphone "Ben Bernie and His Orchestra," which features Helen Kane sing-alike Frances McCoy, hot jazz, and Bernie banter. UCLA had a cracked and unusable disc for this short, but a generous collector in Maryland donated his disc to the cause. Some or all of these shorts will be shown this Spring at UCLA's April film festival, and we thank Bob Gitt and his staff and The Library of Congress for helping to make this mutually beneficial working relationship possible. Bob has targeted some other shorts for restoration in which discs from Project participants can be used. There are approximately 100 shorts which now have both elements, but still need restroation and matchup. At up to $3,000 per short, this clearly means a variety of funding sources in addition to Turner are needed. Possibilities include fans of specific genre who wish to fund restoration of some shorts in return for personal restricted copies. A good example is Hugh Hefner, who has interest in funding restoration of some of the jazz shorts. Bill Shaman has sumbitted a detailed proposal to fund restoration and reissue of several dozen operatics and classical shorts. Family members of some Vitaphone performers (ex: Eddie Foy 3rd whose family was in "The Seven Little Foys") may wish to fund individual shorts. And we're hoping that different performing artists groups (any ideas?) might underwrite vaudeville and comedy shorts. Turner Entertainment will also continue to fund restorations, but we're hoping this mix can help make many of the restorations possible much sooner. The Project's Serwin Dunner met with Bob late in '93, and we are sure our working relationship will only grow during 1994.
The Library of Congress (David Parker, James Cozart, David Francis) also has many elements of shorts, particularly film, and they are an integral part of these and future restorations. For example, the Baby Rose Marie film existed at the Library, and was analyzed and printed onto safety film by James Cozart. The film was then shipped to Bob Gitt at UCLA, who used a digital audio tape of Vitaphone Project's John Newton's disc -- a real three-way collaboration!
Ultimately, the goal is to get all of these wonderful shorts seen again by the public. In addition to current laserdisc sets from MGM/UA ("Dawn of Sourd", volumes 1-3, a new Joan Crawford set of "Our Dancing Daughters", and "Our Modern Maidens" with original Vitaphone music-and-effects tracks), and Shanachie Entertainment's videos, ("Times Ain't What They Used To Be" and "At The Jazz Band Ball"), we expect to see more home releases of early shound material in 1994. For example, we've been alerted to several planned laserdisc sets which will be 100% Vitaphone shorts.
With the startup this year of the new Turner all-movie channel, we believe that these films have a key role to play. Not only as individual films shown after features or in a "shorts" program, but also in possible specials saluting vaudeville, jazz, etc. Imagine an "Evening At The Palace" using MGM and Vitaphone clips of great performers who played there!
---
SAMPLES OF RESTORATION POSSIBILITIES
Here is a portion of the Project's recent analysis of Vitaphone short restoration possibilities as compiled for Bob Gitt of UCLA and the Turner organization. This list included some 43 shorts for which the location of separated discs and film are knows to exist:
Reel No.
Title
Star
Status
Reason Restoration is Warranted
722/723
The Music Makers
Howard Bros.
Film:LOC
Disc:VP
Project has DAT of both discs. Great music and comedy short set in '29 record shop. Cantor and Jolson impersonations.
841
Don't Get Nervous
Georgie Price
Film:LOC
Disc:VP
Entertaining, funny short with great vaudevillian Georgie Price shown making a Vitaphone short in the Brooklyn studios w/Bryan foy. Kids synchronization, Vitaphone, etc. Project has DAT of both discs.
770
Leo Reisman Orch.
Reisman Orch.
Film:LOC
Disc:VP
Great jazz tunes with legendary trumpeter Bubber Miley in "Shadowgraph" effect. Disc is on west coast and collector is willing and able to amke DAT in return for personal video copy.
---
EARLY ROACH TALKIES NOW BEING RESTORED
Author Dick Bann ecstatically reports the discovery of discs for ten early Hal Roach comedy shorts in their original storage box at UCLA. "The wooden box was the one used to store the discs in 1929, and still looks new," reports dick, who has already viewed the restored 1929 Charlie Chase short, "Snappy Sneezer" with Leonard Maltin. Also to be restored is Chase's "Crazy Feet", the very first Roach talkie, "Hurdy Gurdy", and others. Some discs are synchronized music and effects tracks for otherwise silent shorts of the 1928-29 period. We had reported in our last issue that a collector with discs for "Snappy Sneezer" agreed to loan them to Dick for restoration. He later reneged, but within days discs for this and other shorts suddenly surfaced after 64 years.
---
MEL TORME SEEKS '29 "Buddy Traps" SHORT
Singer Mel Torme, "The Velvet Fog", is anxious to find the picture element of a 1929 Vitaphone short starring legendary drummer Buddy Rich as a child. It's Vitaphone #949, "Buddy Traps in 'Sound Effects'", and features Rich tapping away on all kinds of things in a music store. We have several stills, and the soundtrack disc, but no film portion has yet surfaced. The Warner Vitaphone says "Buddy twirls a mean pair of sticks, taps a mean buck-and-wing, and tosses out a vo-do-deo-do like nobody's business. He drums music out of chairs, washboards, pots and pans, glasses and screens. The only act of its kind on the screen!" If you have any information on the film element for this short, please let us know. Buddy heard the disc a few years before he died, and was teased by fellow band members for his cute vocal! Dick reports that Mel is currently working on a CD featuring Bing Crosby's thirties Paramount tunes.
---
VITAPHONE AT HOME
From time to time, shellac discs for "Home Talkie" and other sound-on-disc systems for home use have surfaced. These were 5-8 minute films, often with popular vaudeville performers, synchronized to a 16mm home projector. Record collector and auctioner Kurt Nauck also has some "Cineart" discs which in fact are commercially issued vocal 78's to which the customer would lip-synch. A spot was marked on the disc, and it would be played back while the amateur performer was filmed singing. All are '29-'30 vintage.
Another slant on Vitaphone in the home was the Visionola. This unit preceeded the Soundies Panoram by a decade, and has a built-in screen, 16mm projector and synchronized 16 inch turntable. One of these beautiful machines surfaced in Washington State, but minus films or records. John Winter, who runs the Bellingham antique Radio Museum there would like to hear from anyone who has any films or discs that could be used on this unit. John has the capability of cutting new discs and copying the film, if necessary. If you have any information John can be reached at (206) 734-4168.
---
RECENT DICS-OVERIES
The following soundtrack discs have been uncovered since our last issue:
Vitaphone trailers to The Lash, Sunny, Big Boy, Back Pay, Captain Thunder, A Notorious Affair, Divorce Among Friends, Kismet, Man To Man, Mother's Cry, Adios, and Steel Highway... several sets (full and partial), for the '29 Von Stroheim feature "Great Gabbo" now under restoration by James Cozart at the Library of Congress.. all discs for Broadway Scandals (Columbia, '29)..two sets of discs for a short titled "Not So Quiet On The Western Front"... "Midnight Daddies", (Educational, 4 reels)... partial sets for features: "Redeeming Sin", "Song Of The Flame", "Kitty", "Christine", "Scandals", "Ace Of Scotland Yard", "The Kiss", "Bridge of San Luis Rey", and "Tarzan The Tiger"... Vitaphone shorts: "The Man Who Laughs Last" with Sessue Hayakawa (to be restored by Bob Gitt), "Hello Baby" with Ann Pennington, "For Two Cents" with DeWold Hopper, "Dance of the Wooden Shoes", "The Naggers", "And Wife", "What A Life"... Discs for 5 early Universal newsreels, 2 Universal '30 cartoons, and a Universal short, "Pilgrim Papas" with Benny Rubin... quality 15 ips reel tapes of over 100 Vitaphone shorts for which discs were recently destroyed by fire. Includes more than a dozen band and vaudeville shorts for which film only previously existed.
---
NICE NEIGHBORHOOD
The Midwood Sentry is a newspaper distributed to the 20,000+ residents in the neighborhood surrounding the old Warner Brothers Vitaphone studios on East 14th Street in Brooklyn. the editor kindly included a mention of our Project in hopes of making contact with people who worked at the studio, had relatives who did, or who had memoribilia (photos, home movies, etc) they would hshare with us. We have already heard from several people, three of whom worked at Vitagraph (pre-1925!) before Warners took over the studio.
---
PEOPLE
MGM/UA's wonderful "Dawn Of Sound" laserdisc series includes many early vaudeville shorts. Two Movietone Acts are hosted by comedian Jack Pepper, a kind of collegiate scat singer who in 1929 was married to Ginger Rogers. We've corresponded with Pepper's daughter, Cynthia Pepper, and arranged for her to see the shorts with her dad in them. Cynthia starred in the early sixties series "Margie" set in the twenties... Carol Sax, a relative of Vitaphone studio head Sam Sax has generously shared copies of some wonderful stills of production in Brooklyn. Besides on-set shots with dignitaries, there's a wonderful still showing a huge Viraphone sound stage set up for a circus short. Hundreds of Brooklynites fill the bleachers as extrax... thanks to Bill Cappello, our tracer of lost persons, we're getting closer than ever to the disc that goes with the 1926 Jolson short, "A Plantation Act"...The Project's Sherwin Dunner spent time recently with musician Arnold Brillhart who at 89 still vividly recalls playing in the orchestra for over a hundred Vitaphone shorts, sometimes on camera. We'll share details in a future issue... actor Lyle Talbot will celebrate his 92nd birthday this year, and fan Carolyn Dvorak contacted us in hopes of tracking down Talbot's film debut in a 1928 Vitaphone short, "The Nightengale". We think we found it, but let us know if you have any material or information on this short... comedian Louie Anderson called us from Hawaii to discuss his plans to star as Fatty Arbuckle in a film to be directed by Richard Fleischer. We helped him out by providing samples of Arbuckle's 1923-33 Vitaphone shorts. Bandleader Vince Girodano has spoken a with 'twenties' and 'thirties' dancer Rosemarie Sinnott, the daughter of vaudevillian and Fleischer Studio composer Sammy Timbert. The entire Timberg clan made many great vaudeville shorts, and Rosemarie appears with Harry Rose in a 1929 MGM Movietone Act on Volume 2 of "The Dawn Of Sound", as well as the 1933 Vitaphone short, "Little Jack Little". We've arranged for her to see these shorts again after nearly seven decades.
---
FOCUS ON RESEARCH
The Warner Brothers Archive
University of Southern California
Since 1977, when Warner Communications donated all Warner Brothers Pictures files to the School of Cinema and Television at USC (over 4,000 boxes) researchers have had access to a unique collection. It is the only to bring together production, distribution, and exhibition records of a major film studio. The production information of many films show the daily contributions of writers, producers, directors and actors, all carefully indexed.
The archives house many historical papers, scripts, photos, film music, and animation records. In the area of film shorts, there are individual file folders by performer and film title, containing such items as interoffice memos, contracts, music selections and clearances, and dates of filming. For some musical shorts, musician sign-off sheets are present, giving permission to use their images on the screen. This provides the researcher the exact personnel in a film, even if the film is lost. There are also contracts for shorts that were never filmed or released (e.g. Harry Richman and Cliff "Ukelele Ike" Edwards). Salaries are also shown, and are sometimes surprising. And the popularity of "Fatty" Arbuckle's 1932-33 Vitaphone shorts is shown in a renegotiated contract that would have paid him $4,000 per short had he lived. At an original $3,000/film he was still one of Vitaphone's top paid stars in the thirties.
Some films have every detail preserved, including comments, changes, memos, distribution patterns, etc. (e.g. "Casablanca" and "Adventures of Robin Hood"). This may be due in part to the studio's directive, printed on every memo (actually a "Warnergram"): "Verbal messages cause misunderstanding and delays. Please put them in writing".
We will be documenting individual shorts in upcoming issues of Vitaphone News, which provide details on music, contracts and production.
The archives are located in the Doheny Library at the USC campus in Los Angeles. Stuart Ng and Bill Whittington are the curators, and are very helpful. However, because of the large volume of requests for access to the archives, an appointment is necessary. Much of the material can be photocopied, but permission must be obtained if used in publication. For complete details, contact:
The Warner Brothers Archives
School of Cinema and Television
University of Southern California, University Park,
Los Angeles, CA 90089-2211
213.748.7747
FAX 213.747.3301
The Archives are open 9AM-4PM, Monday through Friday.
The Vitaphone Project is still looking for individuals in the Los Angeles area who are willing to help search the USC archives for specific shorts-related material. Please let us hear from you if you can help.
---
FOREIGN VERSIONS
The Project's John Newton has noted some interesting descrepancies in some of his foreign issue discs for American features. These are not foreign language versions of films, but English language alternate "takes" issued outside of the U.S. in other English-speaking countries.
In John's "His Master's Voice" British pressing of the final reels of "Whoopee!" with Eddie Cantor, certain topical material (references to Al Smith, Al Jolson, etc.) are missing. The instrumental music for "My Baby Just Cares For Me" is also different from the American version. Delivery of jokes differs too. It became clear that an entirely different take of the scenes were being used, presumably more attuned to the overseas market.
John also has the British Vitaphone disc for Reel 2 of Al Jolson's "Mammy" (1930). The entire number featuring the comic-opera parody of "Yes, We Have No Bananas" is completely redone as compared to the American release.
Do any of our readers know of other examples of this? Any information you have could add to our knowledge of foreign Vitaphone and other releases of the early talkie period.
---
MOTHER NATURE
Two recent natural calamities drove home the vulnerability of film and disc collections. Bob Gitt at UCLA kindly called the Project after the recent earthquake to report that his collection of thousands of discs survived just fine. They are stored in sturdy, bolted shelves and while Bob's home sustained some damage, the shellac soundtrack discs were still intact. Not so lucky was a private collector in Malibu, who reportedly had hundreds (perhaps thousands) of discs, plus nitrate film and priceless paper film materials. The entire collection went up in smoke.
---
WANTED!
The following elements are being sought by individuals, archives, copyright holders or researchers. Please let us know if you have any of these in your collection, or know someone who does:
Any MGM shorts with the "Eight Victor Artists", c. 1929.
Reel 1 on "Don Juan", 1926, disc #323.
Reels 4, 9, and 10 for "The Better 'Ole", 1926, discs 372, 377 and 378.
Reels 5 and 9 of "Glorious Betsy", 1928, discs 2475 & ?
"Evangeline", United Artists, 1929, reels 1, 2, 3, 4, 5, 7, 9.
"Land of the Silver Fox", 1928, reel 3.
"Tempest", 1928, reels 1, 2, and 9.
"Alice Gentle in 'Carmen'", a color Vitaphone short #3336.
"Beatrice Little and Her Boyfriends", Vitaphone #3863, a number cut from "Show Of Shows".
"Weber & Fields in 'Mike and Meyer'", Vitaphone short #570.
"The Lash", vitaphone short #2133 (dramatic sketch)
Film elements exist for all of the above films, and UCLA is anxiously seeking discs so restroations can take place.
---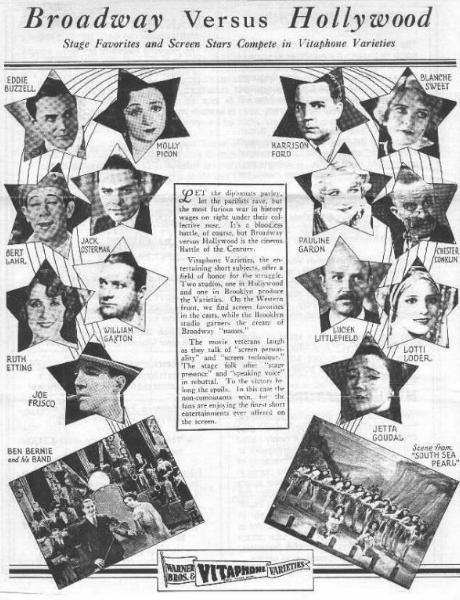 ---
| | |
| --- | --- |
| Ron Hutchinson: | Corresponding Secretary |
| Sherwin Dunner: | Data Base |
| David Goldenberg: | Newsletter, Advertising, |
| and John Newton: | Publicity |
---
Please Help Us........
Do you have film soundtrack discs (Vitaphone, Paramount, MGM, etc.), production information, stills, or other ephemera on pre 1940 short films? We urgently need this data for a major film restoration program. Replies will be kept confidential. Project endorsed by copyright owners.
THE VITAPHONE PROJECT
To contact The Vitaphone Project write to:
Ron Hutchinson
5 Meade Court
Piscataway, NJ 08854
or email Ron at medusashaircut@erols.com
or project member Bill Cappello at billcapp@ix.netcom.com
---

Write to: Patrick@Picking.com