June Preisser!


Article from Screen Guide, September, 1940!
---
Strike Up The Band - June Preisser!
September Hit Girl!
Photographs by Bruce Bailey

---
A miracle, no less, is responsible for the most exciting starlet in pictures. At two, June Preisser was such an underweight mite that her parents sent her to Peter Villere, instructor at the New Orleans Athletic Club. For as much as 8 hours at at time, Villere kept the baby at the club, teaching her tricks. Today June's charmingly curved body is as strong as steel.

When June was nine, and actor happened to stop on a New Orleans street to watch colored children dancing. He commented that the kids were good. "If you think they're good, watch me," Juney piped, and dove into a series of flip-flops. The actor got June and her sister Cherry a job in vaudeville, and in record time the two landed in the Ziegfeld Follies.

The Preisser sisters were acclaimed throughout this country and Europe, before Cherry married and retired. Signed by movies in 1938, June went over big in "Babes In Arms." In "Strike Up The Band," she almost outmugs Mickey Rooney. Veteran studio workers, used to seeing June in slacks, goggled when she showed up in her Anna Held costume. "Look," a prop man cried. "Hot innocence!"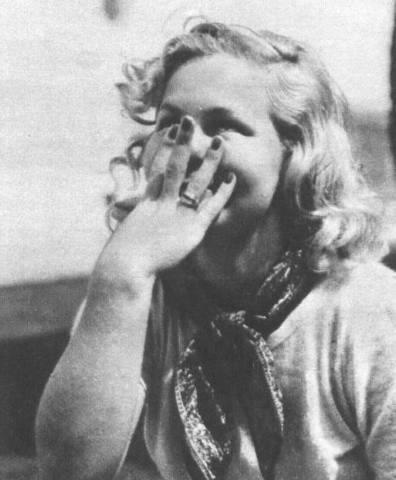 "Wake up!" June's spaniel tells her. "Time for your photo-interview." Here goes: "Smoke? Drink? Nope... I'm still lonesome without my sister, Cherry, dancing with me, but I'll have to get over that, because her second baby is on the way."

Her Anna Held impersonation is one of June's high spots in "Strike Up The Band." She sounds over 18, singing with a French accent "I Just Can't Make My Eyes Behave." The milk bath incident isn't in the picture. It was merely done as a "clever" publicity stunt, with Mrs. Preisser rather reluctantly pouring the Anna Held bath for her daughter.
"Biggest thrill? Dancing for the king and queen of England was one. I'm happiest of all when mother tells me I'm good, because she knows. Romance? I'm mighty young for that!"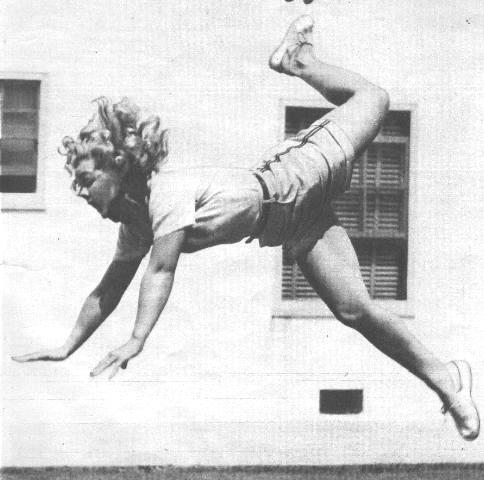 "Blaaa!" June calls this stunt, which consists of falling flat on her face before the camera. She says her brother Freddie, college professor and former Tulane football star, is a better athlete than she is. He once ran 50 yards for a touchdown to beat Louisiana State in the last minute of play - in accordance with movie conventions.
---
Write to: Patrick@Picking.com
This listing and material Copyright © 1998-2018 Patrick J. Picking.