SHORT SIGHTED HOME PAGE!
Ann Rutherford!

---
Definitely my favorite actress is Ann Rutherford!! I was about 10 when I first started watching her as Polly Benedict in the Andy Hardy films of the 1930's-1940's, and I've had a BIG crush on Ann ever since!
Ann says she's gets a "big kick" out of this web site! It's great, and she loves it! Ann has provided some of these photos herself. Most of the rest I've picked up from other collectors, and sources on the internet.
VISIT - The best web site about the Andy Hardy films!
Here are some facts about Ann:
Born November 2, 1920, in Vancouver
Original name Mary Cecilia Ramone Theresa Ann Rutherford
Daughter of former Metropolitan Opera tenor John Rutherford (stage name Juan Guilberty), and an actress mother, raised in California, where she made her stage debut at the age of six in Raggedy Ann
Appeared in many plays and on radio before being signed by Mascot/Republic in 1934 as a leading lady of low-budget Westerns, opposite Gene Autry and John Wayne
First screen appearance in Waterfront Lady in 1934
For Down To The Sea Ann needed to learn how to swim underwater. She learned from Larry "Buster" Crabbe at the Hollywood Athletic Club!
In 1937 she moved to MGM, where she soon gained popularity in the role of Polly Benedict, Mickey Rooney's ever-faithful girl friend in the Andy Hardy series
Appeared in 13 Hardy films, she played leads and supporting roles in many other MGM pictures through the early 40s, when she began free-lancing
Appeared in Gone With The Wind (1939) as Scarlet's younger sister Careen
Her first husband was David May, of the May Company. They married on December 26, 1942.
Her second husband was producer William Dozier
Married William Dozier on October 6, 1953 (who was formerly married to Joan Fontaine), which made her stepmother to Olivia de Havilland's niece
Ann once owned the Capitol Records building!
Other notable films: A Christmas Carol, Of Human Hearts, Pride and Prejudice, Orchestra Wives, Secret Life of Walter Mitty, Adventures of Don Juan
Her last theatrical screen appearance was in Won Ton Ton, The Dog Who Saved Hollywood in 1976
Click HERE to see a list of all of Ann's credits and where you can find her next on television!!
---
The majority of the Ann Rutherford site can be found right here!
PLEASE SELECT A PAGE TO SEE PHOTOS AND READ MORE ABOUT ANN RUTHERFORD!!
---




Swimsuit photos!
---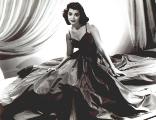 Beautiful portraits of Ann!!
---



A Wonderful interview with Ann from 1941!
(Thanks to Jim Johnson for contributing this!)

---





Magazines



Comic books with Ann's character Polly Benedict
---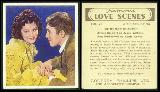 Cigarette cards

---



Advertisements for Cannon Hoisery, and RC Cola

---


A novel with Ann Rutherford as a character!

---
I originally sent Ann a copy of this web site, and she sent me back this lovely postcard! She thanked me for my "charming letter", and said it was most appreciated! It was the beginning of a beautiful friendship!

---
Write to: Patrick@Picking.com
---
This Gone With The Wind Ring site is owned by
Patrick Picking

| Previous 5 Sites | Skip Previous | Previous | Next |
| Skip Next | Next 5 Sites | Random Site | List Sites |
This page has been viewed
times
This listing and material Copyright © 1998 - 2005 Patrick J. Picking.